Meet Alfred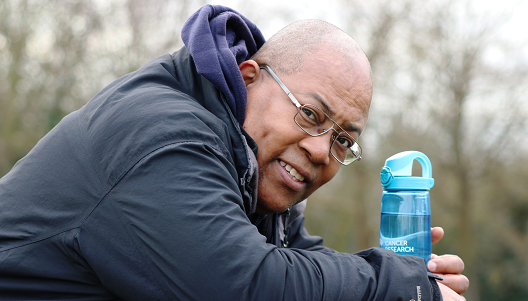 Alfred started treatment for advanced prostate cancer nine years ago and currently his cancer is being managed extremely well. He told us how sharing his experience to help shape our work has helped him regain confidence, whilst allowing him to represent his community and other black men.
What motivated you to join a panel of people affected by cancer and to get involved in Cancer Research UK's work?
When I was diagnosed with prostate cancer my self-esteem took a serious knock along with my self-confidence. Being involved in this panel and other opportunities helped to bring it back through the encouragement of honest open dialogue within a positive group atmosphere as we reason to make decisions through constructive debate. I have developed further as a person due to my interaction within these groups.
My motivations for remaining is fuelled by the respect, openness and honesty of my colleagues, as well as the intelligent and constructive banter from which I have learned so much and developed new skills. These groups are most definitely not just one-way street conversations.
How do you find being involved in the charity's work?
I feel honoured and privileged to be a part of such a wonderful and prestigious organisation and the work it carries out. It has truly been a pleasant experience working with such professional and personable people both from within the group and organisation. Being involved with projects that might affect my own healthcare, making important decisions and watching them unfold has been immensely educational and rewarding.
At times it has been very emotional almost to the point of tears but to be honest, it has helped me get through my experience not only as a patient but also as a human being. I am not sitting at home – no, I am helping to shape the future of cancer treatment and research by participating and giving constructive opinions that will assist those who may, unfortunately, be diagnosed with cancer.
Do you find it particularly important to share your views and experience of cancer?
As a black man, I represent my community first and foremost. There clearly is a lack of participation and sense of disconnection from the black population with regards to healthcare matters. This needs to be addressed. Sometimes being the only person of colour in some of these groups has made me realise how little people of colour are represented but equally how invaluable our input is. Cancer does not discriminate. It affects people of all ages, races, backgrounds and lifestyles. I personally feel that I have a responsibility and I would be remiss in what I know and what I have been through to not share this information with my community, as failing to do so will endanger them and their families.
Has there been any barriers or difficulties for you to get involved?
The barriers to my involvement have been more to do with my condition and the physical pressure placed on me, but I am an old soldier. When you have a love and passion for something you will always find the time. It's like a hobby but with a difference. The difference is you're helping to save lives.
What's your hope for the future, if more people affected by cancer help to influence our work?  
I would like to see more male cancer patients understanding that listening without action on their part will not create change. I would like to see more cancer patients and their families jointly engage and participate in the shaping and influencing of the work carried out by Cancer Research UK.
Like Alfred, you could help to make a difference. Take a look at our current opportunities.
Get in touch
If you have any questions about any area of our work, please contact us, we'd love to hear from you.