What's involved?
Find out how to nominate your child for a Cancer Research UK for Children & Young People Star Award, what they get in return and how your support helps.
How to nominate
We can only accept nominations from a parent/guardian:
Every child nominated as a star will receive an award, as long as they:
Are under 18 on the date of nomination and live in the UK
Have been treated for cancer in the past five years at the date of nomination
Have not received a Star Award before (previosusly known as a Kids & Teens or Little Star Award)
All stars will receive a trophy, a t-shirt, a certificate signed by celebrities and a £50 TK Maxx gift voucher. Their siblings will receive a certificate too.
How your support can help
After receiving the award, some families help us to raise awareness of childhood cancers and the Cancer Research UK for Children & Young People Star Awards. This can help highlight the importance of research and make our work relevant and compelling to the widest possible audience. Some families also play an important role in Cancer Research UK's fundraising too.
There is absolutely no obligation to take part in publicity in order to receive the award.
If you are happy to be involved, you might appear in the media identified by your name, town and age, possibly being photographed or filmed too. You would also need to be willing to speak about your child's illness and treatment and we recommend that you speak to other family members about this to ensure that everyone is comfortable.
We would only pass on your contact details to individual journalists with your consent and we'll do our best to make sure that anything we write about you is factually correct and, where possible, approved by you.
However, we do not have control over what journalists may write and we also hope you appreciate that it can still be very difficult to predict if this activity will result in coverage.
It is unusual for newspapers or broadcast journalists to pay families for telling their story - however some magazines may offer payment. If you are offered money for sharing your story and choose to accept, this would be an agreement between you and the media title. Cancer Research UK cannot get involved with negotiations.
How we store your information
Any information you provide will be stored in confidence and in line with our privacy policy.
Find out more
For more information please email star@cancer.org.uk
Nominate a star
Celebrate the courage of a child who's been diagnosed with cancer by nominating them for our Cancer Research UK for Children & Young People Star Awards, in partnership with TK Maxx.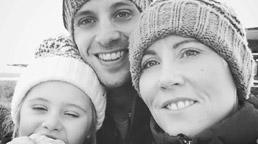 Talk to other families with children who have been diagnosed with cancer on our Cancer Chat forum.