Charity Runs
Our charity runs page has everything you need to know about running for Cancer Research UK. On this page you'll find information about our upcoming running events, how to apply for a place, what it's like to run for us and our expert training plans.
Search all running events
Upcoming 2024 charity runs
We've selected a few of our favourite upcoming charity runs for 2024. Over the coming months, thousands of inspirational runners will take on these challenges to raise money and help beat cancer. Will you be one of them?
Why run for Cancer Research UK?
1 in 2 of us will get cancer in our lifetime.* When you run for Cancer Research UK you raise funds for vital research that can help beat it.
Meet some of Team Cancer Research UK and hear their inspiring stories.
"I decided to give it a go for a great cause."
Patrick lost his wife Pam to bowel cancer in 2007, and Sue lost her husband Philip to prostate cancer in 2009. They then met whilst volunteering for CRUK, and later tied the knot in 2016.
Sue, 62, had only just started running and the Great North Run would be her first half marathon. She said: "I have always genuinely believed my body is not made for running but I have watched so many half marathons and running events and decided I had to give it a go for a great cause."
Patrick said: "I can't wait for the Great North Run. It feels good to plan something positive to help people who are going through cancer right now."
Patrick and Sue completed the Great North Run 2021 and raised over £7,000 for life-saving cancer research. Their next challenge will be running 3 half marathons in 4 weeks in September 2022!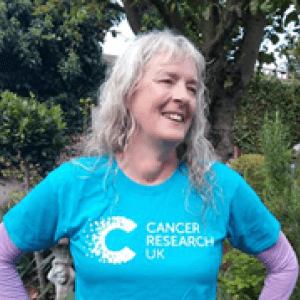 "I'm passionate about keeping active as a way of countering the side effects of treatment."
Sarah was training for the Cambridge Half Marathon when she was diagnosed with breast cancer.
"I was used to being very active, and suddenly I had no energy after my diagnosis, which for me was the hardest part. But I kept my training up even after diagnosis and managed to run a full half marathon distance the day before my cancer surgery. I knew I wouldn't be able to take part in Cambridge Half Marathon that year, so I did it the following year and I have done it again since."
"I'm passionate about keeping active as a way of countering the side effects of treatment. I'm convinced it was keeping moving which helped me get over the fatigue I suffered during radiotherapy and running remains very important to me."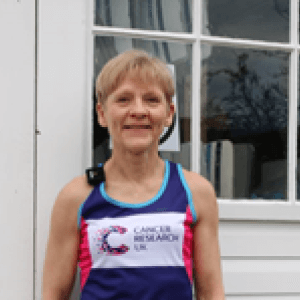 "It's so important that we support the charities that find ways to get us away from cancer."
Mary Twitchett, an athlete from Cambridge, says it's only because of research that she is overcoming breast cancer for a second time and preparing for a return to marathon running.
Mary will be running the London Marathon for Cancer Research UK in October.
"I'm labelled as a cancer patient. I've never been patient, so I say I'm on a cancer journey. You may not be on a cancer journey, but it's really alarming that one in two people will have the label of cancer. It could be your friend, your mother, another relative, even your baby, and it's so, so important that we support the charities and research that's finding ways to get us away from this label, so we have a future."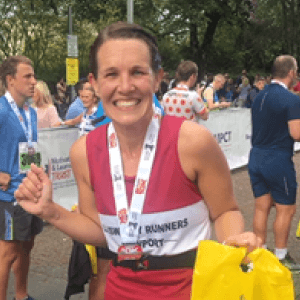 "If I can do it, anyone can!"
Not long after giving birth to her second daughter, Rachel was diagnosed with a very rare cancer that affects only 1 in 3 million people.
"After having my appendix taken out, I didn't need any other treatment, but the one side effect of cancer I was left with was anxiety. I started running to try and help with the anxiety I was experiencing. I started running by myself, then joined a local running club and did a few 10k races and half marathons."
"I signed up for The London Marathon in 2019 as I was optimistic it would be the year I got the all clear, and it was. I was the one who used to bring in notes to get out of PE when I was at school, if I can take up running and do the marathon, anyone can!"
Training plans
Taking on any race is a big commitment. Our training plans have been curated by experts, RunningWithUs and are designed to help you succeed. Whether you're a first timer or you're looking to get a personal best, we've got a plan for you.
Taking on a marathon is a big commitment and needs a great training plan to ensure success. Our marathon training plan will help you prepare for race day.
Running a half marathon is a huge personal achievement. Make sure you're prepared with our half marathon training plan.
10k is a great distance if you're hoping to build your stamina or get some race experience. Use our 10k training plan to ensure you run your best and enjoy race day.