Tackle cancers with substantial unmet need: our progress
​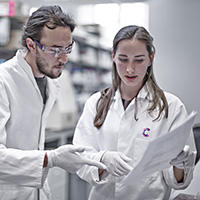 Despite a considerable increase in activity since we launched our strategy, maintaining a strong focus on lung, pancreatic, oesophageal and brain cancers continues to be a key priority. Our ambition remains to build long-term sustainable research capacity.
But our ambitions stretch beyond this, and our activity in these areas won't be limited to the approaches outlined here. We are only at the beginning of our efforts to understand the critical questions and barriers that need to be addressed in other patient groups: older populations, children, teenagers and young adults, and those with rarer cancers, and will be looking to accelerate our progress in these areas in the next few years.
We have increased spend across our four cancers of unmet need, supporting a breadth of activity.
|   | 2013/14 | 2016/17 |
| --- | --- | --- |
| Oesophageal cancer | £5m | £11.7m |
| Brain tumours | £7.1m | £13.5m |
| Lung cancer | £19.2m | £43.4m |
| Pancreatic cancer | £8.6m | £17.2m |
Beyond increased spend, we aim to build a sustainable research community in each tumour type, and are encouraged by a recent increase in the number of career development awards focused on these cancers. Of the 122 new fellowships and bursaries that we have funded since 2014, 32 (26%) were focused in lung, pancreatic, oesophageal cancers or brain tumours.
Lung cancer
In lung cancer, our biggest single investment is the TRACERx study – a multi-million pound programme studying tumour heterogeneity and evolution in non-small-cell lung cancer (NSCLC) patients, which is already delivering clinically relevant outputs, and being leveraged to develop new therapeutics.
Focusing the sharpest minds on the challenge of lung cancer and attracting research talent to the field is essential, and our Manchester and UCL Centres have created a collaborative environment for lung cancer research to flourish through the joint CRUK Lung Cancer Centre of Excellence. The Centre hosted its first conference in late 2015, bringing together the world's leading lung cancer experts, and will host a second in late 2017.
Other CRUK-funded major research initiatives in lung cancer include the National Lung Matrix Trial (NLMT) – the world's largest precision medicine trial in NSCLC. This innovative study, run by industry partners AstraZeneca and Pfizer through the Experimental Cancer Medicine Centre (ECMC) network, gives NSCLC patients access to 20 different treatment options under one UK-wide, standardised trial.
Treatment innovation for lung cancer
Cancer Research Technology and biotech investors Syncona have launched a company called Achilles Therapeutics to turn discoveries made by the TRACERx study into personalised immunotherapies for lung cancer.
The company was founded by cancer evolution expert Professor Charles Swanton from the Francis Crick Institute and UCL, with renowned immunotherapy researchers Professor Karl Peggs and Dr Sergio Quezada from UCL, and Professor Mark Lowdell from the Royal Free Hospital, London.
Achilles Therapeutics will design treatments that can target truncal tumour neo-antigens – which are unique to an individual patient's tumour and not expressed on healthy cells, so have potential to target and destroy tumours without harming healthy tissues.
TRACERx is tracking the evolution of cancer in 850 people with NSCLC, in different parts of their tumours and in response to treatment. Achilles has exclusive rights to develop and commercialise neo-antigen technologies arising from the study, translating the insights quickly to the clinic and providing much-needed new treatments for lung cancer.
Pancreatic cancer
In pancreatic cancer, we joined forces with Stand Up To Cancer and The Lustgarten Foundation to fund an £8 million Transatlantic Pancreatic Cancer Dream Team to accelerate the translation of research into early phase clinical trials. Led by Professor Gerard Evan at the University of Cambridge, Professor Daniel von Hoff at the Translational Genomics Research Institute in Arizona and Professor Ron Evans at the Salk Institute for Biological Sciences in California, the Dream Team aims to understand pancreatic cancer's regulatory mechanisms, which the team believe to be hacked versions of the normal wound healing processes. This knowledge will inform trials of potential new treatments targeting these mechanisms and will include combinations of chemotherapy, immunotherapy, paracalcitol (a vitamin-D analogue) and drugs to perturb super-enhancer signalling programmes.
We're also funding PRECISION-Panc, an ambitious programme of research that seeks to uncover the molecular profile of individual patients with pancreatic cancer, to learn more about the disease and to facilitate patients entering clinical trials for treatments that match their tumour biology. At £10 million, it's our biggest standalone investment in pancreatic cancer to date, and will enable biomarker discovery research and two-way translation between the lab and clinic.
Key to our success in building capacity in this, and other, priority areas, is to engage with existing and potential pancreatic cancer researchers. To support this aim, we sponsored the 2016 International Symposium of Pancreatic Cancer, which focused on precision medicine approaches. The meeting attracted around 250 delegates from the UK, US and Europe to explore current thinking in pancreatic cancer and identify new research opportunities. We held a career and funding workshop as part of the meeting to showcase pancreatic cancer as one of our strategic priorities and to inspire researchers to consider moving into this burgeoning field – a step towards our ambition to develop and sustain a critical mass of researchers focused on this area.

The starting gun for the Dream Team went off in early 2016, and now there's a rather fascinating dual track process going on. The mechanistic science grafts away trying to sort out how the regenerative programme of the pancreas is hacked by oncogenes, but, on the way, we use each mechanistic discovery to guide informed guesses about what novel drug combinations would be most effective at treating patients.
Professor Gerard Evan, Sir William Dunn Professor of Biochemistry, University of Cambridge
Oesophageal cancer
In June 2015, we brought basic, translational and clinical researchers together at an International Symposium on Oesophageal Cancer co-hosted by the CRUK Oxford and Cambridge Centres and the Cancer Hospital, Chinese Academy of Medical Science. The symposium was a unique opportunity to unite scientists and clinicians from two countries where the incidence of oesophageal cancer is steeply on the increase, and a chance for those not currently in the field to learn more about this fascinating disease. Following its success, we ran a second symposium in Spring 2017, followed by a workshop with key members of the international community to identify priority areas for research.
Our continued funding of the oesophageal cancer International Cancer Genome Consortium (ICGC) project is supporting sample collection infrastructure, pathology and clinical data annotation of longitudinally collected oesophageal tumours and matched control tissue. The curation of this sample collection is a springboard for future oesophageal cancer research projects from the wider community, several of which we are delighted to see are already coming through our response-mode funding schemes. We believe there is considerable further impact that can be made with the outputs of this initiative and are in ongoing talks with the oesophageal research community to establish what the 'legacy' of the ICGC project should be.
Cytosponge – the novel cell collection device to detect and diagnose Barrett's oesophagus – is advancing into the next phase of clinical evaluation. We are supporting the BEST-3 trial, which will test Cytosponge in 84 GP surgeries around the UK to determine whether it is cheaper and easier than current methods for diagnosing Barrett's. Identifying people with this condition and offering them surveillance could make it possible to diagnose oesophageal cancer early, when it is still curable, and even prevent it, by identifying and treating patients with pre-cancerous changes.
Brain tumours
Brain tumours remain a challenging area with relatively limited research activity and it's an area where we are keen to accelerate progress. To identify the key research areas where we should focus our efforts, we held an international workshop in 2016 with leaders in the brain tumour field, who identified several outstanding research questions. These ranged from fundamental biology – such as identifying new molecular drivers of brain tumours – to clinically relevant questions, such as understanding the pathophysiology of the blood–brain barrier and its impact on therapeutic delivery, or determining the biological basis for clinical trial outcomes in brain tumours.. We are now looking at ways to address these areas of focus and to further build research capacity in the field.
A long-standing challenge in brain tumour research has been the lack of good models or research tools, and the Edinburgh and UCL Centres recently secured an Accelerator Award to address this gap by establishing an international Glioma Cellular Genetics Resource. This centralised resource will offer glioblastoma cell lines, genome editing tools and novel engineered patient-derived cellular models for researchers worldwide, and a PhD programme associated with the award is hoped to encourage talented neuroscientists to enter the brain tumour field.
We continue to co-fund the International Rare Cancers Initiative (IRCI), which aims to facilitate the development of international clinical trials for patients with rare cancers in order to boost the progress of new treatments for these patients. The partnership encourages the use of innovative trial methodologies and by bringing international funders together at an early stage of trial development, smooths the process of making parallel funding applications in different countries.
Nine rare cancers have been selected as priorities for IRCI to date, including rare forms of brain tumours and melanoma, small bowel cancer and metastatic anal cancer, with several trials being led by UK clinical investigators. For many of these cancers there is no effective or even consensus standard of care, and these trials are likely to lead to much-needed new treatment options and changes in clinical practice for these patients.
Although rare, children's cancers – and especially children's brain tumours – present one of the greatest intellectual and clinical challenges for the cancer research community.
In June 2015 we held a workshop with researchers, clinicians and parents to understand and identify the important barriers and opportunities that, if addressed, could transform outcomes for childhood and youth cancers. Armed with insights obtained from this workshop, CRUK engaged with a group of international researchers through a series of discussions and a two-day conference in June 2016, chaired by Professor Richard Gilbertson from the CRUK Major Centre in Cambridge. Many outstanding questions were identified, ranging from our understanding of the origins of cancers in kids and teens through to the design, delivery and evaluation of clinical trials. Our focus now is to work with the paediatric research community on refining each of these key areas and develop approaches to tackle them.
We also continue to drive the development of novel treatments for children's cancers. Our Centre for Drug Development is a pioneer in preclinical and early clinical studies for children with cancer, from chimeric antigen receptor (CAR) T-cell therapy to kinder, faster imaging techniques. An expanded paediatric Experimental Cancer Medicine Centres (ECMC) network, in close collaboration with the adult ECMCs, also means that children are getting more effective therapy and increased access to novel treatments.