Facilitate a major shift in early diagnosis research: our progress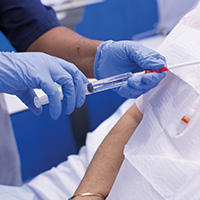 Earlier diagnosis of cancer offers the greatest potential to transform patient outcomes. The UK has a growing, active research community focused on the role of patients, healthcare professionals and healthcare providers in early diagnosis, and, together, we have a strong track record in policy research and development in this area.
Research we funded provided evidence that underpinned the introduction of bowel scope as a national bowel cancer screening programme, which is already saving lives. Our input also informed the new five-year cancer strategy for England, which has early diagnosis central to achieving 'world class' cancer outcomes.
Yet, there remains a pressing need to increase the focus of research on early disease biology and the accurate detection of early cancers, as well as to drive innovation in existing areas of strength such as behavioural science and epidemiology. We are currently faced with a very low baseline of research capacity in early detection and hope that increasing our focus in this field will accelerate progress.
We plan to tackle this in three ways: working closely with the emerging early detection community to understand how best to shape our activity, launching new funding calls to address specific knowledge, technological and/or skills gaps identified, and developing international networks to attract talent to the field and forge new strategic partnerships.