Building European research networks: our partnership with AIRC and FC AECC
In partnership with the leading cancer research charities in Spain and Italy, we're building international research networks to forge new scientific collaborations in the fight against cancer.
In 2017 we joined forces with the Fundación Científica de la Asociación Española Contra el Cáncer (FC AECC) and the Fondazione AIRC per la Ricerca sul Cancro (AIRC) to open up our Accelerator Award scheme – which encourages cross-institutional collaboration to accelerate translational research – to applicants based in Spain and Italy, as well as to those in the UK. With each organisation providing funding for institutions within their own country, this partnership is helping establish new international research networks across Europe while also accelerating progress at a national level.
Why we formed this partnership
The partnership between CRUK, FC AECC and AIRC capitalises on shared priorities across our research communities and supports our shared ambition to drive progress in translational research by building outstanding global networks. By bringing together the best teams in Italy, Spain and the UK, we are able to harness the collective expertise of our research communities to develop new resources and achieve progress which could not be delivered in isolation.
About the research
The Accelerator Award supports cross-institutional collaborations across a wide range of research areas, including pre-clinical studies, biomarkers, imaging, radiotherapies, engineering, physical sciences and many others. The award also supports training programmes and networking initiatives to build capacity across all institutions involved. Previously funded collaborations have included tackling brain tumours, building new understanding of immunotherapy and revealing the evolution of cancer through post-mortem tissue collection.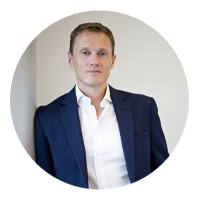 There is a huge amount of outstanding research being carried out across Spain, Italy and the UK and we hope this new initiative will help us all make the most of resources, people and time, so we can deliver the greatest impact for patients with cancer.
— Dr Iain Foulkes, Executive Director Research & Innovation, CRUK
​
How we operate
In establishing this partnership, all three partners worked closely together to design the remit of the award and promote it across our respective research communities. CRUK has led on the operational management of the initiative with input from both other partners to design the application and review process, including the selection of an independent international panel responsible for making funding recommendations. Each partner provides financial contributions to support any components of successfully funded teams which will be led by researchers in their country.
Our progress
The first two rounds of Accelerator Awards to be run in partnership with FC AECC and AIRC were announced in 2018 and 2019. We are excited to see the outcomes arising from our funded research teams over the coming years, and would welcome the opportunity to engage with organisations from other countries to support the development of leading research networks around the world.
CRUK contact details
If your organisation would like to find out more about research partnership opportunities with us, please contact:

Rachael Barber
Head of Strategic Partnerships (Non-Commercial)
strategicpartnerships@cancer.org.uk
+44 (0) 20 3469 6907
Accelerator Award
The Accelerator Award funds cross-institutional teams, bringing together resources and expertise to accelerate progress that could not be delivered in isolation.
We partner with like-minded organisations from across the academic, not-for-profit, government and private sectors to deliver mutually beneficial collaborations, from large-scale co-funding of projects and infrastructure to joint workshops and conferences.