Early Detection Innovation Sandpit and Award
About this scheme
Key information
Career level
Early career researcher
Mid-career researcher
Established independent researcher
Clinician
Non-clinical researcher
Health professional
Industry researcher
Scientific theme
Digital pathology & artificial intelligence
Application deadline
30 September 2019
Workshop dates
18–20 November 2019
The CRUK-STFC Early Detection Innovation Sandpit and Award will catalyse new multidisciplinary collaborations to drive forward earlier detection of cancer.
To apply for this funding you must attend a sandpit workshop — an intensive and interactive 3-day residential event where you will have the opportunity to:
Network and form new collaborations spanning diverse research areas and organisations
Work in broad, multidisciplinary teams to generate new and innovative research ideas
Pitch projects for seed funding to test the feasibility of your ideas
Find out more about what to expect at an innovation sandpit workshop
Scientific theme
The theme for the November 2019 workshop is applying artificial intelligence techniques to digital pathology images for cancer early detection. Pathology is critical for diagnosis and treatment decisions for many diseases, including cancer. The vast majority of cancer patients require a histological or cytological test for the initial diagnosis to be set. In some cases, pathologists examine a pre-cancerous condition with the aim of identifying the transition to cancer early, allowing for an intervention to take place, even before an invasive cancer is established. 
There is currently a shortage of histopathologists and the workload is increasing. The diagnostic process could be aided by digital pathology and artificial intelligence (AI), improving turnaround times and diagnostic accuracy, provide data for further research and potentially pick up early signs of cancer which may otherwise be missed.
In recent years, huge advances have been made in AI and there is an opportunity to utilise emerging technological and methodological insights in these fields for the interpretation of digital pathology images, thus providing an innovative approach to detecting cancer early. There is growing interest in the area of digital pathology, as reflected by the recent investment by the UK government in centres of excellence focusing on digital pathology, medical imaging and the use of digital systems and AI to improve diagnosis and deliver treatment. This sandpit will leverage this momentum  to make progress in cancer early detection.
The aim of this workshop is to bring in innovative computational approaches from outside of cancer research, and to direct these efforts towards cancer early detection. Developing tools with the potential to translate into a diagnostic and/or surveillance pathway, that can bridge pathology and imaging, are particularly of interest. 
The research ideas you develop at the workshop could investigate some or a combination of the following challenges:
How to identify and disregard and/or fix artefacts: for example, tissue tears/folds, debris, crushed cells and contamination that may get in the way of accurate diagnosis.

Extraction and mining of features predictive of neoplasia: which features can be determined by AI and of these, which will be the most useful in early detection?

Determining the 'ground truth': what does normal look like? What does a pre-malignant state look like? How does a high-risk pre-malignancy differ from normal tissue or a low-risk pre-malignancy? What can be picked up by AI that a human can't distinguish/see?

Variability in samples: overcoming the variation in patterns of pre-cancerous / dysplastic abnormalities and their surroundings and differentiation between those.

Lack of binary variables: a diagnosis may not be as simple as non-malignant or malignant, particularly in early detection where what we aim to detect may be somewhere on a spectrum between the two. Can we assign a risk score for malignant transformation?

Improving histopathological markers for early cancers: including which stains or combinations of stains would be best suited for AI interpretation and the determination of robust markers.

Combining samples across multiple site: how to tackle variability in performance of a tool across sites? Consider including slides from multiple cohorts, accessing samples from studies and trials that might not have pathology or AI expertise.

Comparison of AI to human performance: implications of a human pathologist signing off a diagnosis made by AI.
We welcome applications from a wide range of disciplines, including from those working in the fields of cancer biology, healthcare professionals, computer scientists, mathematicians and statisticians, engineers, physical scientists, and those working in the digital and technology space.
You must be:
Creative, open-minded, and able to work effectively as part of a team
Willing to engage with those working in other disciplines from a variety of backgrounds, and other key stakeholders
Able to attend all days of the workshop in London, 18–20 November 2019
Based in the UK
We particularly welcome applications from those working in clinical technologies, control engineering, human-computer interaction, image and vision computing approaches which have not previously been explored in cancer detection and from people representing organisations (large or small) that will contribute new expertise and new thinking in early detection research.
We regret that PhD students and junior postdocs are not eligible to attend the workshop.
We provide accommodation, refreshments and meals, and will cover standard class travel costs for the workshop.
Teams who successfully pitch proposals at the workshop will receive seed-funding for one year to cover the costs of pilot/feasibility studies.
How to apply to this scheme
Application process
The application process has 4 stages:
Submit a completed application form and up-to-date CV by noon 30 September 2019 to earlydetection@cancer.org.uk.

We will review your application and successful candidates will be notified week commencing 14 October with an invition to attend the workshop.

Over the course of the workshop, from the morning of 18 November to the afternoon of 20 November, teams will develop pilot/feasibility study proposals, which they will be able to pitch for funding on the final day of the workshop. Up to 3 teams will be funded, and decisions will be presented at the end of the event.

The principal investigator for each successful study team will have until 16 January 2020 to submit a written version of their feasibility study proposal through eGMS that outlines their group's intended activities as presented at the workshop, with costings.
Further guidance on the post-award processes will be made available to successful applicants at the workshop.
Before you begin your application
You must:
Obtain the approval of your host organisation/employer/board/shareholder(s) (as appropriate), to ensure that your organisation is willing and able to engage in a collaborative project.
Selection criteria will include:
The potential to work in trans-disciplinary environments
The potential to develop innovative and adventurous approaches to research
The ability to work collaboratively with others
The ability to communicate and engage with diverse non-academic stakeholders throughout the research process
Relevant research expertise and experience
Funding decisions will be made on the final day of the workshop by the workshop directors and scientific mentors. The Directors of the Digital Pathology & Artificial intelligence workshop will be Professor Mark Arends, Professor of Pathology at the University of Edinburgh, and Professor Nasir Rajpoot, Professor of Computational Pathology at the University of Warwick.
Decisions are ratified by our Early Detection Research Committee.
Cancer Research UK contact details
Dr Alexis Webb
Senior Research Funding Manager
Tel: +44 (0) 20 3469 5232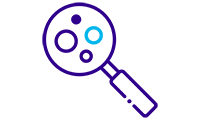 Early detection of cancer is one of our top priorities and we have funding and other support to help you develop your early detection research, whether you're established in the field, early in your career, or applying your research to early detection for the first time.
Workshop report: Image interpretation
In January 2019, we funded 5 projects through our sandpit workshop on the theme of novel AI approaches in medical image interpretation.
Workshop report: Sensor technology
In July 2018 we funded four projects through our first Early Detection Sandpit Workshop, on the theme of sensor technology for liquid biopsy.
Our annual Early Detection of Cancer Conference, held in partnership with the OHSU Knight Cancer Institute, provides the perfect opportunity to network and build new collaborations with experts from many different disciplines.