Early Detection Innovation Sandpit and Award
About this scheme
Key information
Career level
Early career researcher
Mid-career researcher
Established independent researcher
Clinician
Non-clinical researcher
Health professional
Industry researcher
Scientific theme
Robotics and robotic technologies for diagnostic delivery
Application deadline
23 May 2019
Workshop dates
14–17 July 2019
The CRUK-EPSRC Early Detection Innovation Sandpit and Award will catalyse new multidisciplinary collaborations to drive forward earlier detection of cancer.
To apply for this funding you must attend a sandpit workshop — an intensive and interactive three-day residential event where you will have the opportunity to:
Network and form new collaborations spanning diverse research areas and organisations
Work in broad, multidisciplinary teams to generate new and innovative research ideas
Pitch projects for seed funding to test the feasibility of your ideas
Find out more about what to expect at the innovation sandpit workshop
Scientific theme
The theme for the July 2019 workshop is applying robotics and robotic technologies for diagnostic delivery and cancer early detection. How we detect and ultimately diagnose cancer in a patient is often a multi-stage process, which can include biomarker tests, imaging, physical examination and more invasive diagnostic procedures. Robotics and robotic technologies offer the opportunity to speed up the diagnostic workstream, reducing error and relieving the current staffing strain on the health service.
Robotics and robotic technologies have the potential to deliver precise, minimally invasive interventions to detect and/or remove disease. Human-robot interaction can be considered from both clinician and patient perspectives; how does the robot aide the clinician in cancer detection? In what ways does the robot interact with the patient to provide the necessary information to deliver a diagnosis? Is this process controlled or automated? We are also keen to apply new robotic tools and technologies with the potential to disrupt how early cancer detection tests and examinations are delivered to patients, to improve speed and accuracy of diagnosis, and to detect early cancers locally without the need for biopsy.
Our goal is to improve deployment of early cancer diagnostics to the population, recognising that the innovations made at this sandpit workshop will likely be upstream of clinical impact.
The research ideas you develop at the workshop should:
​Consider how robotic technology could aid in diagnostic delivery/guidance
Aim to minimise invasiveness of diagnosis (e.g. through localised imaging, real-time histopathology/biopsy)
Improve speed and precision of the diagnostic workstream, simplify delivery, lower costs
Explore opportunities for both cancer detection and delivery of treatment, if necessary
We welcome applications from a wide range of disciplines, including from those working in the fields of cancer biology, healthcare professionals, computer scientists, mathematicians and statisticians, engineers, physical scientists, and those working in the digital and technology space.
You must be:
Creative, open-minded, and able to work effectively as part of a team
Willing to engage with those working in other disciplines from a variety of backgrounds, and other key stakeholders
Able to attend all days of the workshop in Oxfordshire, 14–17 July 2019
Based in the UK
We particularly welcome applications from those working in clinical technologies, control engineering, human-computer interaction, image and vision computing approaches which have not previously been explored in cancer detection and from people representing organisations (large or small) that will contribute new expertise and new thinking in early detection research.
We regret that PhD students and junior postdocs are not eligible to attend the workshop.
We provide accommodation, refreshments and meals, and will cover standard class travel costs for the workshop.
Teams who successfully pitch proposals at the workshop will receive seed-funding for one year to cover the costs of pilot/feasibility studies.
How to apply to this scheme
Application process
The application process has 4 stages:
Submit a completed application form and up-to-date CV by noon 23 May 2019 to earlydetection@cancer.org.uk.

We will review your application and successful candidates will be notified week commencing 10 June with an invition to attend the workshop.

Over the course of the workshop, from the evening of 14 July to the afternoon of 17 July, teams will develop pilot/feasibility study proposals, which they will be able to pitch for funding on the final day of the workshop. Up to five teams will be funded, and decisions will be presented at the end of the event.

The principal investigator for each successful study team will have until 27 August to submit a written version of their feasibility study proposal through eGMS that outlines their group's intended activities as presented at the workshop, with costings.
Further guidance on the post-award processes will be made available to successful applicants at the workshop.
Before you begin your application
You must:
Obtain the approval of your host organisation/employer/board/shareholder(s) (as appropriate), to ensure that your organisation is willing and able to engage in a collaborative project.
Selection criteria will include:
The potential to work in trans-disciplinary environments
The potential to develop innovative and adventurous approaches to research
The ability to work collaboratively with others
The ability to communicate and engage with diverse non-academic stakeholders throughout the research process
Relevant research expertise and experience
Funding decisions will be made on the final day of the workshop by the workshop director and scientific mentors. The Director of the Applying artificial intelligence techniques to clinical image analysis for early detection of cancer  workshop will be Professor Kevin Brindle, Department of Biochemistry and Group Leader at the CRUK Cambridge Institute.
Decisions are ratified by our Early Detection Research Committee.
Cancer Research UK contact details
Dr Alexis Webb
Senior Research Funding Manager
Tel: +44 (0) 20 3469 5232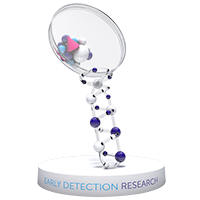 Early detection of cancer is one of our top priorities and we have funding and other support to help you develop your early detection research, whether you're established in the field, early in your career, or applying your research to early detection for the first time.
Workshop report: Image interpretation
In January 2019, we funded 5 projects through our sandpit workshop on the theme of novel AI approaches in medical image interpretation.
Workshop report: Sensor technology
In July 2018 we funded four projects through our first Early Detection Sandpit Workshop, on the theme of sensor technology for liquid biopsy.
Our annual Early Detection of Cancer Conference, held in partnership with the OHSU Knight Cancer Institute, provides the perfect opportunity to network and build new collaborations with experts from many different disciplines.