Our EDI commitment
CEO and Chair EDI Statement

At Cancer Research UK we value and embrace Equality, Diversity and Inclusion (EDI). Creating a diverse workforce and inclusive culture which supports people to reach their full potential is an important priority for us.
People are undoubtedly one of our greatest assets and our workforce EDI strategy will enable us to attract, retain and develop the best talent. We believe our differences make us stronger and will enable us to accelerate progress in our aim to beat cancer.
Recognising that, as a major funder of cancer research in the UK, we can have a positive impact on EDI issues within the research community, we have also developed an EDI strategy for research.
The Council and the Executive Board, supported by HR, the EDI team and a newly created champions group and seven staff networks, have set ambitious EDI objectives for our workforce. We have made tangible progress, but we recognise we have much more to do and we have a clear plan.
Over the course of 2019 and early 2020, we will:
Make changes to our recruitment and selection approach, enabling us to attract and recruit talent from a wide range of groups with a specific intent to ensure we attract Black, Asian and Minority Ethnic (BAME) staff at all levels.
Deliver a new EDI learning package that will include e-learning and face-to-face workshops for staff and leaders to promote a truly inclusive working environment.
Work with our staff networks to ensure appropriate EDI-related guidance is in place to support our EDI policy and equip line managers.
Support social mobility with a focus on local advocacy and outreach work, partnering with local schools and colleges ahead of our London office move to Newham, one of the UK's most diverse communities.
Participate in appropriate national EDI external benchmarking programmes.
Enable women to reach the most senior levels of our organisation and work towards gender parity within Technology over the next three years.
Develop an internal support mechanism to support BAME staff career progression.
Explore opportunities through our procurement to ensure our suppliers share our commitment to EDI.
We recognise that there is much to do to realise our goals; we are committed to making significant improvements over the next three years.
Key 2018 achievements include:
Interns are now paid the national living wage, plus London allowance where applicable, which has removed a barrier to entry for some groups and diversified this cohort of staff.
We have a stated commitment to EDI in our job adverts and applicants are asked to complete diversity monitoring data capturing information on gender identity, ethnicity, sexual orientation etc. that we track to measure success and to identify any barriers.
Seven staff networks and an EDI champions group are established and driving action across the organisation including at a directorate level, in partnership with leadership teams.
We have signed up to the Tech Talent Charter (TTC) and have pledged to support attraction, recruitment and retention policies that are designed to increase diversity of our workforce, not just in technology teams but throughout the charity.
We are offering targeted support to high-potential female employees at Head level to support career progression and increase our representation at the most senior levels as we work to close our gender pay gap.
We have responded to the Government Race Pay Gap consultation indicating that we think it is a good thing for organisations to focus on identifying and closing the pay gap for these communities.
By being more diverse and inclusive, we will be able to attract the best talent who will work as part of a team to beat cancer together.
Professor Sir Leszek Borysiewicz, Chairman of the Council of Cancer Research UK, & Michelle Mitchell, CEO.
EDI Champions Group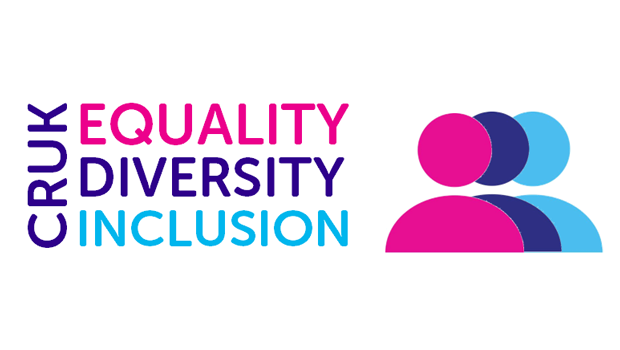 Cancer Research UK as part of its wider commitment to equality, diversity and inclusion (EDI) is looking to set up an organisation wide EDI Champions Group. The intention is to create a diverse and representative group that includes colleagues from all directorates. The EDI Champions Group will work with the EDI Manager to champion EDI good practice across Cancer Research UK and act as a constructive critical friend.