A trial of a vaccine that may help stem cell transplants to work for more people with leukaemia or lymphoma
Please note - this trial is no longer recruiting patients. We hope to add results when they are available.
This trial is looking at a vaccine for healthy volunteers, to see if it can stimulate an immune response that may make a treatment called stem cell transplant work for more people.
More about this trial
People who have leukaemia or lymphoma may have a stem cell transplant. This is where a healthy person gives (donates) cells called stem cells

. These are the cells from which blood cells develop. A stem cell transplant works well to treat some people, but doctors would like to improve the success rates, and prevent some of the complications of stem cell transplant, which can be life threatening.
How well a transplant works mainly depends on how closely matched the person giving the cells (the donor) is to the patient. Doctors try to make sure that certain proteins on stem cells in the donor and the patient match. One of these proteins is called HA1. But not everyone has the HA1 protein on their stem cells (they are HA1 negative). In this trial, healthy volunteers who are HA1 negative will have a vaccine that should make their immune system able to kill cells that do have the HA1 protein. These immune cells can be called HA1 killers. They could be given to patients who are HA1 positive so that they could kill their cancerous cells. The aim of this trial is to see if the vaccine
Is safe
Can make the donor's immune system produce HA1 killer cells
You will not have any benefit from taking part in this trial. But the results will be used to help people with leukaemia or lymphoma in the future.
Who can enter
You can volunteer to take part in this trial. If you are suitable to join, the research team will ask if you would like to take part. You may be able to enter if you
Are male
Used to give (donate) blood or platelets to the National Blood Service
Are HA1 negative (the team would know this from the Blood Service records)
Have satisfactory blood test results
Are well enough to carry out all your normal activities, apart from heavy physical work (performance status of 0 or 1)
Are at least 18 years old
You cannot enter this trial if you
Have ever had a bad reaction after a vaccination
Are taking steroids or other drugs that dampen your immune system
Are very allergic to anything
Have ever taken part in another trial of a vaccine
Have taken part in any other clinical trial in the last 6 weeks
Have had a vaccination in the 6 weeks before joining the trial, or you would be due one during the trial, or up to 6 weeks afterwards
Are female
Have hepatitis B, hepatitis C or HIV
Have any other condition that may make you unwell if you took part, or affect the results of the trial – you can ask your doctor about this
Trial design
This trial will recruit up to 24 people.
The first group of people taking part will have the lowest dose of the vaccine. If they don't have any serious side effects, the next people will have a higher dose. And so on, until they find the best dose to give. This is called a dose escalation study.
You have each vaccination as an injection into your muscle. The number you have depends on when you join the trial, but the total each person has will be either 3 or 4 vaccinations, 3 weeks apart.
You will need to stay at the hospital for 6 hours after each injection, so that the team can monitor you for any side effects. And, you fill out a diary, noting down any side effects for 14 days after each injection. Your research nurse will phone you regularly throughout the trial to see how you are getting on.
You will also give regular blood samples to check that the vaccine is safe, and to look for an immune system response to the vaccine.
Hospital visits
Before you join the trial, you will see the doctor and have a heart trace (ECG)

and some blood tests.
You go to hospital for each injection. You give a sample of blood at these visits, and also
Every week for the first 3 months of the trial
After 6 months
After 12 months
Your last hospital visit will be 12 months after your first injection. The trial team will pay your travel expenses up to £25 for each visit.
Side effects
The research team do not know all the side effects that people may have from this vaccine. This is one of the reasons they are running this trial. Possible side effects from the vaccine include
Temporary discomfort where you had the injection
Redness, swelling, warmth, pain, itching, flaky skin or blisters where you had the injection – these are usually mild
Temporary mild discomfort when using your arm
Fever, chills or tiredness in the first 48 hours after each injection
Possible allergic reaction
Please note – if you would like to give (donate) blood again in future, you must tell the National Blood Service that you have taken part in this trial.
How to join a clinical trial
Please note: In order to join a trial you will need to discuss it with your doctor, unless otherwise specified.
Please note - unless we state otherwise in the summary, you need to talk to your doctor about joining a trial.
Supported by
Bloodwise
Cancer Research UK Clinical Trials Unit Birmingham
Experimental Cancer Medicine Centre (ECMC)
University of Birmingham
CRUK internal database number:
Please note - unless we state otherwise in the summary, you need to talk to your doctor about joining a trial.
Charlie took part in a trial to try new treatments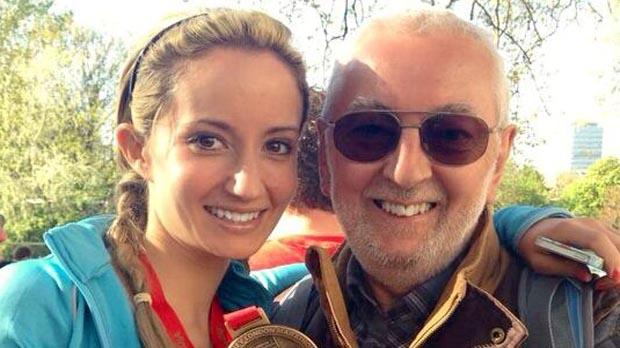 "I think it's really important that people keep signing up to these type of trials to push research forward."