A trial to find out if dalteparin can improve treatment for lung cancer (FRAGMATIC)
Cancer type:
Non small cell lung cancer
This trial wanted to see if the blood thinning drug dalteparin (Fragmin) could reduce the number of blood clots people had during treatment for lung cancer. And to find out if it could help stop cancer cells spreading through the bloodstream to other parts of the body. Cancer Research UK supported this trial.
More about this trial
Surgery, chemotherapy or radiotherapy can all be used to treat lung cancer. You may have more than one of these treatments.
Blood clots are quite common in people who have lung cancer. And cancer treatment can increase the risk of blood clots. Dalteparin is a blood thinning drug (anti coagulant) that is widely used to prevent and treat blood clots. Doctors thought that dalteparin might also affect how cancer cells spread through the bloodstream, but they didn't know this for sure.
The aims of this trial were
to see if having dalteparin as well as standard treatment was better than having standard treatment alone for lung cancer
to see if people having dalteparin injections had fewer blood clots than people who didn't have the injections
to learn more about the side effects of having regular dalteparin injections at the same time as standard treatment for lung cancer
Summary of results
The trial team found that dalteparin didn't help people with lung cancer to live longer. But it did reduce the number of blood clots.
2,202 people took part in this phase 3 trial. Half had standard treatment

. The other half had dalteparin with standard treatment.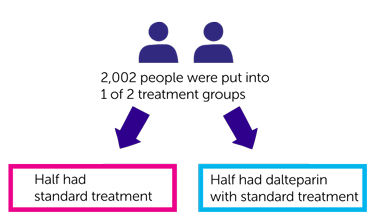 The trial team followed people up after their treatment. After just under 2 years they looked at the average length of time people lived. For both groups it was about 10 months.
They also looked at the average length of time it took for the cancer to spread. For both groups it was about 9 weeks.
The number of people who developed blood clots was:
61 of those who had dalteparin
107 of those who didn't have dalteparin
The side effects were similar for both groups except that those who had dalteparin reported having
more diarrhoea
more episodes of bleeding
The trial team concluded that although having dalteparin reduces the number of blood clots, having it also increased the risk of bleeding and so should not be given to everyone with lung cancer. There was also no increase in people living longer. They say that future research should concentrate on looking at giving blood thinning drugs to specific groups of people with lung cancer who have been identified as having a higher risk of developing a blood clot.  
We have based this summary on information from the research team. The information they sent us has been reviewed by independent specialists (peer reviewed

) and published in a medical journal. The figures we quote above were provided by the trial team who did the research. We have not analysed the data ourselves.
How to join a clinical trial
Please note: In order to join a trial you will need to discuss it with your doctor, unless otherwise specified.
Please note - unless we state otherwise in the summary, you need to talk to your doctor about joining a trial.
Supported by
Cancer Research UK
Experimental Cancer Medicine Centre (ECMC)
NIHR Clinical Research Network: Cancer
Pfizer
Velindre NHS Trust
Wales Cancer Trials Unit (WCTU)
Other information
This is Cancer Research UK trial number CRUK/06/007.
CRUK internal database number:
Please note - unless we state otherwise in the summary, you need to talk to your doctor about joining a trial.
Cara took part in a clinical trial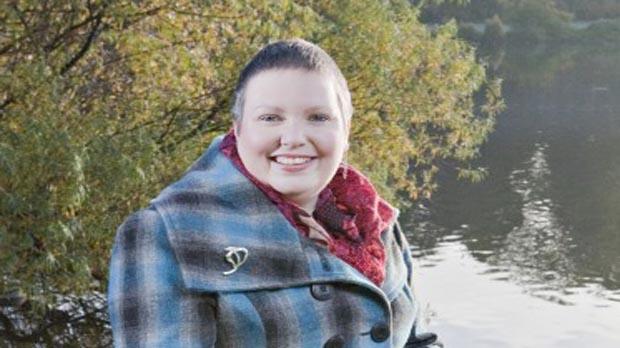 "I am glad that taking part in a trial might help others on their own cancer journey."