A trial testing a new type of biopsy for breast cancer that uses light measurements
Coronavirus (COVID-19)
We know that this is an especially worrying time for people with cancer and their family and friends. We have separate information about coronavirus and cancer. Please read that information alongside this page. We will update that information as guidance changes.
Please note - this trial is no longer recruiting patients. We hope to add results when they are available.
This trial is testing a new way of diagnosing breast cancer, using light. It is called elastic scattering spectroscopy (ESS). In the future, it may also be used to work out whether the cancer has spread to the lymph nodes, and the likely outcome (prognosis).
More about this trial
A pathologist

 usually diagnoses breast cancer by looking at a sample of breast tissue (a biopsy) under a microscope. The "optical biopsy system" uses light to tell if the breast tissue contains cancer cells. In future, it may be possible to use this test directly on the breast. This would be much quicker than sending samples to the laboratory.
Doctors will look at tissue from two groups of patients. These are people having either
A breast biopsy in an out patients clinic
Surgery for a cancerous or non cancerous (benign) breast lump
The aim of this study is to see how good ESS is at diagnosing cancer.
Doctors hope that they will be able to use it in the future to diagnose cancer very quickly. This will help them make treatment decisions straight away. You will not have any direct benefit from taking part in this trial, and it is unlikely to change your treatment plan in any way. But the results of the trial will be used to help people with breast cancer in the future.
Who can enter
You can enter this trial if you are a patient at the breast clinic at University College London Hospital and are waiting for any of these procedures
Needle biopsy (core cut biopsy)
Mammotome biopsy
Excision biopsy
An operation to remove an area of your breast (wide local excision) for breast cancer or ductal carcinoma in situ (DCIS)
An operation to remove your whole breast (mastectomy) for breast cancer or DCIS
Sentinel lymph node biopsy
Axillary node clearance
Trial design
This trial is hoping to recruit 209 people in total into 2 groups. The group you are in depends on the procedure you are going to have. Group 1 is for people having a biopsy in clinic. Group 2 is for people having surgery for a benign

breast lump or breast cancer.
If you are in group 1, the doctor will put some local anaesthetic on the biopsy site. They will then place the biopsy needle into the breast tissue, ready to collect some breast cells. Before they collect the cells, the researcher will gently slide a tiny wire (probe) through this needle. They will then take a light measurement. This will take a few seconds. When they have taken the readings the researcher will remove the probe. The doctor will then take the biopsy.
If you are in group 2, the doctor will take the optical readings from a sample of your breast tissue that was removed during your operation. So, the procedure will not affect you or your surgery in any way.
Hospital visits
You will either have the optical biopsy done as part of a routine biopsy at your clinic appointment, or it will be done on tissue removed during surgery. You will not need to go to the hospital for any extra appointments as a result of taking part in this trial.
Side effects
The research team haven't seen any side effects with this procedure so far. But it is a new procedure so there may be side effects we don't know about yet.
How to join a clinical trial
Please note: In order to join a trial you will need to discuss it with your doctor, unless otherwise specified.
Please note - unless we state otherwise in the summary, you need to talk to your doctor about joining a trial.
Chief Investigator
Mr Mohammed RS Keshtgar
Professor Stephen G Bown
Supported by
Experimental Cancer Medicine Centre (ECMC)
Questions about cancer? Contact our information nurses
CRUK internal database number:
Please note - unless we state otherwise in the summary, you need to talk to your doctor about joining a trial.
Caroline took part in a clinical trial for breast cancer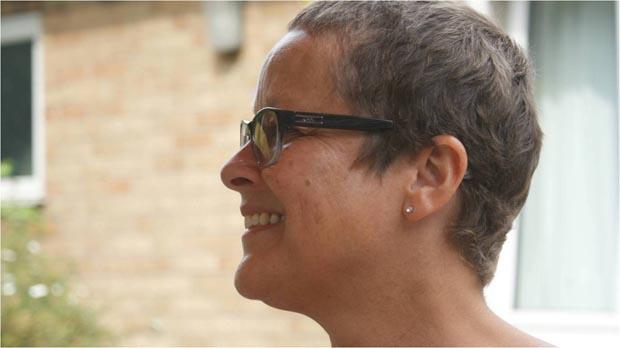 "I had treatment last year and I want to give something back."