A trial of switching then stopping treatment for chronic myeloid leukaemia (ENEST Path)
Coronavirus (COVID-19)
We know that this is an especially worrying time for people with cancer and their family and friends. We have separate information about coronavirus and cancer. Please read that information alongside this page. We will update that information as guidance changes.
Please note - this trial is no longer recruiting patients. We hope to add results when they are available.
Cancer type:
Chronic myeloid leukaemia (CML)
This trial is looking at switching treatment and then stopping treatment for chronic myeloid leukaemia (CML).
Doctors often treat CML with a biological therapy called imatinib (Glivec). Imatinib is a cancer growth blocker. It stops signals that cancer cells use to divide and grow. We know from research that CML responds to it so well in some people, that they can stop taking imatinib.
Nilotinib (Tasigna) is another biological therapy that is also a cancer growth blocker. We know from research that CML may respond better to nilotinib than imatinib.
The main aims of this trial are to find out
If switching from imatinib to nilotinib can improve how well CML responds
When people with CML can stop taking nilotinib after their leukaemia has responded to it
Who can enter
You may be able to join this trial if all of the following apply
You have chronic myeloid leukaemia (CML) that is in the chronic phase (your doctor can tell you this)
Your CML has either a high level of the protein BCR-ABL, has tested positive for the Philadelphia chromosome or both (your doctor can tell you this)
You have previously had imatinib for at least 2 years (you can have stopped treatment and then started again)
You are currently taking imatinib
You have satisfactory blood test results
You are well enough to be up and about for at least half the day (performance status 0, 1 or 2)
You are willing to use 2 forms of reliable contraception during treatment and for 2 weeks afterwards if there is any chance you or your partner could become pregnant
You are at least 18 years old
You cannot join this trial if any of these apply                                                          
Your CML is in a second chronic phase after having been in the accelerated phase or the blast crisis (your doctor can confirm this)
You have had any other anti cancer treatment apart from imatinib, chemotherapy or radiotherapy after you were first diagnosed or interferon for less than 1 year
Apart from imatinib, you have had other medication that works in a similar way to nilotinib
You have not recovered from previous surgery
You have had an experimental drug as part of a clinical trial in the past month
You have had another cancer in the past 5 years apart from basal cell skin cancer or cervical carcinoma in situ that has been successfully treated
You have certain heart problems (the trial team can advise you about this)
You have a problem with bleeding that isn't caused by your CML
You have had an inflammation of your pancreas (pancreatitis) in the past year or you have chronic inflammation of the pancreas
You take other medication that affects body substances called CYP enzymes (your doctor can advise you about this)
You have a problem with your digestive system that could affect how you absorb nilotinib
You have any other medical condition that could affect you taking part in this trial
You are pregnant or breastfeeding
Trial design
This is a phase 3 trial. The researchers need 1,058 people to join.
There are 2 parts to this trial. In the 1st part everyone takes nilotinib for 2 years. If your CML has a good response to nilotinib you can go on to the 2nd part. If your CML doesn't respond well enough, your doctor will talk to you about other treatment.
The 2nd part is randomised. You are put into treatment groups by a computer. Neither you nor your doctor will be able to decide which group you are in. This part of the trial continues for 3 years. This makes a total of 5 years in the trial.
People in group 1 stop taking nilotinib
People in group 2 continue taking nilotinib for another year then stop taking it
Nilotinib is a capsule that you take twice a day with a glass of water. Your doctor will tell you how many you need to take.
In the 1st part of the trial, the team will ask you to fill out a questionnaire before you start treatment, after 6 months and then at 2 years. In the 2nd part they will ask you to fill out the same questionnaire every 6 months for 3 years. The questionnaire will ask about side effects and how you've been feeling. This is called a quality of life study.
The team are also doing a sub study within this main study. They may ask you if you would like to take part, but you don't have to agree to this if you don't want to.
In this sub study the researchers are looking at the importance of leukaemic stem cells in the long term in CML.
Stem cells are immature cells in your bone marrow. Normally they develop into red blood cells, white blood cells or platelets. In CML too many stem cells become an abnormal type of white blood cell that doesn't develop into a healthy white blood cell.
For this sub study the researchers will take a bone marrow sample

before you start nilotinib and after 2 years of taking it. If you are in the group that continues to have nilotinib for another year, the researchers will take another bone marrow sample at the end of this year too.
Hospital visits
You see the doctor to have some tests before taking part in this trial. These tests include
A physical examination
Blood tests
Heart trace (ECG )
Heart scan (ECHO )
Bone marrow test (if needed)
During the trial you see the doctor regularly for a physical examination, blood tests and a heart trace.
At the end of the 5 years you see the doctor for the same tests.
Side effects
The most common side effects of nilotinib include
Headache
Pain in the muscles, joints or bones
Rash
A drop in blood cells causing an increased risk of infection, bruising and bleeding
Your doctor will talk to you about the possible side effects before you agree to take part in the trial.
We have more information on nilotinib side effects.
How to join a clinical trial
Please note: In order to join a trial you will need to discuss it with your doctor, unless otherwise specified.
Please note - unless we state otherwise in the summary, you need to talk to your doctor about joining a trial.
Questions about cancer? Contact our information nurses
CRUK internal database number:
Please note - unless we state otherwise in the summary, you need to talk to your doctor about joining a trial.
Around 1 in 5 people take part in clinical trials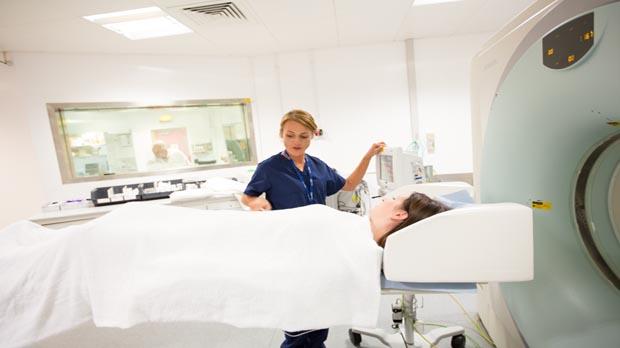 Around 1 in 5 people diagnosed with cancer in the UK take part in a clinical trial.