A trial of Reolysin with chemotherapy for head and neck cancer that has come back or spread to other parts of the body (REO 18)
Please note - this trial is no longer recruiting patients. We hope to add results when they are available.
This trial is studying a treatment called Reolysin alongside paclitaxel and carboplatin chemotherapy for squamous cell cancer of the head and neck. It is for people whose cancer has spread to other parts of the body or has got worse despite previous chemotherapy with a platinum drug.
Squamous cells are the flat, skin like cells that cover the inside of the mouth, nose, larynx and throat. When a cancer starts in these cells, it is called a squamous cell carcinoma

. Many head and neck cancers are squamous cell carcinomas. Doctors can treat these cancers with radiotherapy, surgery and chemotherapy depending on the extent of the cancer.
Cisplatin and carboplatin are 2 chemotherapy drugs that doctors often use. They are called platinum drugs

. You often have one of these drugs alongside drugs such as 5-FU or a taxane drug

. Paclitaxel is a taxane drug. If the cancer does not respond to the first treatments, or if it comes back later, you may have more treatment, including chemotherapy.
Reolysin is a new type of treatment that uses a virus

called 'reovirus'. Reovirus is very common in the environment and rarely causes illness. We know from research that it can kill cancer cells, but it does not seem to affect normal cells.  Having Reolysin with chemotherapy may help people with head and neck cancer.
The people taking part in this trial have already had chemotherapy that included a platinum drug, but their cancer has come back or spread to other parts of the body. The aim of the trial is to see if having Reolysin at the same time as carboplatin and paclitaxel is more helpful than having chemotherapy alone.
Who can enter
You can enter this trial if you
Have squamous cell carcinoma (SCC) of the mouth or oropharynx, larynx, hypopharynx or nasopharynx that has come back or has spread to another part of your body within about 6 months of finishing chemotherapy with a platinum drug
Have recovered from the side effects of any other cancer treatment (apart from hair loss)
Are well enough to be up and about for at least half the day (performance status 0, 1 or 2)
Have satisfactory blood test results
Are willing to use a reliable form of contraception during the trial if there is any chance you or your partner could become pregnant
You cannot enter this trial if you
Have cancer that has spread to your brain
Are having any other experimental treatment as part of another clinical trial
Have had chemotherapy, radiotherapy, immunotherapy or hormone therapy in the last 4 weeks
Have had surgery (apart from minor procedures such as biopsies ) in the last 4 weeks
Have already had a taxane drug for squamous cell carcinoma of the head and neck
Are taking drugs that suppress your immune system (immunosuppressants )
Have had a heart attack in the last year or have certain other heart problems
Have any other medical condition that the trial doctors think could affect your taking part
Are known to be HIV positive or have hepatitis B or C
Are pregnant or breastfeeding
Trial design
This phase 3 trial has recruited 167 people. It is a randomised trial. The people taking part are put into treatment groups by a computer. Neither you nor your doctor can decide which group you are in. You will not know which group you are in either. This is called a double blind trial.
Everybody taking part has treatment in 21 day (3 week) cycles of treatment.
People in group 1 have paclitaxel, carboplatin and Reolysin on day 1 of each cycle. You have treatment through a drip into a vein, which takes about 4 to 5 hours. On days 2, 3, 4 and 5 you have Reolysin alone, which takes about an hour.
People in group 2 have paclitaxel and carboplatin in the same way, but instead of Reolysin, they have a dummy drug (placebo

).
Before you have paclitaxel, you have some other medication to reduce the risk of having a reaction to the drug. And you have medicine for 5 days to reduce or prevent flu like symptoms such as fever, chills and headache.
The number of cycles you have depends on how well the treatment is working. You can have up to 8 cycles of treatment with all 3 drugs. If the cancer does not get any worse, you may continue to have Reolysin (or placebo) for as long as your doctor thinks it is helping you.
The trial doctors may ask your permission to take a sample of your cancer (a biopsy

).  If you agree to this, you will have a biopsy before your treatment and another after at least 2 cycles of treatment. This will help researchers to study the effects of the virus. You don't have to have these biopsies if you don't want to. You can still take part in the trial.
Hospital visits
Before you start the trial, you will see the doctor and have some tests. These tests include
You go to hospital for treatment on the first 5 days of each treatment cycle. You do not have to stay in hospital overnight, but you do have to stay for at least an hour after each infusion of Reolysin (or placebo) so that the hospital staff can monitor you closely.
On about day 8 of each cycle, a member of the study team will phone you to see how you are. They will ask about any problems you have noticed and any medication you are taking. If they are concerned about anything, they may ask you to come to hospital for a check up. You have a CT or MRI scan every 6 weeks.
After you finish treatment, you will have another scan and an ECG. You will see the trial doctor a month later and then every 3 months. At these visits the doctor will examine you and you may have blood tests and a scan.
Side effects
Reolysin is a new drug, so there may be some side effects that doctors don't know about yet. In earlier trials, side effects have included
Fever and chills
Headache
Tiredness (fatigue)
Runny nose
Cough
A drop in blood cells causing an increased risk of infection, bleeding or bruising problems, tiredness or shortness of breath
Loss of appetite
Temporary changes in liver function tests
The most common side effects of carboplatin and paclitaxel include
Fatigue
Sickness
A drop in blood cells
Numbness and tingling in your hands and feet (peripheral neuropathy)
Kidney problems – you will have blood tests to check for this
Loss of fertility
We have more information about carboplatin and paclitaxel in our cancer drugs section.
How to join a clinical trial
Please note: In order to join a trial you will need to discuss it with your doctor, unless otherwise specified.
Please note - unless we state otherwise in the summary, you need to talk to your doctor about joining a trial.
Supported by
Experimental Cancer Medicine Centre (ECMC)
Oncolytics Biotech Inc.
CRUK internal database number:
Please note - unless we state otherwise in the summary, you need to talk to your doctor about joining a trial.
Charlie took part in a trial to try new treatments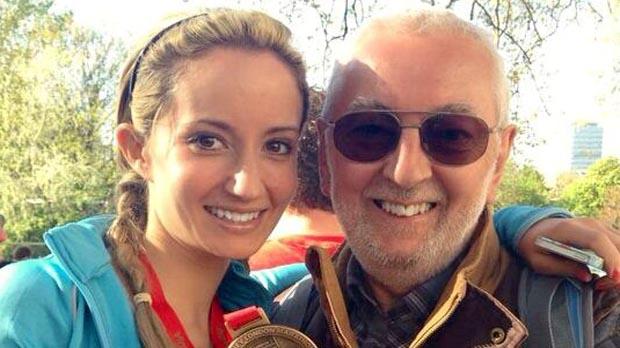 "I think it's really important that people keep signing up to these type of trials to push research forward."