A trial of talimogene laherparepvec for advanced melanoma
Please note - this trial is no longer recruiting patients. We hope to add results when they are available.
This trial is open to people with melanoma that can't be completely removed by surgery or has spread to another part of the body.
The treatment uses a form of the cold sore virus. It has been changed so it isn't harmful to normal cells, but destroys cancer cells. The virus is changed by altering the genes that tell it how to behave.
More about this trial
Talimogene laherparepvec works in several ways
it puts the changed virus directly into cancer cells where it can grow and kill them
it tells the cancer cell to make more of a substance called GM-CSF before the virus kills it
it helps the body's immune system to recognise and attack cancer cells
GM-CSF stands for granulocyte and macrophage colony stimulating factor. It is a growth factor that can encourage the immune system to recognise and attack cancer cells. Small amounts of GM-CSF are produced naturally in the body. But you can have larger amounts by injection. 
In this trial everyone will have talimogene laherparepvec injected directly into the melanoma. This is called intratumoural treatment

. The researchers hope the virus will kill the cancer cells and the GM-CSF will boost the immune system to help fight the cancer.
The main aims of this trial are to 
explore if immune cells that are in melanoma might help to predict how talimogene laherparepvec destroys melanoma cells
explore if there is a change in numbers of  immune cells that are present in melanoma during treatment with talimogene laherparepvec
learn more about how talimogene laherparepvec works on melanoma 
learn more about the side effects of talimogene laherparepve
Who can enter
The following bullet points list the entry conditions for this trial. If you are unsure about any of these speak with your doctor or the trial team. They will be able to advise you. 
You may be able to join this trial if all of the following apply. You
Have melanoma that has spread to another part of the body (advanced melanoma) and can't be completely removed by surgery  
Have a single area of melanoma at least 10mm across (diameter) that talimogene laherparepvec can be injected into or ​h

ave a number of smaller areas of melanoma that can be injected into and the total of the diameters of each area  adds up to at least 10mm

Have melanoma that can be measured
Have satisfactory blood test results
Are well enough to carry out all your normal activities, apart from heavy physical work (performance status of 0 or 1) 
Are willing to use reliable contraception during treatment and for 3 months afterwards if there is any chance you or your partner could become pregnant and are willing to use male or female latex condoms during treatment and for 30 days afterwards to avoid the possibility of passing on talimogene laherparepvec
Are at least 18 years old
You cannot join this trial if any of these apply. You
Have melanoma that first started in the eye (primary melanoma of the eye) or in mucosal  tissue (mucosal melanoma

) 

Have melanoma spread to the brain that hasn't been treated. You may be able to join if you have had no more than 3 areas of melanoma spread to the brain. And you had treatment with stereotactic radiotherapy or surgery, there is no sign of the areas growing and you haven't needed steroids for the past 2 months 
Have more than 3 areas of melanoma spread to other organs in the body, such as liver, spleen or kidneys apart from the lungs and any lymph nodes near other organs of the body
Have melanoma that has spread to the bones
Have had treatment for melanoma that reached your whole body (systemic treatment ) such as chemotherapy in the past 28 days
Currently have an outbreak of herpes infection or a recurrence
Have had complications such as inflammation of the eye or inflammation of the brain caused by herpes infection
Are taking medication by mouth or as an injection such as acyclovir to treat herpes apart from the occasional use of cream  
Have or have had symptoms of an autoimmune disease
Have needed systemic treatment for an autoimmune disease apart from treatment that replaces something in the body such as insulin 
Have a weakened immune system due to another disease such as an infection
Have taken medication such as steroids that affect the immune system in the past 2 months
Have HIV, hepatitis B or hepatitis C
Have had another cancer in the past 3 years apart from successfully treated non melanoma skin cancer , some early cancers or any other cancer treated with the aim to cure, with no sign of it for at least 3 years and a low risk of coming back 
Have already had talimogene laherparepvec
Have had an experimental drug or used an experimental device as part of another clinical trial in the past 28 days
Are sensitive to talimogene laherparepvec or any of its ingredients 
Have another medical or mental health problem that the trial team think could affect you taking part 
Are pregnant or breastfeeding
Trial design
This is an international phase 2 trial. The researchers need 110 people worldwide to join. 
Everyone will have talimogene laherparepvec. It is injected directly into the melanoma in the skin or lymph nodes. You may have more than 1 melanoma site injected. You doctor will talk to you about this and decide how many will be injected. The doctor might use ultrasound

to help with the injection of talimogene laherparepvec. 
After your 1st injection, you have the next one 3 weeks later and then every 2 weeks. You can continue having treatment as long as it is helping, there are still lesions to inject and the side effects aren't too bad. 
Talimogene laherparepvec is a changed form of the cold sore virus (herpes virus). If you develop a rash or a sore that your doctor thinks might be herpes, they will ask your permission to take a swab of it. This is to find out if they can detect talimogene laherparepvec in the rash or sore. Your doctor will talk to you about this. 
The team will ask for a sample of your melanoma that was previously removed when you had surgery or a biopsy

.
They will also take samples of melanoma tissue and blood samples during treatment. They will use these to look for substances (biomarkers

) that may tell how talimogene laherparepvec is working.
They might ask your permission to store these samples for future research. You don't have to agree to this. You can still take part in the main study. 
Your doctor might ask your permission to take photos of the melanoma. They will take a photo when have your first 2 treatments and then every 2nd treatment.
Hospital visits
You see the doctor to have some tests before taking part. These tests include
You see the doctor before you have your first 4 treatments for a physical examination and blood tests. You then see them every 3 months. You have a scan every 3 months. 
A month after finishing treatment you see the doctor for the same tests you had at the beginning. 
At the end of the trial the researchers will ask if you would like to take part in a long term follow up study. This is called the Registry Study. A member of the team will see you at your clinic appointment or phone you every 3 months. They will ask you a few questions about your health. They may also ask you to let them know when you have been in hospital, start any new medications and any illness you may have. You don't have to agree to join the Registry Study. 
Side effects
The most common side effects of talimogene laherparepvec are
Flu like symptoms including chills, a high temperature (fever), feeling sick, tiredness and muscle pain
Pain at the injection site
Headache
Joint, arm and leg pain
The team will talk to you about the possible side effects before you agree to take part.
How to join a clinical trial
Please note: In order to join a trial you will need to discuss it with your doctor, unless otherwise specified.
Please note - unless we state otherwise in the summary, you need to talk to your doctor about joining a trial.
CRUK internal database number:
Please note - unless we state otherwise in the summary, you need to talk to your doctor about joining a trial.
Around 1 in 5 people take part in clinical trials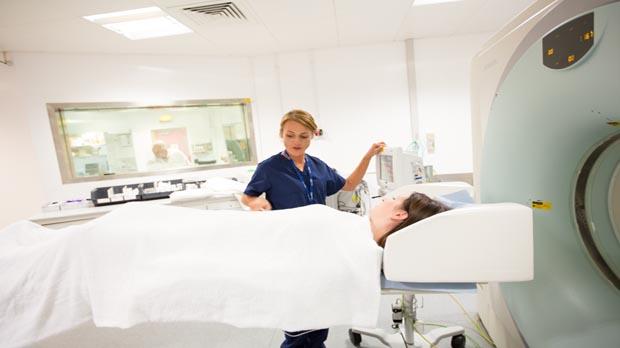 Around 1 in 5 people diagnosed with cancer in the UK take part in a clinical trial.