A trial of RO6874281 and atezolizumab for solid cancers (BP40234 Part 3)
Please note - this trial is no longer recruiting patients. We hope to add results when they are available.
This trial is for people with a solid cancer that has come back after treatment, got worse during treatment or has spread to another part of the body.
A solid cancer is any cancer apart from leukaemia and lymphoma. This trial is open to people who have:
More about this trial
There are 3 parts to this trial. Parts 1 and 2 are now closed. This summary is about part 3 of the trial. 
Atezolizumab
is a targeted drug called an
immunotherapy
. It works by blocking a protein that stops the immune system from working properly. 
RO6874281 is also an immunotherapy. It works by stimulating the immune system to kill cancer cells. 
Researchers think that the combination of atezolizumab and RO6874281 might be better than giving them separately. 
Everyone in the trial will have both atezolizumab and RO6874281. 
The aims of this trial are to find out:
how well this combination works 
about the side effects of this combination 
Who can enter
The following bullet points list the
entry conditions
for this trial. Talk to your doctor or the trial team if you are unsure about any of these. They will be able to advise you. 
Who can take part
You may be able to join this trial if you have one of the following cancers:
And all of the following apply. You:
have a cancer that is a squamous cell carcinoma 
have cancer that has spread to another part of the body (metastatic) or came back after treatment or got worse during treatment
have an area of cancer that doctors can measure on a scan 
are willing to have a small sample of tissue (biopsy) taken from an area of cancer when you agree to join the trial and during the trial
have satisfactory blood test results
are fully active but not able to do heavy physical work (WHO performance status 0 and 1 or Karnofsky performance status 70 or greater)
are willing to use reliable contraception for up to 5 months after treatment if either you or your partner could become pregnant
are at least 18 years old
Who can't take part
You cannot join this trial if any of these apply. 
Cancer related
You:
have cancer spread to the brain or spinal cord 
have an area of cancer pressing on your spine (spinal cord compression) unless it has been successfully treated and it has been stable for 2 or more weeks before agreeing to join the trial
have another cancer apart from non melanoma skin cancer, in situ carcinoma of the cervix, prostate cancer that has been successfully treated with hormone therapy and there hasn't been a sign of it for more than 2 years or any other cancer that was successfully treated with the aim to cure
have ongoing side effects or complications of previous anti cancer treatment apart from hair loss and mild nerve damage (peripheral neuropathy)
Medical conditions
You cannot join this trial if any of these apply. 
You:
have had a heart attack, unstable angina, congestive heart failure or any other major heart problem in the past 6 months
have had a stroke or blood clot in the past 6 months
have high blood pressure that isn't controlled by medication
have an active infection that needs to be treated or have a severe infection within 4 weeks of starting treatment
have HIV
have hepatitis B, hepatitis C, cirrhosis or any other long term (chronic) liver disease
have or might have an autoimmune disease apart from an under active thyroid gland (hypothyroidism) and you are on a stable dose of hormone replacement or you have type 1 diabetes and are taking a stable dose of insulin
have lung problems such as inflammation of the lung (pneumonitis) or pulmonary fibrosis
have fluid on both lungs (bilateral pleural effusion)  
are taking medication that affects how your immune system works
have had radiotherapy within 4 weeks of starting treatment unless it was in a small area for symptom relief such as pain relief (palliative radiotherapy)
have major surgery or injury within 28 days of starting treatment or you might need to have surgery during the trial 
are having treatment with another experimental drug as part of another clinical trial
are very short of breath when resting and need to have oxygen
Other
You cannot join this trial if any of these apply. 
You:
have a live vaccine within 4 weeks of starting treatment
are allergic or sensitive to RO6874281, atezolizumab or any of their ingredients
are pregnant or breastfeeding
Trial design
This is a
phase 2 trial
. The team need 160 people to join. Everyone will have RO6874281 and atezolizumab. 
You have atezolizumab as a
drip into a vein
. The 1st treatment takes an hour. You are then monitored for 2 hours before having RO6874281. 
You have RO6874281 as a drip into a vein. The 1st treatment takes 2 hours. 
There are different groups in the study. How often you have treatment depends on which group you are in.  
In one group you have RO6874281 and atezolizumab on the same day every 3 weeks. Each 3 week period is a
cycle of treatment
.
In the other group you have RO6874281 every week and atezolizumab every other week for 4 weeks. From week 5 you have both on the same day every 2 weeks. Each 2 week period is a cycle of treatment. 
You continue to have treatment as long as your doctor thinks it is in your best interest and the side effects aren't too bad. 
If for any reason you need to stop having RO6874281 or atezolizumab you might be able to continue having the one treatment by itself. You doctor will talk to you about this if it happens.  
Samples
The study team will take blood samples during the study. They will also take a small sample of cancer tissue (biopsy) at different times during the study.
They will use these samples to:
find out what happens to RO6874281 and atezolizumab in the body
look for substances (biomarkers) that might tell them if the treatment is working
measure the amount of RO6784281 and atezolizumab in your blood
find out if your body has developed antibodies to the treatment
find out more about your type of cancer
Hospital visits
You see the doctor to have some tests before starting treatment. These tests include:
a physical examination
blood tests 
urine test
heart trace (ECG)
breathing test (lung function tests)
heart scan (ECHO or MUGA)
chest x-ray
You see the doctor regularly during treatment for blood tests and to see how you are. You have CT scans or MRI scans every 8 weeks.
At the end of treatment and 4 weeks later you see the doctor for:
a physical examination
blood tests 
urine test
heart trace (ECG)
heart scan 
You then see the doctor every 3 to 4 months for:
a physical examination
blood tests
urine test
You have a CT scan or MRI scan every 8 weeks for the first year and then every 12 weeks. 
Side effects
Your doctor and nurse will monitor you closely for any side effects. Let your doctor or nurse know as soon as possible if:
you have severe side effects 
your side effects aren't getting any better
your side effects are getting worse
You might have a reaction when you have RO6874281 or atezolizumab. It can happen during, soon after or within 24 hours of having treatment. It usually happens when you first have them. Some of the symptoms can include:
a high temperature (fever), shivering or chills
feeling or being sick
high or low blood pressure
changes to your heart beat
breathing difficulties
You have medication before starting treatment to prevent a reaction. You are monitored closely during and for a while after treatment. 
Tell your nurse if you have any of the above symptoms during treatment. After treatment contact your healthcare advice line if you have any of the above. 
RO6872481 is a new drug and there might be side effects we don't know about yet. The side effects reported so far include:
high temperature (fever)
capillary leak syndrome – if you feel faint, sick and have swollen ankles or legs contact your doctor or the health care advice line straight away
These treatments affect the immune system. This may cause inflammation in different parts of the body which can cause serious side effects. They could happen during treatment, or some months after treatment has finished. In some people, these side effects could be life threatening.
Your doctor or a member of the trial team will talk to you about the possible side effects of RO6874281 and atezolizumab before you agree to take part.
How to join a clinical trial
Please note: In order to join a trial you will need to discuss it with your doctor, unless otherwise specified.
Please note - unless we state otherwise in the summary, you need to talk to your doctor about joining a trial.
CRUK internal database number:
Please note - unless we state otherwise in the summary, you need to talk to your doctor about joining a trial.
Cara took part in a clinical trial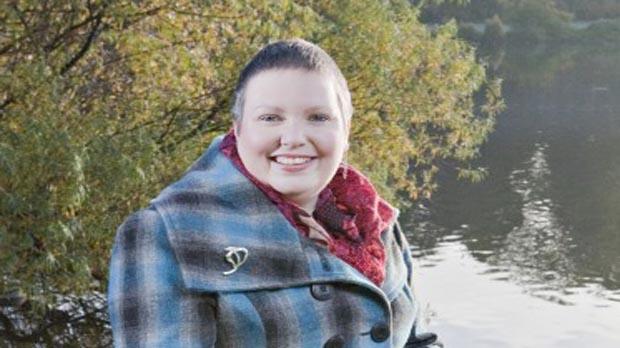 "I am glad that taking part in a trial might help others on their own cancer journey."