A trial of pembrolizumab and radiotherapy for advanced melanoma (PERM)
Please note - this trial is no longer recruiting patients. We hope to add results when they are available.
This trial is for people with melanoma skin cancer that cannot be removed with surgery or has spread to other parts of the body.
Cancer Research UK supports this trial.
More about this trial
Pembrolizumab is one of the usual treatments for advanced melanoma. It is a type of biological therapy

called a monoclonal antibody. It works by helping the immune system to recognise and attack cancer cells.
Radiotherapy is another treatment for advanced melanoma. It can help shrink the cancer or manage symptoms such as bone pain.
In this trial, researchers want to see if having pembrolizumab and radiotherapy can control the growth of the cancer for longer. Some people have pembrolizumab alone and some people have pembrolizumab and radiotherapy.
The aims of the trial are to:
find out if pembrolizumab and radiotherapy works better than pembrolizumab alone
learn more about the side effects
Who can enter
The following bullet points list the entry conditions for this trial. Talk to your doctor or the trial team if you are unsure about any of these. They will be able to advise you.
You may be able to join this trial if all of the following apply. You
Have melanoma skin cancer that can't be removed with surgery or has spread elsewhere in the body or any other type of melanoma and doctors are unsure where it first started (cancer of unknown primary)
Have at least 1 area of cancer and no more than 3 that don't cause symptoms, for example bone pain, and are suitable to have high dose radiotherapy – the areas must measure between 1cm and 5cm across
Have at least 1 other lesion that won't be treated with radiotherapy and can be measured on a scan
Are well enough to carry out all your normal activities, apart from heavy physical work (performance status 0 or 1)
Have satisfactory blood test results
Are willing to use reliable contraception during treatment and for up to 3 months afterwards if there is any chance you or your partner could become pregnant
Are at least 18 years old
You cannot join this trial if any of these apply.
Cancer related
Your cancer has spread to your brain or the tissues surrounding your brain (carcinomatous meningitis) – if your cancer has spread to the brain and you have had treatment for this, you might be able to take part if it is stable, you have no symptoms and you have not had steroids in the past 7 days 
You have areas of cancer that can't be treated with radiotherapy as it might cause bad side effects, for example to the brain or bowel
Your cancer is causing symptoms such as pain and you need to have radiotherapy to treat this
You have had chemotherapy, biological therapy, a monoclonal antibody or radiotherapy in the last 4 weeks and you have not recovered from side effects unless they are mild - apart from moderate tingling in your hands and feet (peripheral neuropathy)
You have had another cancer apart from non melanoma skin cancer  or carcinoma in situ (CIS) of the cervix that was successfully treated
Medical conditions
You have inflammation of the lungs (pneumonitis) that needs treatment with steroids or a lung condition called interstitial lung disease
You have or have had an autoimmune condition called Sjogrens Syndrome
You have an active autoimmune disease that needed treatment that reached your whole body (systemic treatment) in the past 3 months. You might be able to take part if you have resolved childhood asthma or vitiligo or you sometimes use inhalers or have steroid injections. If you have 

Sjogrens Syndrome or hypothyroidism and take treatment to replace hormones in the body you won't be able to join.

Your immune system isn't working properly and you are having steroid treatment or any other treatment that dampens down your immune system
You have an infection that needs treatment
You have HIV
You have hepatitis B or hepatitis C
Other
You have had pembrolizumab or any other drug that affects a protein called PD-1 or certain immune cells called T-cells
You are having or have had  treatment as part of a clinical trial in the last 4 weeks
You have had severe inflammation of the lining of the colon (colitis) in the past from immunotherapy  
You have had a live vaccination in the past 30 days
You have any other serious medical condition or mental health problem that the trial team think could affect you taking part
You are pregnant or breastfeeding
Trial design
This phase 2 trial  is based in the UK. The researchers need 234 people to take part.
It is a randomised trial. Everyone taking part is put into 1 of 2 groups. Neither you nor your doctor will be able to decide which group you are in:
one group have pembrolizumab
the other group have pembrolizumab and radiotherapy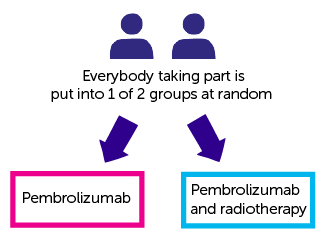 You have pembrolizumab as a drip into a vein every 3 weeks. It takes about 30 minutes each time. You have it for as long as your cancer does not get worse and the side effects aren't too bad.
If you are having radiotherapy, you have treatment everyday for 3 days. So you have 3 treatments in total. You have radiotherapy between your first and second dose of pembrolizumab. The trial team can tell you more about when you have this.
Samples for research
The researchers will ask to take a sample of your cancer (a biopsy

) before your second dose of pembrolizumab and after radiotherapy finishes. They may also ask to take some extra blood samples. Where possible, you have these at the same time as your routine blood tests.
They plan to look for substances called biomarkers

 to help work out why treatment might work for some people and not for others.
You don't have to give these samples if you don't want to. You can still take part in the trial.
Hospital visits
You see a doctor and have some tests before taking part. These tests include:
A member of the trial team may take photographs of any skin lesions you might have.
You go to hospital every 3 weeks to have pembrolizumab. You also see the doctor for a checkup and some blood tests.
If you are having radiotherapy you have this once a day over 3 days. You have it sometime between your first and second dose of pembrolizumab.
You have a CT or an MRI scan every 12 weeks while you are having treatment.
When you finish treatment, you see the trial team after 4 weeks. They will repeat some the tests you had when you joined the trial.
You then see the doctors every 3 months for 3 years. This might be at a routine hospital appointment or they might phone you to see how you are getting on.
Side effects
The most common side effects of pembrolizumab include:
The side effects of radiotherapy depend on the area where you have treatment. The most common side effects of radiotherapy include:
tiredness (fatigue)
feeling or being sick
loss of hair in the treatment area
We have more information on:
How to join a clinical trial
Please note: In order to join a trial you will need to discuss it with your doctor, unless otherwise specified.
Please note - unless we state otherwise in the summary, you need to talk to your doctor about joining a trial.
Supported by
Cancer Research UK
Experimental Cancer Medicine Centre (ECMC)
Merck, Sharp & Dohme
NIHR Clinical Research Network: Cancer
Royal Marsden NHS Foundation Trust
Other information
This is Cancer Research UK trial number CRUK/14/036. 
CRUK internal database number:
Please note - unless we state otherwise in the summary, you need to talk to your doctor about joining a trial.
Charlie took part in a trial to try new treatments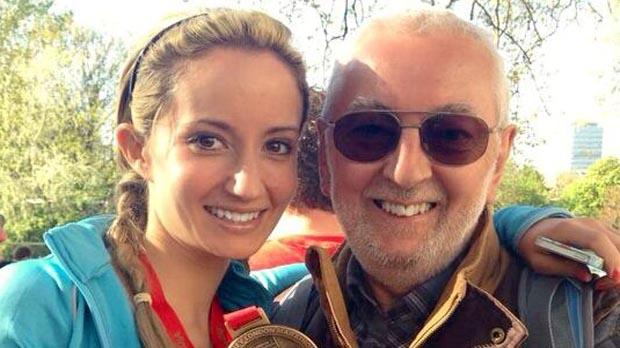 "I think it's really important that people keep signing up to these type of trials to push research forward."