A trial of olaparib with radiotherapy and chemotherapy for glioblastoma (PARADIGM-2)
Cancer type:
Brain (and spinal cord) tumours
This trial is looking at whether a drug called olaparib improves the way radiotherapy and chemotherapy work. It is for people with a type of brain tumour called glioblastoma who:
are newly diagnosed
have recently had surgery
Cancer Research UK supports this trial.
More about this trial
Glioblastoma is one of the most common types of brain tumours in adults. Surgery and radiotherapy are the usual treatments. You might also have a chemotherapy drug called temozolomide. 
Olaparib is a type of biological therapy

 called a PARP inhibitor. PARP is a protein that helps cells to repair. If PARP is blocked, cancer cells might not be able to repair themselves after chemotherapy or radiotherapy. In this trial, doctors hope that having olaparib might make these treatments work better. But they aren't sure, so want to find out more. 
Glioblastoma tumour cells have areas of DNA

 called MGMT. These areas can be low (methylated) or high (unmethylated). We know from recent research that people whose tumours have:
low MGMT seem to benefit from temozolomide
high MGMT do not benefit from temozolomide
As part of this trial, you won't have temozolomide if you have unmethylated MGMT. But it might be possible to have higher and more frequent doses of olaparib with radiotherapy. The researchers will do a MGMT test before you start treatment. 
So far, a small number of people with glioblastoma have had olaparib and radiotherapy. And a small number have had olaparib and chemotherapy. But this is the first time people will have all 3 together.
The aims of the trial are to:
find the highest safe dose of olaparib with chemotherapy and radiotherapy
find out if having olaparib helps chemotherapy and radiotherapy work better
learn more about the side effects
Who can enter
The following bullet points list the entry conditions for this trial. Talk to your doctor or the trial team if you are unsure about any of these. They will be able to advise you. 
You might be able to join this trial if all of the following apply.
You have a fast growing (grade 4) glioblastoma
The trial team tested a sample of your cancer taken during surgery or a biopsy  when you were diagnosed to find out your MGMT status
You can start radiotherapy within 6 weeks of having surgery
You are well enough to carry out all your normal activities apart from heavy physical work (performance status 0 or 1)
You have satisfactory blood test results
You are willing to use 2 forms of reliable contraception during the trial and for up to 6 months afterwards if there is any chance that you or your partner could become pregnant
You are under 70 years old
You cannot join this trial if any of these apply. You
Have already had radiotherapy or other treatment for your brain tumour or cancer spread to the spinal cord (central nervous system)
Have already had olaparib or treatment with another PARP inhibitor
Are not able to swallow tablets or capsules
Have myelodysplastic syndrome or acute myeloid leukaemia
Have had a blood transfusion with red blood cells in the 28 days before joining the trial
Have had major surgery in the last 2 weeks and you have not fully recovered
Are known to be sensitive to olaparib, temozolomide or dacarbazine or anything they contain
Have taken any medication that blocks CYP enzymes in the 3 weeks before joining the trial
Have had treatment with an experimental drug in the last month
Have fits (seizures) that are not controlled with medication
Have had any other cancer in the past 5 years apart from non melanoma skin cancer  or carcinoma insitu of the cervix (CIS)
Have HIV
Have hepatitis B or hepatitis C
Are pregnant or breastfeeding
Trial design
This phase 1 trial is based in the UK. The researchers need 68 people to take part.
You are put into 1 of 2 treatment groups depending on whether your tumour has methylated or unmethylated MGMT. The trial laboratory team will test a tissue sample taken when you had surgery or a biopsy to check for this. The MGMT testing will take less than 10 days but this won't delay the start of your treatment. 
If you have:
low (methylated) MGMT you have olaparib, radiotherapy and the chemotherapy drug temozolomide
high (unmethylated) MGMT you have olaparib and radiotherapy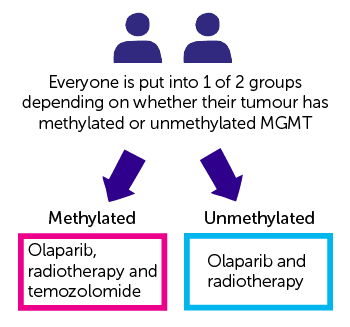 If it isn't possible to find out your MGMT status, you won't be able to join the trial. Your doctor will discuss other treatment options with you.
Treatment for low (methylated) MGMT
You have:
the usual dose of radiotherapy every day (Monday to Friday) for 6 weeks
olaparib tablets starting on the 1st day of radiotherapy and for 4 weeks after it finishes
temozolomide capsules once every day starting on the 1st day of radiotherapy and stopping when it finishes
How often you have olaparib each week depends on when join the trial. The trial team can tell you more about this. You have a short break from temozolomide then restart it about a month after radiotherapy ends. This time you have it for 6 months.
Treatment for high (unmethylated) MGMT
You have:
the usual dose of radiotherapy everyday (Monday to Friday) for 6 weeks
olaparib tablets once every day starting 3 days before radiotherapy and for 4 weeks after it finishes
Both groups
The first few people taking part have a low dose of olaparib. If they don't have any serious side effects the next few people have a higher dose. And so on, until they find the best dose. This is called a dose escalation study. 
The dose of olaparib and how often you have it depends on the dose level being tested when you join. You have the same dose during the trial as long as the side effects aren't too bad. If you do have bad side effects, your doctor might decide to reduce it or stop it.
Research samples
The researchers will ask for a sample of tissue (biopsy

) that was removed when you had surgery or a biopsy. They will also ask for 3 extra blood samples. These samples will be used in future studies to find out more about glioblastoma. 
If you don't want to give these samples, you don't have to. You can still take part in the trial.
Hospital visits
You see a doctor and have some tests before you can take part. These include:
a physical examination
blood tests
MGMT testing of your tumour
You see the trial doctor for a check up:
once a week during radiotherapy
2 and 4 weeks after radiotherapy finishes
After finishing radiotherapy you have an MRI:
after 4 weeks
then every 3 months
The trial team will follow you up at clinic appointments every 3 months.
Side effects
As having olaparib with radiotherapy and chemotherapy is a new treatment, there might be side effects we don't know about yet. The trial team will monitor you during the time you have treatment and you'll have a phone number to call them if you are worried about anything. 
So far, the most common side effects of olaparib include:
a drop in blood cells causing an increased risk of infection, bleeding problems, tiredness and breathlessness
tiredness (fatigue)
diarrhoea
indigestion
changes in taste
headache
dizziness
We have information on the side effects of:
Olaparib might increase the side effects caused by radiotherapy or chemotherapy or make the side effects worse. Your doctor will talk to you about the side effects of treatment before you agree to take part.
How to join a clinical trial
Please note: In order to join a trial you will need to discuss it with your doctor, unless otherwise specified.
Please note - unless we state otherwise in the summary, you need to talk to your doctor about joining a trial.
Chief Investigator
Professor Anthony Chalmers
Supported by
Cancer Research UK
AstraZeneca
NHS Greater Glasgow and Clyde
The Brain Tumour Charity
University of Glasgow
Other information
This is Cancer Research UK trial number CRUKD/16/010.
CRUK internal database number:
Please note - unless we state otherwise in the summary, you need to talk to your doctor about joining a trial.
Rhys was only four years old when he was diagnosed with a brain tumour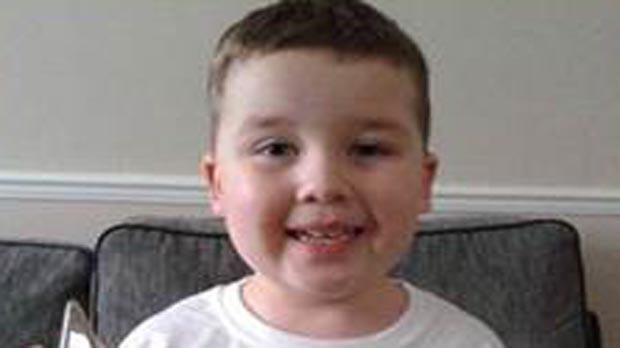 "He went through six operations and was placed on a clinical trial so he could try new treatments."