A trial of lurbinectedin to treat solid tumours that have spread to another part of the body
Please note - this trial is no longer recruiting patients. We hope to add results when they are available.
Cancer type:
Cancer spread to the bone
Cancer spread to the brain
Cancer spread to the liver
Cancer spread to the lung
This is a trial of lurbinectedin (PM01183) to treat advanced solid tumours. It is open to people with all types of cancers that have spread to another part of the body (advanced) apart from leukaemia, lymphoma and myeloma.
More about this trial
Doctors can treat advanced solid tumours with chemotherapy. This can work well but researchers are always looking for new treatments for people in this situation.
One of the chemotherapy drugs commonly used is cisplatin. Lurbinectedin is another type of chemotherapy drug. Researchers think that combining these 2 drugs together may work better than either of them on their own.
As a part of the trial the researchers want to find out how safe it is to give an anti sickness drug, called aprepitant, with this combination of chemotherapy. So some people will get aprepitant and the others will have the standard anti sickness treatment.
The main aims of this trial are to find
The best dose of lurbinectedin to give with cisplatin
How safe this combination of chemotherapy is
What the side effects of having this combination are
Who can enter
The following bullet points list the entry conditions for this trial. If you are unsure about any of these speak with your doctor or the trial team. They will be able to advise you.
You may be able to join this trial if all of the following apply
You have a solid tumour that has spread to another part of the body (advanced)
You have had at least 2 different types of chemotherapy treatment for your advanced solid tumour
You completed your chemotherapy at least 3 weeks ago (6 weeks for nitrosoureas and mitomycin C)
If you had a type of biological therapy called a monoclonal antibody you must have had your last dose at least 4 weeks ago. 2 weeks for any other type of biological therapy
If you had radiotherapy it must have been completed at least 4 weeks ago. 2 weeks if you had radiotherapy for symptom control
If you are having hormone therapy for breast cancer apart from megestrol acetate or luteinising hormone (LH) blockers for premenopausal women, it must be stopped at least a week before taking part in this trial
You are well enough to carry out all your normal activities, apart from heavy physical work (performance status of 0 or 1)
You have satisfactory blood test results
You are willing to use reliable contraception during treatment and for 6 months afterwards if there is any chance you or your partner could become pregnant
You are at least 18 years old
If you are joining the trial after the best dose of lurbinectedin has been found, as well as the above,
It must be confirmed that your cancer has spread
You must have an area of cancer spread that can be measured
You cannot join this trial if any of these apply. You
Have cancer spread to the brain. If the cancer spread is stable, you have no symptoms and haven't used steroids for the past 3 months you may be able to join the trial
Have already had lurbinectedin (PM01183)
Have had a chemotherapy drug called trabectedin
Have had a bone marrow transplant or a stem cell transplant
Have any tubes that drain away body fluids such as a tube to drain away fluid from the lung
Are having treatment for, or have symptoms of severe damage to your nerves (peripheral neuropathy )
Have problems with your hearing unless it is mild
Have liver disease apart from liver cancer that needs treatment
Have certain heart diseases
Have an infection that needs treatment
Have shortness of breath and need to use oxygen continuously
Have HIV
Have any other medical or mental health condition that the trial team think could affect you taking part
Are allergic to lurbinectedin, cisplatin or any of their ingredients
Are pregnant or breastfeeding
Trial design
This is a phase 1 trial. The researchers need about 50 people to join.
The first few people taking part will have a low dose of lurbinectedin. If they don't have any serious side effects, the next few people will have a higher dose. And so on, until they find the best dose to give. This is called a dose escalation study.
There are 2 groups
People who have lurbinectedin and cisplatin
People who have lurbinectedin, cisplatin and aprepitant
When they find the best dose to give in each group, 9 people from each group will have that dose.
You have cisplatin as a drip into a vein. It takes 1½ hours. You then have lurbinectedin as a drip into a vein. It takes an hour. You have them once every 3 weeks.
Aprepitant it is a tablet. You take it an hour before your cisplatin and then once a day for 2 days after treatment.
If you aren't having aprepitant you will have the standard anti sickness medication before and after each treatment.
As long as the treatment is helping you and the side effects aren't too bad you can continue. But you can only have a certain amount of cisplatin. When this amount is reached you may still be able to continue having lurbinectedin alone.
The researchers will ask for extra blood samples when you have your first treatment. This is to find out what happens to lurbinectedin in the body. You don't have to agree to this. You can still take part in the trial.
Hospital visits
You see the doctor to have some tests before taking part in this trial. These tests include
During treatment you see the doctor every 3 weeks for the same tests apart from the heart trace and scans. You have a CT scan or MRI scan every 6 weeks for 18 weeks and then every 12 weeks.
A month after finishing treatment you see the doctor for
A physical examination
Hearing test
Blood tests
You then see the doctor every 3 months until your cancer starts to grow again or you start another treatment.
Side effects
The most common side effects of lurbinectedin include
A drop in blood cells causing an increased risk of infection, bruising and bleeding
Tummy (abdominal) discomfort or pain
High temperature (fever)
Headache
Not having enough fluid in your body (dehydration )
Difficulty breathing or shortness of breath
Weight loss
Swelling due to too much fluid in the body
Damage to the nerves causing numbness, tingling or pain (peripheral neuropathy )
Skin changes including rash and dryness
Inflammation of the vein at the site of the drip
Hiccups
Indigestion or heartburn
Low blood pressure
Joint, muscle or bone pain
The most common side effects of aprepitant include
A change to the way your liver works
Constipation
Indigestion or heartburn
Loss of appetite
Hiccups
Tiredness
We have information about the side effects of cisplatin.
Your doctor will talk to about the possible side effects before you agree to take part in this trial.
How to join a clinical trial
Please note: In order to join a trial you will need to discuss it with your doctor, unless otherwise specified.
Please note - unless we state otherwise in the summary, you need to talk to your doctor about joining a trial.
Supported by
Experimental Cancer Medicine Centre (ECMC)
Pharma Mar
CRUK internal database number:
Please note - unless we state otherwise in the summary, you need to talk to your doctor about joining a trial.
Charlie took part in a trial to try new treatments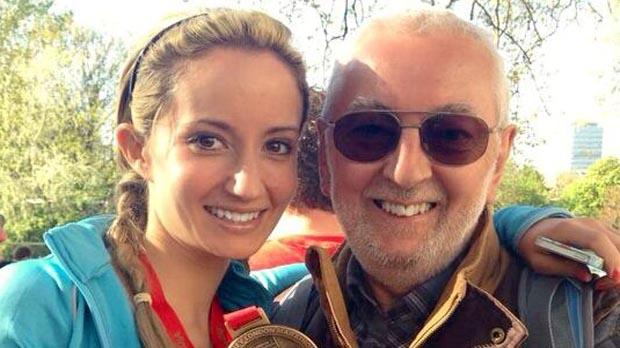 "I think it's really important that people keep signing up to these type of trials to push research forward."