A trial of intensity modulated radiation therapy for cervical cancer (INTERTECC)
This trial tried to find out more about a radiotherapy technique called intensity modulated radiation therapy (IMRT) alongside chemotherapy.
It was for women whose cancer has not spread to distant parts of the body.
More about this trial
Chemoradiotherapy is one of the usual treatments for cervical cancer. Radiotherapy has improved in recent years and for some cancers it is possible to shape the beam to the exact treatment area. So you might have fewer side effects. This technique is called intensity modulated radiotherapy (IMRT).
In this trial, researchers looked at a way of planning IMRT to see if it caused fewer side effects than the usual external radiotherapy

. This is called image-guided bone marrow-sparing intensity modulated radiation therapy (IG-BMS-IMRT).
The researchers thought that a scan called a PET-CT could help get better pictures of the area to be treated. This means the doctors could limit radiotherapy to the bone marrow

 and nearby organs, for example the bladder. This could help to reduce side effects.
One of the side effects the researchers looked at in detail, is a drop in the number of blood cells. Radiotherapy can affect the cells in the bone marrow that produce your blood cells. This is more likely if you are having treatment to the pelvis

, as you do for cervical cancer. Having a low number of blood cells could delay your treatment.
The aims of the trial were to find out:
how well IMRT works for cervical cancer
if IMRT reduces side effects compared with usual radiotherapy
more about how the treatment affects quality of life
Summary of results
This trial didn't open in the UK. We don't plan to add a summary of the results. 
How to join a clinical trial
Please note: In order to join a trial you will need to discuss it with your doctor, unless otherwise specified.
Please note - unless we state otherwise in the summary, you need to talk to your doctor about joining a trial.
Supported by
UC San Diego
National Cancer Institute (NCI)
CRUK internal database number:
Please note - unless we state otherwise in the summary, you need to talk to your doctor about joining a trial.
Around 1 in 5 people take part in clinical trials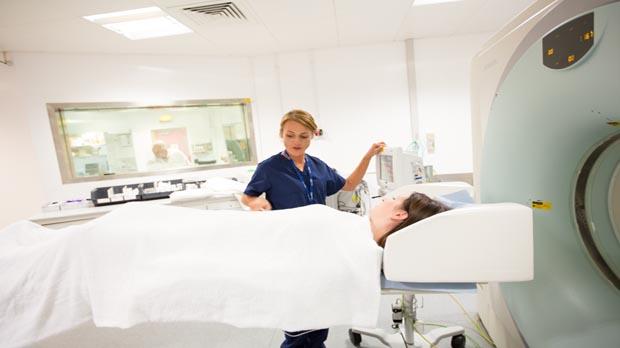 Around 1 in 5 people diagnosed with cancer in the UK take part in a clinical trial.