A trial of higher dose radiotherapy to treat pain caused by mesothelioma (SYSTEMS-2)
This trial is comparing the usual dose of radiotherapy with a higher dose to treat pain caused by mesothelioma.
It is for people whose mesothelioma started in the 2 sheets of tissue known as pleural membranes (or pleura) that cover the lungs (pleural mesothelioma).
More about this trial
People with mesothelioma often have pain. Unfortunately, regular painkillers don't always work, so some people have radiotherapy to help with the pain.
We know that radiotherapy can be useful in treating pain caused by mesothelioma, but we don't yet know the best dose and schedule to use.
Research shows that having the usual dose of radiotherapy once a day for 5 days helps control pain in just under half of patients with mesothelioma. So, researchers hope that increasing the dose will provide better pain control in more people.
The aims of the trial are to:
find out if a higher dose of radiotherapy works better than the usual dose to treat pain
learn more about the side effects
Who can enter
The following bullet points list the entry conditions for this trial. Talk to your doctor or the trial team if you are unsure about any of these. They will be able to advise you.
You may be able to join this trial if all of the following apply. You
Have pleural mesothelioma
Have a CT scan of the chest and tummy (abdomen) done within 8 weeks of starting radiotherapy
Have moderate to severe chest pain – you score your pain as at least 4 on a 0 to 10 pain scale
Are having a radiotherapy plan that is suitable for this trial
Are well enough to be up and about for at least half the day (performance status 0, 1 or 2)
Are willing to use reliable contraception during treatment and for 30 days afterwards if there is any chance that you or your partner could become pregnant
Are at least 18 years old
You cannot join this trial if any of these apply. You
Have any other lung tumours
Have had anti cancer treatment in the 4 weeks before joining the trial that could change how you feel pain at the radiotherapy site
Have previously received radiotherapy for pain, and there is concern that the proposed trial radiotherapy could overlap with a previously treated area 
Are due to have more anti cancer treatment within 6 weeks of finishing radiotherapy
Have any mental health problem that the trial team think could you affect you taking part
Are pregnant or breastfeeding
Trial design
This is a phase 2 trial based in the UK. The researchers need 112 people to take part.
It is a randomised trial. You are put into 1 of 2 treatment groups.
One group have the usual dose of radiotherapy once a day for 1 week (Monday to Friday) – 5 treatments in total (the control group)
The other group have a higher dose of radiotherapy every other day for 2 weeks (for example, on a Monday, Wednesday and Friday) - 6 treatments in total
Neither your or your doctor can choose which group you are in.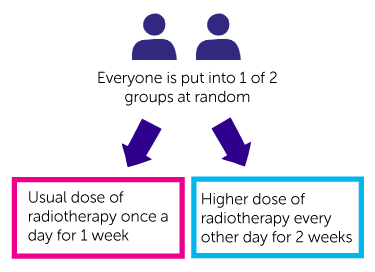 Some people might have the higher dose radiotherapy at a slightly lower total dose (5 treatments instead of 6). This might be because the tumour is close to the spinal cord, or there is a large area to be treated. Your doctor can tell you more if this applies to you.
The trial team will ask you to fill out some questionnaires:
before you start treatment
at 5 weeks and 9 weeks after radiotherapy starts
The questionnaires will ask about side effects and how you've been feeling. This is called a quality of life study. They will also ask you to rate your pain.
Hospital visits
You see the trial doctors and have some tests before you start treatment. These include:
The trial team will also review your painkillers before starting treatment to make sure that any pain you have is stable and as well controlled as possible.
You go to hospital to have your radiotherapy. In the:
usual radiotherapy group you go everyday for a week (Monday to Friday)
higher dose radiotherapy group you go every other day for 2 weeks (for example, on a Monday, Wednesday and Friday)
The treatments take about 15 minutes each time.
After you start radiotherapy, you see the trial team at:
At each visit they will ask if your pain has improved and see how you are getting on. You might also have some blood tests. 
Samples for research
The researchers will ask for samples of your cancer (a biopsy) that were removed when you had surgery or a biopsy. You are not being asked to provide a new tissue sample. They will also ask to take 3 extra blood samples. Where possible, you have these at the same time as your routine blood tests.
These samples are used to help predict who is more likely to respond to radiotherapy and to better understand mesothelioma. 
You don't have to agree to give these samples if you don't want to. You can still take part in the trial. 
Side effects
Some possible side effects of radiotherapy include:
cough
tiredness (fatigue)
hair loss
skin soreness and redness in the treated area
temporary increase in any symptoms you had when your tumour was first diagnosed
You are more likely to have side effects with the higher radiotherapy dose and they might be more severe. Your doctors will keep a close eye on you and treat any problems straight away. You will be given a telephone number to call them if you are worried about anything.
How to join a clinical trial
Please note: In order to join a trial you will need to discuss it with your doctor, unless otherwise specified.
Please note - unless we state otherwise in the summary, you need to talk to your doctor about joining a trial.
Chief Investigator
Professor Anthony Chalmers
Supported by
Cancer Research UK Clinical Trials Unit, Glasgow
Beatson Cancer Charity
June Hancock Mesothelioma Research Fund
NHS Greater Glasgow and Clyde
University of Glasgow
The London Community Foundation
CRUK internal database number:
Please note - unless we state otherwise in the summary, you need to talk to your doctor about joining a trial.
Charlie took part in a trial to try new treatments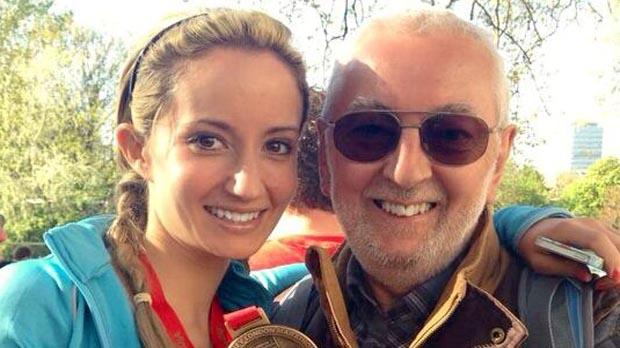 "I think it's really important that people keep signing up to these type of trials to push research forward."