A trial of a drug called etirinotecan pegol for bowel cancer that has spread
Please note - this trial is no longer recruiting patients. We hope to add results when they are available.
Cancer type:
Bowel (colorectal) cancer
This trial is looking at a drug called etirinotecan pegol for bowel cancer that has spread to other parts of the body. It is for people who have a genetic change called a K-RAS mutation

.
If bowel cancer spreads to another part of the body, it is called advanced bowel cancer. Doctors can treat advanced bowel cancer with chemotherapy. One of the chemotherapy drugs they may use is irinotecan.
Researchers are looking at a drug called etirinotecan pegol which is irinotecan combined with a structure called polyethylene glycol (PEG) added. This technology may allow the drug to stay in the body for longer.
In this trial, they are comparing etirinotecan pegol with standard irinotecan for people who have advanced bowel cancer with the K-RAS genetic mutation. The aims of the trial are to
See if etirinotecan pegol is safe and if it works as well as or better than irinotecan with fewer side effects
Learn more about what happens to the drug in your body
Who can enter
You may be able to enter this trial if you
Have a type of bowel cancer called adenocarcinoma that has spread to another part of your body
Have at least 1 area of cancer that can be measured on a scan
Have a change in a gene (a mutation) called K-RAS – the trial team will test for this by looking at a sample of your cancer that was removed when you had surgery or a biopsy
Have already had 1 other type of chemotherapy for advanced bowel cancer that included a drug called a fluoropyrimidine such as 5FU or capecitabine
Are well enough to carry out all your normal activities, apart from heavy physical work (performance status of 0 or 1)
Have satisfactory blood test results
Are at least 18 years old
Are willing to use at least 2 reliable forms of contraception during the trial and for at least 8 months afterwards if there is any chance you or your partner could become pregnant
You cannot enter this trial if you
Have cancer that has (or may have) spread to your brain or spinal cord
Have already had irinotecan or similar drugs such as topotecan
Have had more than 1 other type of chemotherapy that included a fluoropyrimidine drug for advanced bowel cancer– you may be able to take part if you had this type of chemotherapy to try to stop your cancer coming back or spreading before or after surgery
Have had major surgery, radiotherapy or chemotherapy  in the last 4 weeks (6 weeks if you had mitomycin C or a drug called a nitrosourea )
Have had biological therapy or an experimental drug in the last 4 weeks
Have not recovered from side effects of other treatments (apart from hair loss) unless they are very mild
Have taken any other medication in the last 2 weeks that can affect a body protein called CYP3A4 – the trial doctors can advise you about this
Are known to be very sensitive to other drugs that contain polyethylene glycol or to any of the ingredients of irinotecan
Have inflammatory bowel disease, other problems with your digestive system or any other condition that the trial team think could affect you taking part
Are pregnant or breastfeeding
Trial design
This phase 2 trial will recruit about 174 people in different countries. It is a randomised trial. The people taking part are put into treatment groups by a computer. Neither you nor your doctor will be able to decide which group you are in.
You have either etirinotecan pegol or irinotecan through a drip into a vein once every 3 weeks. It takes about an hour and a half each time. As long as you don't have bad side effects and your cancer doesn't get any worse, you can carry on having the trial treatment for as long as it helps you.
About 30 people in each treatment group will be asked to have some extra blood tests. This is to learn more about what happens to the drugs in your body. This is called pharmacokinetics

.
Hospital visits
You see the trial team and have some tests before you start treatment. The tests include
The trial team will get a sample of your cancer to test for the K-RAS gene mutation. Your cancer may have already been tested for this in the past. But if it hasn't and there is not a sample available for testing, you may have another biopsy

.
You go to hospital once every 3 weeks for as long as you have treatment. You have regular blood tests and a CT or MRI scan every 6 weeks.
After you finish treatment, a member of the trial team will phone you every 3 months to see how you are and whether you have started having any other chemotherapy. Depending on the results of the last CT before you stop treatment, you may have CT or MRI scans every 6 weeks.
Side effects
As etirinotecan pegol is a new drug, there may be side effects we don't know about yet. The most common side effects of both etirinotecan pegol and irinotecan are
If you do get diarrhoea, the trial team will give you medication to treat it. It is important to take the medication and to drink plenty of fluid to stop you getting dehydrated

.
Before you agree to join, the trial team will talk to you about other possible side effects of both drugs.
How to join a clinical trial
Please note: In order to join a trial you will need to discuss it with your doctor, unless otherwise specified.
Please note - unless we state otherwise in the summary, you need to talk to your doctor about joining a trial.
Supported by
Experimental Cancer Medicine Centre (ECMC)
Nektar Therapeutics
CRUK internal database number:
Please note - unless we state otherwise in the summary, you need to talk to your doctor about joining a trial.
Cara took part in a clinical trial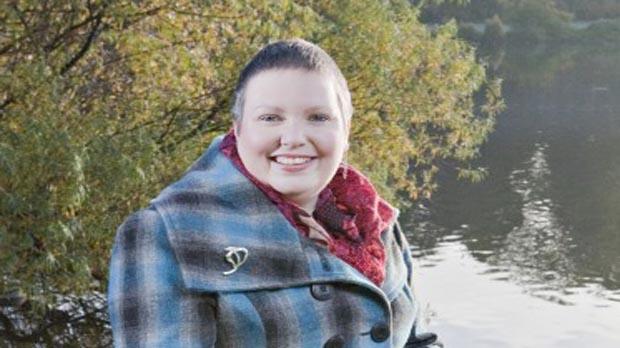 "I am glad that taking part in a trial might help others on their own cancer journey."