A trial of dasatinib for advanced cancers with certain gene changes (CA180385)
Please note - this trial is no longer recruiting patients. We hope to add results when they are available.
This trial is looking at a drug called dasatinib for advanced cancer

. The people taking part have cancer that was tested as part of the Stratified Medicine Programme and found to have particular changes to genes called DDR2 and BRAF.
Researchers can look at a sample of cancer that is removed when you have surgery or a biopsy

and look for particular changes (mutations) to the genes. We know from research that certain gene changes make the cancer more likely to respond to particular drugs.
In this trial, researchers are looking at the drug dasatinib. It is a type of biological therapy that stops signals that cancer cells use to divide and grow. Doctors already use dasatinib to treat leukeamia

. It may also help people who have other cancers with certain gene changes.
The people taking part in this trial have cancer with changes to the DDR2 or BRAF gene. The aims of the trial are to
Find out if cancer with either of these gene changes is more likely to respond to dasatinib
See how long the response lasts and how long people live after treatment
Learn more about the side effects
Find out if there are other changes which would make somebody more or less sensitive to dasatinib
Who can enter
You may be able to enter this trial if you
Have cancer with a change to the DDR2 or BRAF gene
Have cancer that has spread into surrounding tissue or to another part of your body and cannot be removed with surgery or treated with another standard treatment such as chemotherapy
Have at least 1 area of cancer that can be measured on a scan
Have cancer that has got worse despite having at least 1 other type of treatment - people who have squamous cell lung cancer may be able to take part if they haven't had any other treatment
Finished radiotherapy, chemotherapy or biological therapy at least a week ago
Finished any other experimental treatment at least 4 weeks ago
Are well enough to be up and about for at least half the day (performance status 0, 1 or 2)
Have satisfactory blood test results
Are at least 18 years old
Are willing to use reliable contraception during the trial and for up to 3 months afterwards if there is any chance you or your partner could become pregnant
You cannot enter this trial if you
Have cancer that has spread to your brain and is causing symptoms – you may be able to take part if it isn't causing symptoms and you don't need to take steroids to treat the cancer spread to your brain
Have a build up of fluid around your lungs (pleural effusion ) or around your heart (pericardial effusion )
Need to have oxygen unless you needed this because of another medical condition before you had cancer
Have certain heart problems or have had problems with bleeding – the trial team can advise you about this
Have an infection or another medical condition that means you wouldn't be able to have the trial drug
Are known to be allergic to dasatinib
Are pregnant or breastfeeding
Trial design
This phase 2 trial will recruit about 65 people. Everybody in the trial takes dasatinib tablets once a day. As long as you don't have bad side effects, you can take dasatinib for as long as it helps you.
Hospital visits
You see the trial team and have some tests before you start treatment. The tests include
Physical examination
Blood tests
Heart trace (ECG )
Heart scan (echocardiogram )
You may also need to have an ultrasound scan, a chest X-ray and a bone scan.
If there is some tissue left over from your biopsy, the researchers will use this to look for other gene changes and see if these are affected by dasatinib. You will not need to have another biopsy.
During treatment, you see the trial team
On the 1st day
In weeks 4, 7, 13, 19 and 25
Every 3 months after that
You have a CT or MRI scan 4 times in the first 6 months and then every 3 months throughout the rest of your treatment. If your doctor thinks it necessary, you may have a bone scan, an ultrasound or X-ray at these times instead.
When you finish treatment, the trial team will contact you by phone every 3 months to see how you are.
Side effects
In people with leukaemia

, the most common side effects of dasatinib include
A drop in blood cells causing an increased risk of infection, bleeding problems, tiredness and breathlessness
Tummy (abdominal) pain
Headaches
Tiredness (fatigue)
Weight gain, puffy face or swelling in your tummy, arms or legs
Skin rash
Shortness of breath, cough or chest pain
Aching muscles or bones
High temperature (fever)
Dizziness
People with other types of cancer may be less likely to have some of these side effects.
You should not eat grapefruit or pomegranates (or drink their juices) while taking dasatinib, as something in these fruits can affect the drug.
How to join a clinical trial
Please note: In order to join a trial you will need to discuss it with your doctor, unless otherwise specified.
Please note - unless we state otherwise in the summary, you need to talk to your doctor about joining a trial.
Supported by
Bristol-Myers Squibb
Experimental Cancer Medicine Centre (ECMC)
If you have questions about the trial please contact our cancer information nurses
Freephone 0808 800 4040
CRUK internal database number:
Please note - unless we state otherwise in the summary, you need to talk to your doctor about joining a trial.
Cara took part in a clinical trial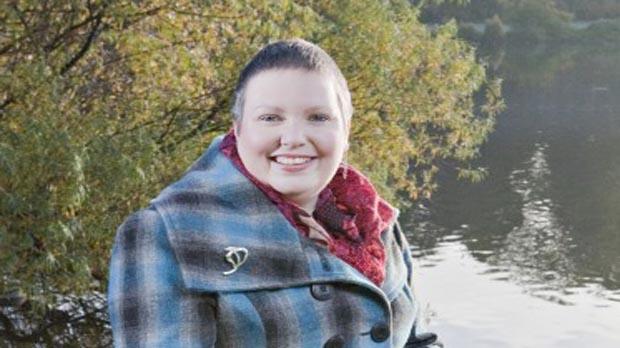 "I am glad that taking part in a trial might help others on their own cancer journey."