A trial of BAL101553 for advanced cancer
Please note - this trial is no longer recruiting patients. We hope to add results when they are available.
Cancer type:
Bowel (colorectal) cancer
Non small cell lung cancer
This trial is looking at a drug called BAL101553 for advanced cancer. The trial is for people who have one of the following cancers and it has got worse or come back despite having other treatment
Cells reproduce by dividing into 2. Before cells can divide, they create something called microtubules. These help the cells to separate. BAL101553 is a new drug that can stop cells dividing by damaging the microtubules. It is called a microtubule inhibitor. If cancer cells can't split into 2, then the cancer can't grow.
This is the first time BAL101553 has been tested in people. The aims of the trial are to
Find the highest safe dose of BAL101553
Learn more about what happens to the drug in your body
See if it helps people with advanced cancers
Who can enter
You may be able to enter this trial if you have one of the following cancers
And as well as the above, you
Have cancer that has got worse or come back despite having other treatment, or there is no standard treatment available
Have cancer that can be measured with scans or blood tests
Are well enough to carry out all your normal activities apart from heavy physical work (performance status 0 or 1)
Have satisfactory blood test results
Are willing to use reliable contraception during the trial and for a month afterwards if there is any chance you or your partner could become pregnant
Are at least 18 years old
You cannot enter this trial if you
Have cancer that has spread to your brain unless this has been treated, is not causing symptoms and has not got worse for at least 3 months
Have had another experimental drug, immunotherapy or chemotherapy into a vein in the last 4 weeks (6 weeks if you had a drug called mitomycin or a drug called a nitrosourea )
Have had  radiotherapy in the last 4 weeks (you may have had radiotherapy to relieve symptoms as long as it was at least 2 weeks ago)
Have had chemotherapy by mouth, hormone therapy or biological therapy in the last 2 weeks
Have not recovered from the side effects of other drugs
Have high blood pressure that cannot be controlled with medication or certain other heart problems (the trial doctors can advise you about this)
Have had a stroke
Have any other medical condition that is not well controlled with medication if the trial doctors think this could affect you taking part
Take a drug called warfarin to thin your blood
Are known to be HIV, hepatitis B or hepatitis C positive
Are pregnant or breastfeeding
Trial design
This trial will recruit 64 people. Everybody taking part has BAL101553 through a drip into a vein. It takes about 2 hours each time.
The trial is in 2 parts. The first part recruited 24 people with different types of advanced cancer

.
The first patients taking part had a low dose of BAL101553. If they didn't have any serious side effects, the next patients had a higher dose. And so on, until they found the best dose to give. This is called a dose escalation study and means the researchers find the highest dose they can safely give.
The researchers need 40 people to join the second part of the trial. This is called dose expansion and means the researchers can learn more about how BAL101553 works and any side effects it causes. This part of the trial is randomised. If you join this part, you are put into 1 of 2 groups by a computer. Neither you nor your doctor can decide which group you are in.
20 people have the highest safe dose of BAL101553 found in the first part of the trial
20 people have half (50%) of this dose
You have BAL101553 once a week for 3 weeks, followed by a week without treatment. Each 4 week period is called a cycle of treatment.
Everyone has at least 2 cycles of treatment. If you don't have bad side effects, you can carry on having the treatment until your cancer gets worse.
During the trial, the researchers take a number of blood samples to learn more about what happens to BAL101553 in your body. This is called pharmacokinetics

.
They will get a sample of your cancer that was removed when you had surgery or a biopsy

in the past. They may ask you to have another biopsy when you join the trial and after 3 weeks of treatment.
They also use these samples to look for substances called biomarkers

that may help them understand more about how the drug works and how it affects your tumour.
The trial team will ask some people to have extra MRI scans. This is to look at the effect BAL101553 has on the blood vessels growing in and around the cancer. You don't have to take part in this study if you don't want to. You can still take part in the main trial.
Hospital visits
You see the trial team and have some tests before you start treatment. The tests include
You go to hospital once a week during the first 2 cycles of treatment. You see the doctors and have blood tests each time. You also have more ECGs.
On 1 occasion, you have a number of blood tests after your treatment. You will spend most of the day at hospital. You may have to stay in overnight. The other hospital visits will be between 4 and 8 hours each.
You have a CT or MRI scan after 2 cycles of treatment. If you carry on having BAL101553 for longer, you then go to hospital 3 times in each 4 week cycle. You have a CT or MRI scan every 8 weeks.
When you finish the treatment, you go back to see the trial team within a week. You have more blood tests and you may have another scan.
Side effects
As BAL101553 is a new drug, there may be side effects we don't know about yet. So far, the side effects have included
Redness of swelling where you have the drip
Raised blood pressure
Numbness and tingling in your hands and feet (peripheral neuropathy)
Being less mobile or walking differently
High temperature (fever)
Pain where your cancer is
Tiredness (fatigue)
Other possible side effects include
A drop in blood cells causing an increased risk of infection, bleeding problems, tiredness and breathlessness
Weight loss
Dry mouth
The trial team monitor you closely during your treatment and will let you know if any new side effects are found during the trial.
How to join a clinical trial
Please note: In order to join a trial you will need to discuss it with your doctor, unless otherwise specified.
Please note - unless we state otherwise in the summary, you need to talk to your doctor about joining a trial.
Supported by
Basilea
Experimental Cancer Medicine Centre (ECMC)
University College London Hospitals NHS Foundation Trust
CRUK internal database number:
Please note - unless we state otherwise in the summary, you need to talk to your doctor about joining a trial.
Cara took part in a clinical trial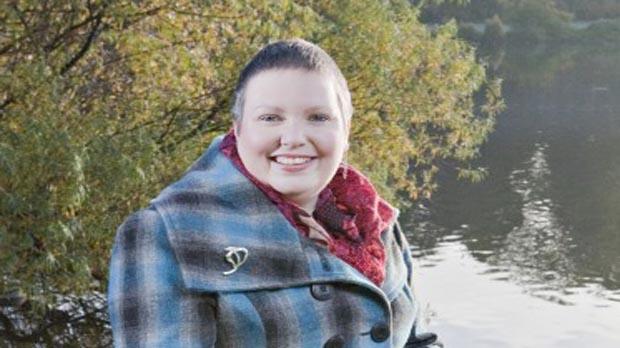 "I am glad that taking part in a trial might help others on their own cancer journey."