A trial of LY2875358 with erlotinib for non small cell lung cancer
Please note - this trial is no longer recruiting patients. We hope to add results when they are available.
Cancer type:
Non small cell lung cancer
This trial is looking at a new drug called LY2875358 for non small cell lung cancer which has spread to other parts of the body. The cancer must have changes to genes affecting a protein called EGFR

.
Erlotinib (Tarceva) is a type of biological therapy that doctors can use to treat some lung cancers. The cancer cells need to have particular proteins that erlotinib targets. But sometimes erlotinib stops working and the cancer can start to grow again. When this happens doctors say the cancer has become resistant to the drug. Researchers are looking for new treatments to help people in this situation. In this trial they are looking at a drug called LY2875358.
LY2875358 is a monoclonal antibody.  These can seek out cancer cells by looking for particular proteins. The aim of this trial is to see if adding LY2875358 can delay non small cell lung cancer becoming resistant to erlotinib.
Who can enter
You may be able to enter this trial if all of the following apply. You
Have non small cell lung cancer that has spread to another part of your body (stage 4)
Have at least 1 area of non small cell lung cancer that can be seen and measured on a scan (if you have only 1 area, this must not be where you have already had radiotherapy  unless your cancer has got worse since you had this treatment)
Have cancer that is EGFR positive (your doctor can explain this)
Are well enough to be up and about for at least half the day (performance status 0, 1 or 2)
Have satisfactory blood test results
Are willing to use reliable contraception during the trial and for 12 weeks afterwards if there is any chance you or your partner could become pregnant.
Are able to swallow tablets
Are at least 18 years old
You cannot enter this trial if any of these apply. You
Have had chemotherapy or biological therapy for your cancer since it spread to other areas of your body
Have had major surgery in the last 2 weeks
Have taken part in another trial in the last month
Have taken part in this trial before, or have already had LY2875358
Have had any heart problems in the last 6 months that your doctor thinks would make it unsafe for you to take part in the trial
Have lung conditions called interstitial pneumonia or interstitial fibrosis and the trial team thinks this would make it unsafe for you to take part in the trial
Have a build up of fluid around the lungs, heart or in your tummy (abdomen) that has needed draining more than once a fortnight
Are HIV positive
Have had any other cancer in the last 3 years apart from carcinoma in situ of the cervix or non melanoma skin cancer that was successfully treated
Have any other medical condition or mental health problem that trial team think would affect you taking part in this trial
Are pregnant or breastfeeding
Trial design
This is a phase 2 trial. The researchers need about 150 people to join.
The researchers will need to get a sample of your cancer. This should be available from when you had either a biopsy

or surgery to remove your cancer in the past. If there is not a big enough sample available, your doctor may ask you to have another biopsy.
This is a randomised trial. The people taking part are put into 2 treatment groups by a computer. Neither you nor your doctor will be able to decide which group you are in.  
Everyone in the trial will have erlotinib for the first 8 weeks.
After 8 weeks, you will have a scan. If the scan shows the cancer has got worse, you will not be able to continue with the trial.
If your cancer has spread to your brain or spinal cord (central nervous system

), you may be able continue with the trial as long as you don't have any symptoms and the cancer is not growing.  
If the scan shows that your cancer has not got worse you will be put into 1 of 2 treatment groups. People in 1 group have LY2875358 and erlotinib. People in the other group have erlotinib alone.
You have treatment in 4 week periods called cycles of treatment.
You have LY2875358 as a drip into a vein every 2 weeks of each cycle.  It takes 1½ hours each time.
You take erlotinib tablets every day.
The trial team will ask you to complete a diary and write down how much erlotinib you take every day, the time you take the tablets and whether you are sick within half an hour of taking them.
You can have treatment
For as long as it is helping you and your cancer has not grown
Until you decide you don't want to continue with the trial
Until your trial doctor feels its best for you to stop the trial
The trial team will ask you to fill out a questionnaire before you start treatment, at set times during the trial and when you stop treatment. The questionnaire will ask about side effects and how you've been feeling. This is called a quality of life study.
Hospital visits
You see the trial team and have some tests before you start treatment. The tests include
A physical examination
Heart trace (ECG )
Urine test
After 8 weeks you have these tests again. If your cancer has got worse you will not be able to continue with the trial. If the tests show that erlotinib is working, you will continue with treatment.
You have blood tests on the first day of each treatment cycle and then a week and 2 weeks later. Depending on which treatment group you are in, you may be asked to give some extra blood samples. Your doctor will advise you about this.
Before each treatment you have a physical examination, ECG and a urine test.
You have a CT scan, PET scan or MRI scan every 8 weeks.
When you stop having the trial treatment you will see the doctor around every 3 months.  They will ask how you are and also make a note of any treatment you are having. If you stop the treatment for any other reason than your cancer getting worse, you will have a CT, PET or MRI scan every 2 months until your cancer gets worse.
Side effects
As LY2875358 is a new drug, there may be some side effects we don't know about yet. Possible side effects reported in previous trials include
Tiredness (fatigue)
Loss of appetite and taste changes
Cough and difficulty breathing
Swollen feet and hands
Chills and fever (an allergic reaction) when drug is being given
Collection of fluid around the lungs
Abnormal blood test results
The most common side effects of erlotinib (Tarceva) include
Skin changes such as rash, blistering, or red, dry skin
Itching
Diarrhoea
Loss of appetite
Tiredness (fatigue)
Feeling or being sick
Sore, red eyes or dry eyes
Loss of ability to have a baby (fertility)
We have more information about erlotinib.
How to join a clinical trial
Please note: In order to join a trial you will need to discuss it with your doctor, unless otherwise specified.
Please note - unless we state otherwise in the summary, you need to talk to your doctor about joining a trial.
Supported by
Eli Lilly and Company Limited
Experimental Cancer Medicine Centre (ECMC)
NIHR Clinical Research Network: Cancer
If you have questions about the trial please contact our cancer information nurses
Freephone 0808 800 4040
CRUK internal database number:
Please note - unless we state otherwise in the summary, you need to talk to your doctor about joining a trial.
Cara took part in a clinical trial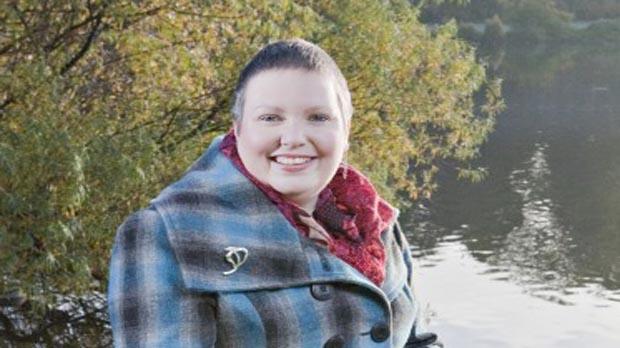 "I am glad that taking part in a trial might help others on their own cancer journey."