A trial looking at nilotinib to treat acral and mucosal melanoma skin cancer that has spread (NICAM)
Coronavirus (COVID-19)
We know that this is an especially worrying time for people with cancer and their family and friends. We have separate information about coronavirus and cancer. Please read that information alongside this page. We will update that information as guidance changes.
Please note - this trial is no longer recruiting patients. We hope to add results when they are available.
This trial is looking at using nilotinib to treat melanoma skin cancer that has spread to the surrounding tissues, or to another part of the body. It is for two unusual types called acral melanoma and mucosal melanoma. This trial is supported by Cancer Research UK.
Acral melanoma (sometimes called 'lentiginous melanoma') is a type most commonly found on the palms of the hands or soles of the feet. Mucosal melanoma

is a rare type of melanoma that starts in the moist tissue (mucosa) which lines the mouth, nose, food pipe, anus, vulva and vagina.
Doctors can use chemotherapy to help people with advanced melanoma, but this is only to relieve their symptoms. They are always looking for new ways to improve treatment for people with advanced melanoma.
Tyrosine kinases

are chemical messengers that tell all cells to grow and divide. We know from research that some melanoma cells may have overactive tyrosine kinases, so there are many messages telling the cancer to grow.
Nilotinib is a type of biological therapy called a tyrosine kinase inhibitor (TKI for short). TKIs block tyrosine kinases. And so the researchers think that nilotinib may help stop the growth and spread of melanoma.
The aims of this trial are to find out
If nilotinib can help people with advanced acral and mucosal melanoma
How safe nilotinib is for this group of people
What the side effects are
Who can enter
You can enter this trial if
You have melanoma on the palms of the hand or soles of the feet (acral melanoma) or that started in the moist tissue of the body like the mouth, nose, food pipe, vulva or anus (mucosal melanoma )
Your melanoma has spread to the surrounding tissues (stage 3B or 3C) or spread to another part of the body (stage 4)
Your melanoma cannot be removed with surgery
You have one or more tumours of at least 10mm that can be measured
You have satisfactory blood test results
You are up and about for more than half the day and can look after yourself but are not well enough to work (performance status 0, 1, 2)
You are willing to use reliable contraception if there is a chance to you or your partner could become pregnant
You are at least 18 years old
You cannot enter this trial if you
Have melanoma that has spread to your brain – you may be able to join if a scan shows that this spread has been stable for 6 months or more, or if you have had surgery to remove a single area of melanoma spread at least 3 months ago and the disease is no worse
Are taking steroids to treat melanoma spread to the brain
Have had a another drug similar to nilotinib ( a 'tyrosine kinase inhibitor') before – your doctor can advise about this
Have had radiotherapy in the last 4 weeks
Have had radiotherapy to a quarter or more of the bones in your body that make blood cells
Have a serious heart problem
Have ongoing liver problems
Have ongoing problems with your pancreas
Have problems absorbing tablets in your gut
Are not able to digest a sugar (lactose) found in milk and milk products - this is called 'lactose intolerance'
Are known to be HIV positive
Have another medical problem that could affect you taking part in this trial
Have had another drug as a part of a clinical trial in the last month
Use herbal medicine
Are taking a drug that thins your blood, such as warfarin
Trial design
This is a phase 2 trial. It will recruit about 120 people in the UK. This trial is in 2 parts.
In the first part of this trial, the researchers need to find out if your melanoma has an overactive c-KIT tyrosine kinase

on the surface of the cancer cells. To do this they will ask your permission for a sample of tissue from when you had your biopsy or surgery. If there is an overactive c-KIT tyrosine kinase this is called 'c-KIT positive'.
If your melanoma is c-KIT positive, the trial team will talk to you about the next part of the trial. If your melanoma is not c-KIT positive you will not be able to take part in the second part of the trial and your doctor will discuss your treatment options with you.
In the second part of the trial, everyone taking part will have nilotinib tablets. You take 2 tablets twice a day (12 hours apart) at about the same time each day. You swallow them whole with a glass of water on an empty stomach. You should wait at least 2 hours after eating before taking them. And after you have taken your capsules don't eat for an hour.  
Exactly how long you carry on taking nilotinib will depend on how well you are, and if it is still helping.
If you take part in this trial, the researchers will ask your permission to take
Tissue samples
Skin samples
A few hairs from your head
Blood samples
These samples will be stored safely and only used for research purposes. Studying these samples may help researchers learn more about the type of melanoma you have and how nilotinib may help.
You can choose to give permission for the researchers to take none, some or all of these samples. Your decision will not affect you taking part in the main trial.
Hospital visits
You will see the doctor and have some tests before you start treatment. These tests include
Finding out if your melanoma is 'c-KIT positive'
Physical examination
Heart trace (ECG )
Blood tests
Pregnancy test (if appropriate)
During treatment you see the doctor on the 15th and 29th day of your treatment. You then see them every 4 weeks to the end of 1 year, then every 8 weeks after that. When you see the doctor, you have the following tests
Physical examination
Heart trace (ECG)
Blood tests
During treatment you also have a CT scan every 3 months.
If you stop treatment because of the side effects, you will see the doctor every 6 weeks and have the following tests
Physical examination
Blood tests
CT scan
If you stop treatment because it is not helping, your doctor will discuss what other treatment options may be available.
Side effects
You cannot eat certain fruits, or drink their juice, while having nilotinib. This is because they can interfere with the way nilotinib works and may increase the side effects. They include
Grapefruit
Star fruit
Pomegranate
Seville oranges (other types of oranges are allowed)
Anything with Seville oranges in it, such as marmalade
The side effects of nilotinib may include
You can find more about nilotinib on CancerHelp UK.
How to join a clinical trial
Please note: In order to join a trial you will need to discuss it with your doctor, unless otherwise specified.
Please note - unless we state otherwise in the summary, you need to talk to your doctor about joining a trial.
Supported by
Cancer Research UK
Experimental Cancer Medicine Centre (ECMC)
Institute of Cancer Research (ICR)
NIHR Clinical Research Network: Cancer
Novartis
The Royal Marsden NHS Foundation Trust
Other information
This is Cancer Research UK trial number CRUK/09/028.
Questions about cancer? Contact our information nurses
CRUK internal database number:
Please note - unless we state otherwise in the summary, you need to talk to your doctor about joining a trial.
Charlie took part in a trial to try new treatments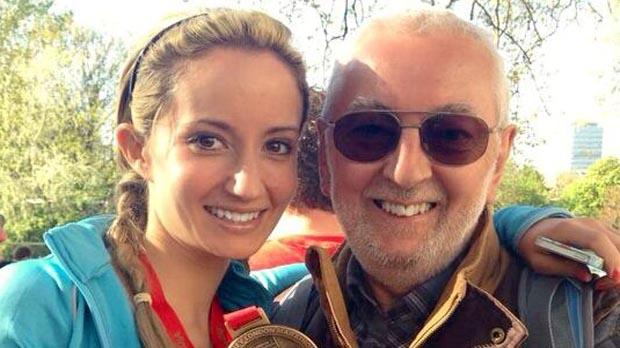 "I think it's really important that people keep signing up to these type of trials to push research forward."