A trial looking at different ways of giving photodynamic therapy for brain tumours
Please note - this trial is no longer recruiting patients. We hope to add results when they are available.
Cancer type:
Brain (and spinal cord) tumours
This trial is comparing different laser wave lengths in photodynamic therapy for brain tumours. It is for people who have glioblastoma multiforme or anaplastic astrocytoma. These are the most common types of brain tumour.
Doctors often treat brain tumours with surgery, followed by radiotherapy. You may also have chemotherapy.  But researchers are looking for ways to improve treatment.
In this trial, they are looking at photodynamic therapy (PDT). In PDT, you have a drug that makes cancer cells sensitive to light. Your doctor then shines a strong light (a laser) on to the cancer cells and these sensitive cells die.
We know from research that having the photosensitising drugs before surgery makes the cancer cells glow so the surgeon can see the cancer more easily and remove more of it.
But even with improved surgery, cancer cells can be left behind. So in this trial, you have PDT after surgery to remove your brain tumour.
The trial team are comparing 2 different PDT laser wave lengths. One shines deeper into the cancer than the other. Doctors want to know if this will help to kill more cancer cells.
The aim of this trial is to find out
If one wave length of laser is better than the other in delaying or stopping growth of brain tumours
What the side effects are
Who can enter
You may be able to enter this trial if you
You cannot enter this trial if you
Have porphyria (a rare condition causing a severe reaction to sunlight)
Are pregnant or breast feeding
Trial design
This phase 2 trial will recruit up to 225 people.
There are 4 different treatment groups in this trial. People who have just been diagnosed with a brain tumour are in group A or C. People who have a brain tumour that has come back are in group B or D.
You are put into treatment groups by a computer. Neither you nor your doctor can decide which group you are in. This is called randomisation.
Everyone taking part in the trial will have drugs to make their cells sensitive to light (photosensitisers) followed by surgery.  After surgery
People in groups A and C have 5 sessions of PDT with 1 wave length of laser light
People in groups B and D have up to 5 sessions of PDT with a laser light that has a longer wave length
During your surgery the surgeon leaves a fibre where your tumour was. This fibre connects to the laser for your treatment. The light treatment takes place in the days immediately after surgery.
You have the photo dynamic therapy in hospital once a day for up to 5 days. It takes between 30 and 90 minutes each time, and does not hurt.
When you finish treatment the doctors remove the fibre.
Hospital visits
You will be in hospital for a few days before your surgery. After your surgery you will stay in hospital until you are well enough to go home.
You have an MRI scan 7 days after your surgery.
You may have chemotherapy and radiotherapy following your surgery. This is not part of the trial treatment. Your doctor will discuss this with you.
The doctors will see you every 3 months after your surgery to see how you are. You will continue to see the doctors until your brain tumour starts to grow again.
Side effects
The photosensitiser drug will make your skin very sensitive to light for about 30 days. You will need to cover up in the sun or bright light, by wearing a brimmed hat, long sleeves, dark glasses, gloves and socks. If you don't you will burn.
You may have side effects from your surgery. These are the same even if you are not on the study. The most common side effects of brain surgery are
Bleeding
Infection
Stroke
There is more information about side effects of surgery to remove a brain tumour on CancerHelp UK.
How to join a clinical trial
Please note: In order to join a trial you will need to discuss it with your doctor, unless otherwise specified.
Please note - unless we state otherwise in the summary, you need to talk to your doctor about joining a trial.
Supported by
Alfred Stewart Charitable Trust
NHS Tayside
Tayside Academic Health Sciences Centre
University of Dundee
CRUK internal database number:
Please note - unless we state otherwise in the summary, you need to talk to your doctor about joining a trial.
Rhys was only four years old when he was diagnosed with a brain tumour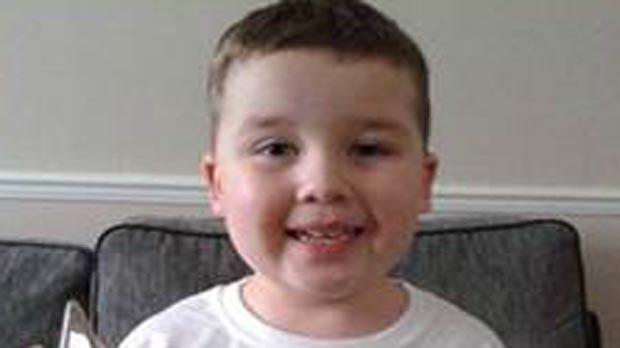 "He went through six operations and was placed on a clinical trial so he could try new treatments."