A trial looking at stereotactic body radiotherapy before surgery for pancreatic cancer (SPARC)
Please note - this trial is no longer recruiting patients. We hope to add results when they are available.
This trial is looking at different doses of stereotactic body radiotherapy (SBRT) to shrink pancreatic cancer before surgery. It is for people whose pancreatic cancer could possibly be removed with surgery, but the operation may be difficult. This trial is supported by Cancer Research UK.
More about this trial
If pancreatic cancer is diagnosed at an earlier stage it may be possible to have surgery to remove it. But some people have a cancer that is very close to the large blood vessels, so the operation may not be possible or it may not be straightforward to do.
 
Researchers are trying to find out if a type of radiotherapy called stereotactic body radiotherapy (SBRT) could shrink the cancer and reduce the risk of any cancer being left behind.
 
SBRT directs radiotherapy beams at the cancer from different positions around the body. It accurately delivers a high dose of treatment to the cancer while the surrounding tissue only receives a low dose.
 
The aims of this trial are to
Find the best and safest dose of SBRT
See whether SBRT before surgery improves the chances of removing all the pancreatic cancer
Learn more about the side effects of SBRT
Who can enter
You may be able to join this trial if all of the following apply. You
Have pancreatic cancer and your specialist thinks it may be possible to remove it with surgery, but there is a high risk of cancer being left
Are fit and well enough to have surgery (you have a performance status of 0 or 1)
Are fit and well enough to have biliary drainage using a stent if you have a blockage in your bile duct
Have satisfactory blood test results
Are at least 16 years old
You cannot join this trial if any of these apply. You
Have cancer in the tail of your pancreas
Have pancreatic cancer that has grown into surrounding tissues unless this can be included in the area that is treated with radiotherapy
Have pancreatic cancer that has spread elsewhere in your body
Have already had radiotherapy to the upper part of your stomach or the right side of your chest, where 30% of the liver had had a dose of more than 15 Grey
Have a cancer that is more of a risk to your health than your current diagnosis of pancreatic cancer. You can still take part if you have had a very early stage cancer that has been successfully treated and has not come back in the last 3 years . For example, localised prostate cancer, early stage colorectal cancer or carcinoma in situ of the cervix  
Have any other serious medical condition or mental health problem that the trial team think could affect you taking part
Are pregnant or breast feeding
Trial design
This is a phase 1 trial. The researchers need up to 24 people to join.
The first few patients taking part will have a low dose of stereotactic body radiotherapy (SBRT). If they don't have any serious side effects, the next few patients will have a higher dose. And so on, until they find the best dose to give. This is called a dose escalation study. You will be told what dose you are having. The researchers aim to test up to 4 different doses of SBRT.
You have 5 treatments of SBRT over 5 to 8 days. You have scans during your radiotherapy treatments to make sure that the SBRT is as accurate as possible. For example, the position of your cancer or other parts of the body such as the bowel might move slightly. If this happens, the treatment position will need to be adjusted. This is called image guided radiotherapy.
Each treatment session takes about 30 to 45 minutes. The radiotherapy treatment itself only takes a few minutes. The rest of the time is used to get you in the right position, take scans and move the machine around your body to deliver treatment from different angles.
You see a member of the trial team once during your 5 to 8 days of treatment. They will ask you about side effects and suggest ways to manage the side effects if possible.
A few weeks after you finish SBRT, your doctor will assess you to decide whether you can now have an operation to remove your cancer. If you have surgery, this will take place about 5 to 6 weeks after finishing SBRT.
Hospital visits
You have some tests to help the trial doctor decide whether you can take part in this trial. These tests include
Blood tests
Physical examination
CT scan if you haven't had one in the last month
Before you begin stereotactic body radiotherapy (SBRT), the trial doctor needs to plan your radiotherapy treatment carefully. You have a CT scan and you may have a MRI scan or a PET scan.
These scans help to show exactly where the cancer is. This information is entered into a computer that the doctors use to create your treatment plan.
You have 3 or 4 small permanent marks put on the skin of your stomach and side (a bit like a very small tattoo). These help the radiographers

 to put you in exactly the same position for each treatment.
Your radiotherapy planning involves 1 or 2 hospital visits and each appointment takes about 40 minutes.
You have a CT scan about 4 weeks after finishing SBRT to see if the treatment has worked.
If you are able to have surgery you will stay in hospital for about 10 to 14 days although this may vary from one person to another.
You visit hospital to see the trial doctor 3 months and 6 months after your radiotherapy has finished. All further appointments will then be part of your routine care, depending on what treatment or support you have.
The trial team will find out how you are doing 1 and 2 years later. They do this by contacting your doctor and looking at your medical records.
Side effects
You will not feel anything during stereotactic body radiotherapy (SBRT), it is a bit like having an X-ray or a scan.
The most common side effect of SBRT are
There are other possible side effects that are not as common, the trial team will discuss these with you.
How to join a clinical trial
Please note: In order to join a trial you will need to discuss it with your doctor, unless otherwise specified.
Please note - unless we state otherwise in the summary, you need to talk to your doctor about joining a trial.
Chief Investigator
Professor Maria A. Hawkins
Supported by
Cancer Research UK
Experimental Cancer Medicine Centre (ECMC)
Cancer Research UK Oxford Centre
CRUK/MRC Oxford Institute for Radiation Oncology
Oncology Clinical Trials Office (OCTO)
Oxford Clinical Trials Research Unit (OCTRU)
University of Oxford
National Institute for Health Research (NIHR)
Other information
This is Cancer Research UK trial number CRUK/14/028.
CRUK internal database number:
Please note - unless we state otherwise in the summary, you need to talk to your doctor about joining a trial.
Charlie took part in a trial to try new treatments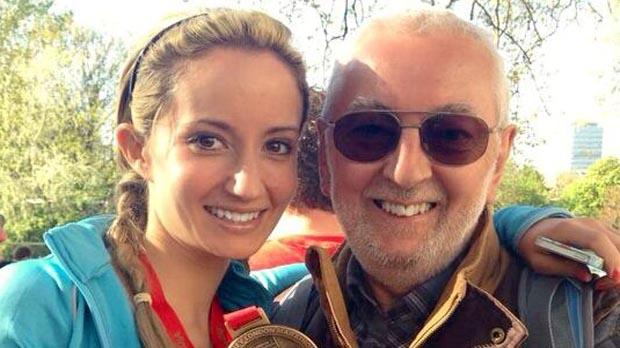 "I think it's really important that people keep signing up to these type of trials to push research forward."