A trial looking at PLX3397 for advanced acral and mucosal melanoma (PIANO)
Please note - this trial is no longer recruiting patients. We hope to add results when they are available.
This trial is looking at a drug called PLX3397 for melanoma that has spread into the surrounding tissues or to another part of the body (advanced melanoma). It is for people who have
2 unusual types of melanoma called acral melanoma   and mucosal melanoma
A gene change (mutation ) in the melanoma cells called KIT
This trial is supported by Cancer Research UK.
More about this trial
Acral melanoma is a type most commonly found on the palms of the hands or soles of the feet. Mucosal melanoma is a rare type of melanoma that starts in the moist tissue (mucosa) which lines the mouth, nose, food pipe, anus, vulva and vagina.
Doctors usually treat advanced melanoma with chemotherapy. But sometimes this doesn't work very well. So they are looking at new ways to improve treatment. In this trial, they are looking at a new drug called PLX3397.
PLX3397 is a type of biological therapy. It is a cancer growth blocker. It stops signals that cancer cell use to divide and grow. We know from research that PLX3397 may help people whose melanoma cancer cells have the KIT gene change.
The aims of the trial are to
Find out how well PLX3397 works for people with advanced acral or mucosal melanoma
Learn more about the side effects of PLX3397
Who can enter
The following bullet points list the entry conditions for this trial. If you are unsure about any of these speak with your doctor or the trial team. They will be able to advise you.
You may be able to join this trial if all of the following apply. You
Have acral melanoma or mucosal melanoma that has grown into surrounding tissues and can't be removed with an operation or it has spread to another part of the body
Have a gene change in your melanoma cancer cells called KIT
Have a melanoma that measures at least 15mm
Are well enough to be up and about for at least half the day (performance status 0, 1 and 2)
Have satisfactory blood test results
Are willing to use reliable contraception during the trial and for 3 months afterwards if there is any chance you or your partner could become pregnant
Are at least 18 years old
You cannot join this trial if any of these apply. You
Have cancer that has spread to your brain unless it has been treated and you haven't had any symptoms in the last 6 months (or in the last 3 months if you have 1 area of cancer spread to the brain). And you haven't had steroids  in the last month
Have had radiotherapy to more than a quarter of your bone marrow  or you have had radiotherapy in the last month before you join the trial
Have a type of KIT mutation that is resistant to PLX3397
Have had treatment with a KIT inhibitor such as imatinib and dasatinib in the past
Can't swallow tablets for any reason
Have a significant heart problem
Have problems with your liver or gallbladder  
Have had major surgery in the last month or a skin sample (biopsy ) taken in the 7 days before joining the trial
Are having traditional Chinese medicine or herbal medicine
Have problems with your digestive system , for example you have Crohn's disease or you have had part of your stomach removed and you can't absorb nutrients or medication properly
Are HIV positive
Have an active hepatitis B or hepatitis C infection 
Have any other medical condition that the trial team think could affect you taking part
Are pregnant or breastfeeding
Trial design
This is a phase 2 trial. The trial team need 19 people to take part. Everyone taking part will have PLX3397.
Everybody who agrees to take part will have a tissue sample (biopsy) tested for the KIT gene change. The researchers may be able to test a sample that was taken when you had surgery for melanoma. Or they may ask to take a new sample. The test is done in a specialist laboratory. It takes about 2 to 3 weeks to get the results.
If the test results show that you don't have the KIT gene change you won't be able to take part in the trial. Your doctor will discuss other treatment options with you. If have the KIT gene change, you may be able to take part in the trial.
PLX3397 is a capsule. You have the capsules twice a day everyday with a glass of water. You should not eat for at least 1 hour before you take them and for 1 hour afterwards.
You have treatment for as long as it is helping you and the side effects aren't too bad.
If you agree to take part in this trial, the researchers will ask to take extra blood samples. Where possible you have these at the same time as your routine blood tests. The researchers want to look for substances called biomarkers

 to find out why treatment might work for some people and not for others.
The researchers may also ask to take biopsies of your cancer at the beginning and during treatment. They will look for biomarkers and they may use it for other tests in the future. They are asking to take 3 samples in total. If you don't want to give these samples for research, you don't have to. You can still take part in the trial.
Hospital visits
You see the doctor to have some tests before taking part in the trial. These include
You may also have a PET scan.
To begin with, you see the doctor 2 weeks after starting treatment and then
Every month in the first year of treatment
Every 2 months in the second year of treatment and then
Every 6 months
You have a CT or MRI scan every 3 months after you start treatment.
When you finish treatment, the trial team follow you up every 6 months. They may phone you or see you at a routine hospital appointment.
Side effects
PLX3397 is a new drug there may be some side effects we don't know about yet. The trial team will monitor you during the time you have treatment and you will be given a phone number to call them if you are worried about anything.
The most common side effects of PLX3397 so far include
Tiredness (fatigue)
High fevers (temperatures)
Heartburn
Cough and shortness of breath
High blood pressure
High levels of enzymes  in the liver
How to join a clinical trial
Please note: In order to join a trial you will need to discuss it with your doctor, unless otherwise specified.
Please note - unless we state otherwise in the summary, you need to talk to your doctor about joining a trial.
Supported by
Cancer Research UK
Christie Charitable Funds ''Elis for life''
Central Manchester for Genomic Medicine
Experimental Cancer Medicine Centre (ECMC)
Oxford University Hospitals NHS Trust 
The Christie NHS Foundation Trust
The Institute of Cancer Research
University of Manchester
Other information
This is Cancer Research UK trial number CRUK/12/020
CRUK internal database number:
Please note - unless we state otherwise in the summary, you need to talk to your doctor about joining a trial.
Charlie took part in a trial to try new treatments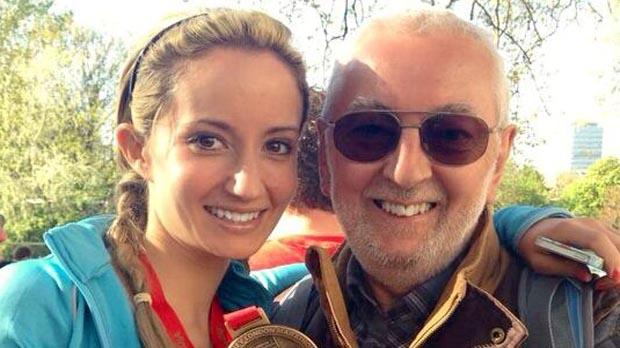 "I think it's really important that people keep signing up to these type of trials to push research forward."