A trial looking at panitumumab, irinotecan and ciclosporin for advanced bowel cancer (PICCOLO)
Cancer type:
Bowel (colorectal) cancer
This trial looked at irinotecan alone, irinotecan with panitumumab and irinotecan with ciclosporin for bowel cancer that had continued to grow after one course of chemotherapy. This trial was supported by Cancer Research UK.
Doctors usually treat advanced bowel cancer (colorectal cancer) with chemotherapy. But sometimes the first course of chemotherapy doesn't work and they need to give a different type of chemotherapy. This is called second line treatment. They often give a drug called irinotecan (Campto) in this situation. But irinotecan doesn't always work very well and it does cause side effects. Researchers tested 2 new combinations of treatment in this trial to see if they could improve second line treatment.
The first was irinotecan and panitumumab. Panitumumab (Vectibix) is a type of biological therapy called a monoclonal antibody.
Some bowel cancers have changes (mutations) in genes such as K-RAS or B-RAF. Whether these genes are mutated or normal (also called wild type) can affect how well certain treatments work. Doctors hoped that irinotecan and panitumumab together would work better than irinotecan alone for people with normal K-RAS genes.
The second combination was irinotecan and ciclosporin. Ciclosporin is not an anti cancer drug, but it allows you to have a lower dose of irinotecan by changing the way your body gets rid of it. Doctors hoped that this combination would work as well as irinotecan alone and cause fewer side effects.
The aims of this trial were to find out
If irinotecan and panitumumab together works better than irinotecan alone
If irinotecan and ciclosporin together work as well as irinotecan alone and causes fewer side effects
More about the effects these combination of drugs may have on bowel cancer cells
Summary of results
This was a large phase 3 trial. It recruited 1,198 people who had already had some treatment for bowel cancer. The trial was in two parts and the research team analysed the two parts separately.
The first part of the trial looked at irinotecan and panitumumab. This part recruited 696 people – 347 had irinotecan alone, and 349 had irinotecan and panitumumab.
For patients with a normal K-RAS gene, the research team found that the cancer was significantly more likely to reduce in size and take longer to start to grow again in people who had panitumumab.
They also found that there was a slight increase in how long people lived in the panitumumab group. But the difference wasn't big enough to be significant in statistical terms, which means that it could have been due to chance.  The group who had panitumumab had more side effects such as diarrhoea and skin problems.
The research team also looked at the effect of panitumumab for people whose cancer had a mutation in the K-RAS gene, or in one of several related genes called B-RAF, N-RAF and PIK3CA. More than half of people with bowel cancer have a mutation in one of these genes.  They found that there was no benefit in having panitumumab for people who had one of these mutations.
The second part of the trial looked at irinotecan and ciclosporin. This part of the trial recruited 672 people – 335 had irinotecan alone, and 337 had ciclosporin and a lower dose of irinotecan.
The research team looked at how many people's cancer had started to grow again 12 weeks after starting treatment. There were no signs of the cancer growing in
179 out of 335 people (53%) who had irinotecan alone
159 out of 337 people (47%) who had ciclosporin and a lower dose of irinotecan
This difference could have happened by chance. And based on these results the research team cannot be confident that ciclosporin and a lower dose of irinotecan is as effective as irinotecan alone.
They also looked at the side effects and found that the number of people who had diarrhoea was similar in each group. But fewer people who had irinotecan and ciclosporin needed treatment for it.
Based on these results, the trial team cannot recommend ciclosporin and a lower dose of irinotecan as treatment for advanced bowel cancer.
We have based this summary on information from the team who ran the trial. The information they sent us has been reviewed by independent specialists (peer reviewed

) and published in a medical journal. The figures we quote above were provided by the trial team. We have not analysed the data ourselves.
How to join a clinical trial
Please note: In order to join a trial you will need to discuss it with your doctor, unless otherwise specified.
Please note - unless we state otherwise in the summary, you need to talk to your doctor about joining a trial.
Supported by
Amgen
Cancer Research UK
Experimental Cancer Medicine Centre (ECMC)
National Institute for Health Research Cancer Research Network (NCRN)
University of Leeds
Other information
This is Cancer Research UK trial number CRUK/05/016.
CRUK internal database number:
Please note - unless we state otherwise in the summary, you need to talk to your doctor about joining a trial.
Charlie took part in a trial to try new treatments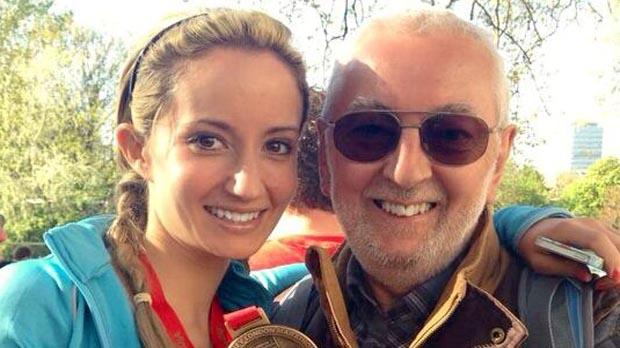 "I think it's really important that people keep signing up to these type of trials to push research forward."