A trial looking at niraparib, temozolomide and irinotecan for Ewing's sarcoma that has come back (ESPRIT)
Please note - this trial is no longer recruiting patients. We hope to add results when they are available.
This trial is for adults and young people from the age of 13 with Ewing's sarcoma that has come back after treatment.
Cancer Research UK supports this trial. 
More about this trial
Ewing's sarcoma is a type of cancer that usually starts in the bones. It is more common in children and young adults. 
Chemotherapy is often used to treat Ewing's sarcoma. But sometimes it can continue to grow or come back after treatment. When this happens, there aren't many other treatments that doctors can use. So they are looking for new ways to help people in this situation. 
Niraparib is a new drug. It is a type of biological therapy called a PARP inhibitor. This means it blocks an enzyme

called PARP, which helps damaged cells to repair themselves. 
Temozolomide (Temodal) and irinotecan (Campto) are chemotherapy drugs. Both work by stopping cancer cells from dividing into 2 new cells. So the cancer can't grow.  
Temozolomide and irinotecan are common treatments for people with Ewing's sarcoma that has come back. But this is the first time that niraparib will be given to people with Ewing's sarcoma. 
The main aims of this trial are to:
find the highest safe dose of niraparib that can be given with temozolomide or irinotecan
find out which combination of treatment is best 
learn how niraparib works and the effects it has on the body (pharmacodynamics) 
Who can enter
The following bullet points list the entry conditions for this trial. Talk to your doctor or the trial team if you are unsure about any of these. They will be able to advise you. 
You may be able to join this trial if all of the following apply:
You have Ewing's sarcoma that has continued to grow or came back after treatment  
You are willing to have a sample of tissue taken (a biopsy ) from your sarcoma before starting treatment 
If you are older than 18 you must be willing to have an additional biopsy during treatment (this is optional if you are under 18 years old)
You have at least 1 area of sarcoma that can be seen on a scan and measures at least 10 mm
You have had a minimum of 1 treatment combination (treatment regimen) with at least 2 of the following drugs – doxorubicin, cyclophosphamide, ifosfamide or etoposide
You have satisfactory blood test results 
Your heart is working well
You are able to swallow capsules
You are well enough to be up and about for at least half the day (performance status 0, 1 or 2)  
You are at least 13 years old 
You are willing to use reliable contraception during the trial and for 6 months after the last treatment if there is any chance you or your partner could become pregnant  
You cannot join this trial if any of these apply. 
Cancer related
You have had any anti cancer treatment that reached your whole body (systemic treatment) in the last 3 weeks
You have had radiotherapy or major surgery in the last 2 weeks
You have severe side effects from previous cancer treatment or from a stem cell transplant  using your own cells (autologous)
If you have had a stem cell transplant using cells from a donor (an allogenic transplant) you must have had this more than 6 months ago and you must have no signs of graft versus host disease and you can't have taken any drugs used to damp down your immune system (immunosuppressants) in the past 30 days
Your sarcoma has spread to your brain or spinal cord (central nervous system) and is causing symptoms. You might be able to take part if you have had surgery or radiotherapy to the areas of spread more than 6 weeks ago, have recovered from any side effects and haven't taken steroids for at least a month 
You are having other anti cancer treatments or experimental treatments 
You have had another cancer in the last 5 years apart from basal cell cancers (BCC), squamous cell skin cancers and a pre cancer of the cervix (cervical intraepithelial neoplasia) 
 You have had a low count of platelets, white cells and red cells for more than 4 weeks as a result of previous cancer treatment
Medical conditions
You are known to be sensitive to niraparib, temozolomide, irinotecan or similar drugs
Your bone marrow  doesn't make enough healthy cells (myelodysplastic syndrome)
 You have another medical condition that the trial team think could affect you taking part 
Other
You are pregnant or breastfeeding 
Trial design
This is an international phase 1 trial. Researchers hope between 30 to 50 people will take part. 
This trial has 3 parts (arms). Doctors are currently looking for people to join arm C:
niraparib and temozolomide (arm A) – this is now closed
niraparib and irinotecan (arm B) – this is now closed
niraparib, irinotecan and temozolomide (arm C)
Up to 12 people will join arm C.
Niraparib, irinotecan and temozolomide (arm C) 
You take niraparib capsules from day 1 to 7 of each treatment cycle. Everyone taking part has the same dose of niraparib.
You have irinotecan as a drip into your vein. You have it from day 2 to 6 of each treatment cycle. It takes about 60 minutes each time. Everyone taking part has the same dose of irinotecan.
You take temozolomide as tablets that you swallow every day, from day 2 to 6 of each treatment cycle. The first few people taking part have a small dose of temozolomide. If they don't have any serious side effects, the next few people have a higher dose.
You continue having this treatment for as long as it helps you and the side effects aren't too bad.
Blood tests
Everyone taking part in this trial has extra blood tests. You have the extra tests before the start of treatment and after you finish. 
Doctors want to learn how the treatment works and find out your risk of developing:
You have this test because there is a very small risk of you developing MDS or AML during the treatment. If your doctor thinks that you have developed this, you will have a bone marrow biopsy

 to confirm it. 
 
The trial team will ask you to store some of your blood samples. You must agree to have your samples stored if you want to take part in this trial. Your details will be removed from the samples so no one can identify you. 
Tissue sample
Before the start of treatment you might need to have a tissue sample of your cancer taken. This is only if your doctor thinks it's safe for you to have it.   
You might also have an extra biopsy during your treatment if you are older than 18. You don't need to agree to this if you are younger than that. You can still take part. 
Your doctor will also ask to use a sample of cancer taken when you were first diagnosed (an archived tumour tissue). 
Diary
The trial team will ask you to keep a diary to record:
every time you take the drug
if you miss a dose
if you are sick after you have taken the drug
This helps your doctor to understand how many doses of treatment you had.  
Hospital visits
You see a doctor and have some tests before taking part. These tests might include: 
After you start treatment, you see a doctor every week for the first 2 months. You also have blood tests every 3 to 4 days. 
After 2 months you see the doctor every other week and have blood tests every week. This continues of 2 months. You then see the doctor every month and have blood tests every other week.  
You have a CT and an MRI scan every 8 weeks while you are having treatment. This continues for as long as your cancer stays the same and does not get worse. If your cancer gets worse you stop having treatment.   
When you finish your treatment you see the doctor and have blood tests. You also have a CT and an MRI scan. You continue to see the doctor until all the side effects from the treatment stop.   
Side effects
The trial team monitor you during the time you have treatment and you have a phone number to call them if you are worried about anything.  The team will tell you about all the possible side effects before you start the trial.
The most common side effects of niraparib are:
We have information on:
How to join a clinical trial
Please note: In order to join a trial you will need to discuss it with your doctor, unless otherwise specified.
Please note - unless we state otherwise in the summary, you need to talk to your doctor about joining a trial.
Supported by
Cancer Research UK
Experimental Cancer Medicine Centre (ECMC)
Sarcoma Alliance for Research through Collaboration (SARC)
Other information
This is Cancer Research UK trial number CRUKDE/14/021
CRUK internal database number:
Please note - unless we state otherwise in the summary, you need to talk to your doctor about joining a trial.
Charlie took part in a trial to try new treatments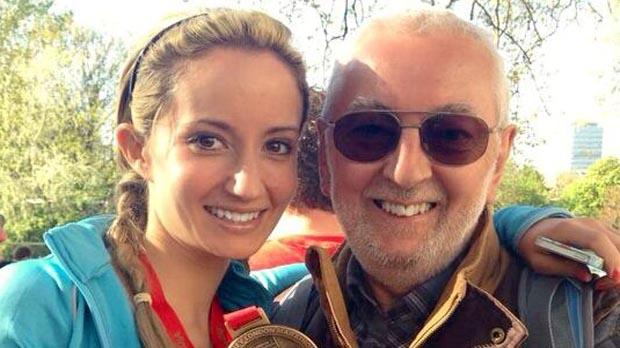 "I think it's really important that people keep signing up to these type of trials to push research forward."