A trial looking at MTL-005 for head and neck cancers (MOREX)
Please note - this trial is no longer recruiting patients. We hope to add results when they are available.
Cancer type:
Nasal and paranasal sinus cancer
This trial is looking at a drug called MTL-005 alongside a combination of chemotherapy and radiotherapy (chemoradiation) for head and neck cancers. This trial has 2 parts. In the 1st part people were having radiotherapy to control their symptoms (palliative radiotherapy). Part 1 has now closed. Part 2 is for people with head and neck cancer whose cancer has spread to surrounding tissue (locally advanced disease).
More about this trial
Doctors may use a combination of chemotherapy and radiotherapy (chemoradiation

) to treat people in this situation.
MTL-005 belongs to a group of drugs called radiosensitising

agents. You have MTL-005 through a small tube into your vein. When it enters the blood stream, it collects mainly at the site of the cancer, as well as the liver and spleen.
MTL-005 is only activated in the areas that are treated with radiotherapy. It increases the effects of radiotherapy in this area. It is not a treatment on its own for cancer. But researchers think that it may help to improve the cancer treatments we already have.
This is the first time that MTL-005 has been used in people.
The aims of this trial are to
Find the best and safest dose of MTL-005
Learn more about the side effects of MTL-005 when used alongside chemoradiation
See what happens to MTL-005 in your body
Find out if it improves treatment with chemoradiotherapy
Who can enter
The following bullet points list the entry conditions for this trial. If you are unsure about any of these speak with your doctor or the trial team. They will be able to advise you.
You may be able to join the 2nd part of this trial if you are due to have chemoradiotherapy (including cisplatin chemotherapy) and all of the following apply. You
Have head and neck cancer that has spread to surrounding tissue (locally advanced) but has not spread to another part of the body
Are not able to have surgery to remove your cancer
Have a type of cancer called squamous cell cancer
Have satisfactory blood test results
Are able to care for yourself, but you may not be able to carry on with your normal activities or do active work (a Karnofsky performance status of more than 70%)
Are willing to use reliable contraception during treatment until the last day of radiotherapy, if there is any chance that you or your partner could become pregnant
Are at least 18 years of age
You cannot join this trial if any of these apply. You
Have already had radiotherapy treatment to your head and neck cancer
Have had chemotherapy in the last 4 weeks
Have had major surgery in the last 2 weeks
Are due to have treatment with a biological therapy called cetuximab
Have had any other cancer, unless it has been successfully treated and there has been no recurrence of this cancer in the last 10 years
Already have hearing problems that could become worse following treatment with cisplatin
Already have problems with numbness and tingling in your hands and feet (peripheral neuropathy) that could become worse following treatment with cisplatin
Have any other serious medical condition or mental health problem that the trial team think could affect you taking part
Are pregnant or breast feeding
Trial design
This is a phase 1 trial.
This trial has 2 parts. Part 1 has now closed to recruitment.
The researchers need 18 people to join the 2nd part of the trial. In the 2nd part, the first few patients joining will have the lowest dose of MTL-005. If they don't have any serious side effects, the next few patients will have a higher dose. And so on, until the doctors find the best dose. This is called a dose escalation study.
You have MTL-005 through a thin tube into a vein using a small machine (called an infusion pump). This may take between 40 minutes to 1 ½ hours, depending on the dose you have. If you have 1 of the higher doses, you have half the dose 1 day and the other half the next day. The dose you have depends on when you join the trial.
You have a blood test and urine test before each dose and at 3 different points during the 4 hours following your treatment. You return to hospital every day for the next 4 days to have further blood and urine tests. You may stay in hospital for these 4 days if your doctor thinks this is a better option for you.
The blood and urine samples are used for routine tests and to find out what happens to MTL-005in the body (pharmacokinetics

).
You start radiotherapy between 3 days and 1 week after your infusion of MTL-005. You have radiotherapy every day, Monday to Friday, for a total of 7 weeks. You have further blood and urine tests on your 1st day of radiotherapy and then 3 weeks and possibly 6 weeks later.
You have cisplatin chemotherapy through a drip into a vein on the first day of radiotherapy and 3 weeks later. You may have another dose of cisplatin after a further 3 weeks if your doctor thinks this is appropriate in your situation.
The trial team will ask you to fill out a questionnaire on 2 separate occasions before you start treatment, then 2 months and 5 months after the end of your radiotherapy. The questionnaire will ask about side effects and how you've been feeling.  This is called a quality of life study.
Hospital visits
You see the doctors and have some tests before you start treatment. The tests include
Blood tests
Physical examination
Heart trace (ECG )
Urine test
MRI scan or CT scan of your cancer (if you haven't had one done recently)
Before you start treatment in this trial the doctors need to find out whether your cancer tests positive for HPV (human papilloma virus). If this test has not been done already, you will have a blood test or sample taken of your cancer (biopsy

). The researchers will find it useful to know how many people have HPV and how many don't. The result of the test won't affect your taking part.
After your radiotherapy has finished, someone in the trial team will telephone you once a week for 12 weeks. They will ask you how you are and if you are having any side effects.
You go to hospital to see the trial team
after your radiotherapy. The doctor will examine you, ask about any side effects and you have further blood and urine tests. You also have a CT scan or MRI scan. These appointments may be in addition to your routine follow up appointments, but where possible they will be arranged for the same day.
Side effects
As MTL-005 is a new drug, there may be side effects we don't know about yet. Possible side effects include
Weight loss
Loss of appetite
Red and sore skin at the site where you had MTL-005 into your vein
You will be closely monitored by the trial team and have treatment to reduce your side effects if possible.
MTL-005 may increase the side effects of chemoradiotherapy.
The most common side effects of radiotherapy to the head and neck area include
Sore skin in treatment area
Sore, painful mouth and throat
Dry mouth
Loss of taste and appetite
Hair loss
Feeling or being sick
Stiff jaw
Bad breath
The most common side effects of cisplatin chemotherapy include
Tiredness (fatigue)
A drop in blood cells causing an increased risk of infection, bleeding problems, tiredness and breathlessness
Hearing loss, particularly with high pitched sounds
A change to the way your kidneys work. You will have blood tests before and during your treatment to check your kidneys
We have more information about
How to join a clinical trial
Please note: In order to join a trial you will need to discuss it with your doctor, unless otherwise specified.
Please note - unless we state otherwise in the summary, you need to talk to your doctor about joining a trial.
Supported by
Experimental Cancer Medicine Centre (ECMC)
MorEx Development Partners
CRUK internal database number:
Please note - unless we state otherwise in the summary, you need to talk to your doctor about joining a trial.
Cara took part in a clinical trial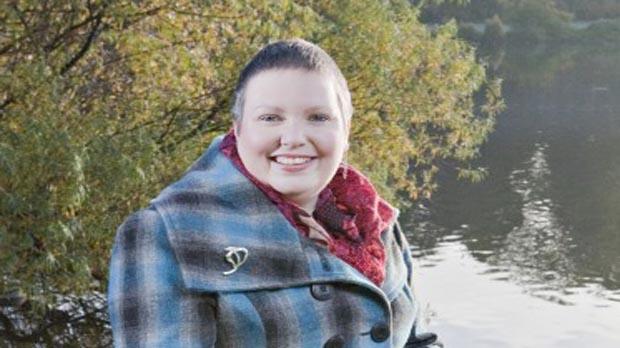 "I am glad that taking part in a trial might help others on their own cancer journey."