A trial looking at LON002 for advanced solid tumours
Please note - this trial is no longer recruiting patients. We hope to add results when they are available.
This trial is looking at a new drug called LON002 to treat solid tumours. It is for people who have advanced cancer

and who have no standard treatment

options available to them.
More about this trial
Researchers are looking for new ways to treat people in this situation. Artemether is a standard medicine used to treat malaria. Doctors think that artemether may also be useful as a cancer treatment.
LON002 contains artemether. You have it as a spray under your tongue. This is a new way of having this medicine. Laboratory research has shown that LON002 can stop cancer cells growing in different types of cancers.
The aims of this trial are to
Find the best dose of LON002
Find out how well LON002 works for cancer
Learn more about the side effects
Who can enter
You may be able to join this study if all of the following apply.
You have a cancer other than lymphoma, leukaemia or myeloma (a solid tumour )
You have advanced cancer and there are no standard treatments available for you
Your cancer has come back or continued to grow following at least one treatment that reaches cancer throughout the body (systemic treatment )
You have satisfactory blood test results
You are well enough to carry out all your normal activities, apart from heavy physical work (performance status of 0 or 1)
You are willing to use reliable contraception 1 month before the trial, during the trial and for 1 month afterwards if there is any chance that you or your partner could become pregnant
You are at least 18 years old
If you join part 2, you must also have at least one area of cancer measuring 10mm or more on a CT scan or MRI scan (your doctor can advise you about this).
You cannot join this study if any of these apply. You
Have a primary brain tumour or cancer that has spread to your brain that is causing you symptoms. You can take part if this has been treated with surgery or radiotherapy over 4 weeks ago, it is not getting worse and if you have not taken steroids in the last 4 weeks
Have had major surgery in the last 4 weeks, or you have not yet recovered from any previous major surgery
Have had any other cancer treatment in the last 4 weeks (you may be able to take part if you have had radiotherapy to treat symptoms in the last 2 weeks)
Have had treatment in a trial in the last 4 weeks
Have problems with your hearing, balance or brain and nervous system which is getting worse or which is a side effect from previous chemotherapy (unless it is very mild)
Have certain heart problems (the trial team can advise you about this)
Have a serious problem with your mouth or teeth which could stop the drug from working
Have any other serious medical condition or mental health problem that the trial team think could affect you taking part
Are allergic to the drugs used in this trial
Are pregnant or breast feeding
Trial design
This is a phase 1/2 trial. It has 2 different parts. People will join either part 1 or part 2. The researchers need up to 21 people to join part 1 and between 21 to 66 people to join part 2.
In the first part of the trial, the first few patients have a low dose of LON002 once a day. If they don't have any serious side effects, the next few patients have the same dose twice a day. If they don't have any serious side effects, the next few patients will have a higher dose of LON002 twice a day. This way, the doctors find the best dose to give. This is called a dose escalation study.
If you join the second part of the trial, you will have the best dose found in the first part of the trial.
You have LON002 as a spray under your tongue. Each dose should be taken in blocks of 7 sprays, with an interval of 5 minutes before the next 7 sprays. For example you may be asked to take 14 or 21 sprays. The trial team will tell you how many sprays to take and how often as this depends on when you join the trial.
You should not eat or drink for 30 minutes after using the LON002 spray.
People in both parts have LON002 each day for 4 weeks. Each 4 week period is called a cycle of treatment. You can have up to 4 cycles. If test results show that LON002 is working well, the doctors may decide to continue your treatment.
You have extra blood tests as part of this trial. Where possible you have these at the same time as your routine blood tests. The researchers want to find out what happens to LON002 in the body (pharmacokinetics

) and to look for substances called biomarkers

to find out why treatment might work for some people and not for others.
The researchers may also ask to take biopsies

of your cancer at the beginning and during treatment. They will look for biomarkers and they may use it for other tests in the future. If you don't want to give these samples for research, you don't have to. You can still take part in the trial.
Hospital visits
You will see the doctors and have some tests before you start treatment. The tests include
Physical examination
Heart trace (ECG ) and you may have a heart scan (echocardiogram )
Blood tests
Urine test
Tests to check your hearing and balance (these will be carried out by a specialist in this area)
You may have a CT scan or MRI scan, depending on how long ago your last scan was.
You go to hospital once every week during the first 4 weeks (your first cycle of treatment) and stay overnight in the 1st and 4th week. You continue to visit hospital once every 2 weeks during cycles 2 to 4, but with no overnight stays.
You have blood tests, a urine test and a doctor will examine your mouth at every appointment. This is to check that the LON002 spray is not causing any harm to your mouth. You have some of the above tests again, but not at every visit.
You have a heart scan (echocardiogram) and CT scan or MRI scan every 8 weeks. You will be asked to keep a diary of every time you have LON002 and to bring this along to your appointments.
When you finish treatment you have a final appointment where you have many of the above tests again. The trial team will then contact you by phone every 3 months to find out how you are and whether you have any side effects.
Side effects
People who have LON002 for malaria only use the spray for a few days and have a smaller dose of artemether than the doses used in this trial. You will use the spray for a much longer period of time.
As LON002 is a new drug in cancer treatment, there may be side effects we don't know about yet. The most common side effects in the treatment of malaria include
Headaches
Dizziness
Pain in your tummy (abdomen)
Loss of appetite
Difficulty sleeping
Feeling or being sick
Aching joints
Muscle pain
Tiredness (fatigue) and weakness
Heart palpitations (your heartbeat feels irregular, pounding or fluttery)
You will be given a contact number for the trial team. If you have any questions or concerns about side effects, you can telephone this number.
How to join a clinical trial
Please note: In order to join a trial you will need to discuss it with your doctor, unless otherwise specified.
Please note - unless we state otherwise in the summary, you need to talk to your doctor about joining a trial.
Supported by
Experimental Cancer Medicine Centre (ECMC)
LondonPharma
CRUK internal database number:
Please note - unless we state otherwise in the summary, you need to talk to your doctor about joining a trial.
Cara took part in a clinical trial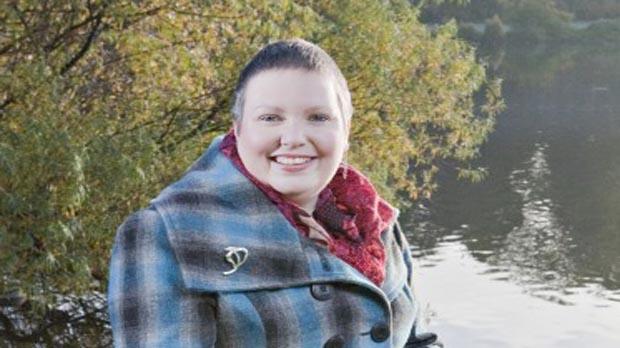 "I am glad that taking part in a trial might help others on their own cancer journey."