A trial looking at HA-Irinotecan for bowel cancer that has spread
Please note - this trial is no longer recruiting patients. We hope to add results when they are available.
Cancer type:
Bowel (colorectal) cancer
This trial is comparing HA-Irinotecan with standard irinotecan, given alongside fluorouracil and folinic acid for bowel cancer that has spread.
If bowel cancer has spread to another part of the body, doctors can treat it with chemotherapy. They may use the drugs irinotecan, fluorouracil (also known as 5FU) and a vitamin called folinic acid. This combination of drugs is known as FOLFIRI chemotherapy.
Researchers are looking for ways to improve treatment. In this trial, they are testing a drug called HA-Irinotecan. It combines irinotecan with a substance called hyaluronic acid (HA). HA is a substance found naturally in the body but can also be made in the laboratory. We know from earlier research that HA can help to get more irinotecan into cancer cells. Doctors hope combining HA with irinotecan will kill more cancer cells than the form of irinotecan that is currently used.
In this trial, everybody will have fluorouracil and folinic acid. Half the people will also have irinotecan the other half will have HA-Irinotecan. The aims of the trial are to
See if HA-Irinotecan works better than irinotecan for bowel cancer that has spread
Learn more about the side effects
Who can enter
You can enter this trial if you
Have bowel cancer that has spread to another part of your body and has got worse despite having 1 or 2 other types of chemotherapy
Have at least 1 area of cancer that can be measured on a scan
Are well enough to carry out all your normal activities, apart from heavy physical work (performance status of 0 or 1)
Have satisfactory blood test results
Are willing to use a reliable form of contraception during the trial and for 4 weeks afterwards if there is any chance you or your partner could become pregnant
Are at least 18 years old
You cannot enter this trial if you
Have cancer that has spread to your brain or spinal cord (central nervous system) and has not been treated or is causing symptoms
Have already had irinotecan
Have had more than 2 other types of chemotherapy for bowel cancer that has spread – treatment after surgery to prevent cancer coming back (adjuvant treatment) is included in these 2 if your cancer came back within 6 months of finishing this treatment
Have had chemotherapy or surgery in the last 4 weeks, or have not recovered from any side effects of earlier treatment
Have had radiotherapy to your tummy (abdomen ) or to the area between your hip bones (pelvis ) in the last year
Have had an experimental drug as part of another clinical trial in the last month
Have had another cancer, apart from carcinoma in situ of the cervix, non melanoma skin cancer  or any other cancer that was successfully treated at least 5 years ago
Cannot have irinotecan - for example if you have inflammatory bowel disease, long term problems with diarrhoea, or a condition called Gilbert's syndrome
Have a build up of fluid around your lungs (pleural effusion ) or in your tummy (ascites ) and it needs treatment
Have a blockage in your bowel (partial or complete bowel obstruction)
Have had a heart attack in the last 3 months or have other heart problems that are a cause for concern
Have an infection
Are pregnant or breastfeeding
Trial design
This international phase 3 trial will recruit about 390 people. It is a randomised trial. The people taking part are put into treatment groups by a computer.  Neither you nor your doctor will be able to decide which group you are in. And you will not know which group you are in either. This is called a double blind trial.
People in 1 group have irinotecan, fluorouracil and folinic acid. People in the other group have HA-Irinotecan, fluorouracil and folinic acid. You have all the drugs through a drip into a vein every 2 weeks. Each 2 week period is called a cycle of treatment.
On the first day of each treatment cycle, you have folinic acid and either irinotecan or HA-Irinotecan. This takes about an hour and a half. Then you have fluorouracil over the next 48 hours.
As long as your cancer does not get worse, you carry on having this treatment for up to 8 months.  If your doctor thinks the treatment is still helping, you may be able to carry on having it for longer.
The trial team will ask your permission to keep a sample of tissue taken when you had surgery. If you don't want to give this sample for research, you don't have to. You can still take part in the trial.
Hospital visits
You will see the doctors and have some tests before you start treatment. The tests include
You go to hospital every 2 weeks during treatment. Each time you have treatment it takes 2 days (48 hours). You may need to stay in hospital for 2 days, or you may be able to go home with a portable pump. You see the doctors, and have a physical examination and blood tests before each cycle of chemotherapy. And you have a CT or MRI scan every 6 weeks.
When you finish treatment, you go back to see the trial doctors 2 weeks later. Then you will see them every 6 weeks until your cancer starts to get worse. After that, they will contact you by phone every 3 months to see how you are.
Side effects
AS HA-Irinotecan is a new drug, there may be side effects that we don't know about yet. But in an earlier trial, the side effects were similar to those of irinotecan. These included diarrhoea and a drop in blood cells causing an increased risk of infection, bleeding problems, tiredness and breathlessness.
There is more information about the possible side effects of FOLFIRI on CancerHelp UK.
How to join a clinical trial
Please note: In order to join a trial you will need to discuss it with your doctor, unless otherwise specified.
Please note - unless we state otherwise in the summary, you need to talk to your doctor about joining a trial.
Supported by
Experimental Cancer Medicine Centre (ECMC)
National Institute for Health Research Cancer Research Network (NCRN)
CRUK internal database number:
Please note - unless we state otherwise in the summary, you need to talk to your doctor about joining a trial.
Around 1 in 5 people take part in clinical trials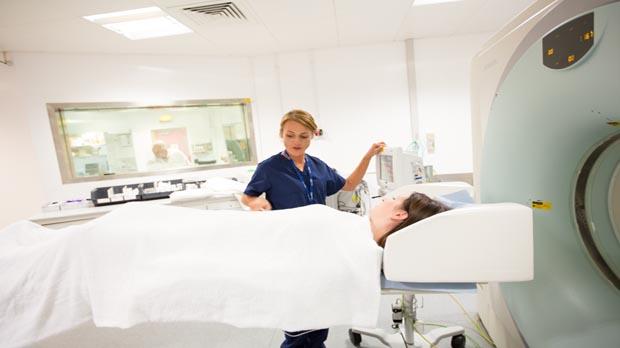 Around 1 in 5 people diagnosed with cancer in the UK take part in a clinical trial.