A trial looking at 5-ALA and Gliadel wafers as part of treatment for glioblastoma (GALA-5)
Please note - this trial is no longer recruiting patients. We hope to add results when they are available.
Cancer type:
Brain (and spinal cord) tumours
This trial is looking at 2 treatments for a type of brain tumour called a glioblastoma

. This trial is supported by Cancer Research UK.
Doctors often treat glioblastoma with surgery, followed by radiotherapy and a chemotherapy drug called temozolomide. This is standard treatment

, but researchers are looking for ways of improving treatment.
In this trial, they are looking at giving 2 other treatments as well as the standard treatment. The first of these is called 5-ALA or Gliolan. It is a dye that makes brain tumour cells glow red under ultra violet light. During surgery, it can help surgeons to check they are removing as much brain tumour as possible.
The other trial treatment is an implant that the surgeon puts into the space left by removing the brain tumour. The implant is called a Gliadel wafer. It contains the chemotherapy drug carmustine. The aim of this treatment is to kill any tumour cells left after surgery.
Some people may already have 5-ALA and Gliadel wafers as part of their treatment, but this is not currently standard treatment. The aims of this trial are to
See if it is safe to have 5-ALA and Gliadel wafers with standard treatment
Find out if this combination of treatments helps people with glioblastoma
The researchers also want to see if having 5-ALA and Gliadel wafers delays radiotherapy and chemotherapy, or affects the number of people who complete the full course of treatment.
Who can enter
You can enter this trial if you
Have had an MRI scan and your specialist multidisciplinary team (MDT) thinks it is very likely you have a glioblastoma multiforme and that you should have surgery followed by radiotherapy and chemotherapy
Are well enough to carry out all your normal activities, apart from heavy physical work (performance status of 0 or 1)
Have satisfactory blood test results
Are willing to use reliable contraception for at least 8 weeks after surgery if there is any chance you or your partner could become pregnant
Are at least 18 years old
You cannot enter this trial if your situation has not been discussed by a specialist multidisciplinary team (MDT), or if you
Have a tumour that the MDT thinks could have previously been a low grade tumour, is cancer spread to the brain from somewhere else (a secondary brain tumour), or there is some uncertainty about the type of tumour you have
Are having any other treatment for your brain tumour (apart from steroids)
Have had any brain surgery (including a biopsy) or brain radiotherapy
Can't have either of the trial treatments for some reason
Have had any other cancer in the last 5 years apart from carcinoma in situ of the cervix or non melanoma skin cancer that was successfully treated
Have liver disease, heart disease, an infection, or another serious disease
Are taking any medication that can make your skin sensitive to the light
Are HIV positive
Are pregnant or breastfeeding
Have passed a mental ability test set by the trial team
Trial design
This is a phase 2 trial that will recruit about 60 people in the UK. It is a pilot study to see if it will be possible to run a larger trial. Everybody taking part in the study will have 5-ALA when they have an operation called a craniotomy to remove their brain tumour.
A few hours before your surgery, you have 5-ALA as a drink. Near the end of the operation, the surgeon will use an ultra violet light on a microscope to look for tumour cells that glow red from the 5-ALA. The surgeon then removes as many of these cells as they safely can.
You only have Gliadel wafers if you have a brain tumour that is fast growing (high grade glioblastoma), and most of the tumour was removed during surgery. So to check the grade, a sample of your tumour will be sent to the laboratory while you are having your operation. At the end of the operation, if your surgeon thinks they have removed most of the tumour and it has been confirmed as high grade, they will put the wafers in. The wafers release carmustine into the area where the tumour was removed. Over time, the wafers dissolve. You will not need further surgery to remove them.
When you have recovered from surgery, you have radiotherapy for up to 6 weeks. During this time, you also take temozolomide tablets.
After this 6 week period, you may have a month without any treatment. Then you can have temozolomide tablets for 5 days each month for up to 6 months. Your doctor will explain exactly how much treatment you need after surgery, depending on how well you are.
The trial team will ask you to fill in a diary each day until you finish temozolomide chemotherapy (or for 8 weeks after surgery if you don't have chemotherapy). In the diary, you record whether you have taken temozolomide that day and if you are feeling unwell or have any side effects.
As part of the trial, the researchers will ask your permission to take some extra blood samples and to keep a sample of the tissue removed during surgery. They will study these samples to see if genes can affect how well the treatment works. You do not have to give these samples for research if you don't want to, you can still take part in the trial.
Hospital visits
You will see the doctors and have some tests before you start treatment. The tests include
Physical examination
Blood and urine tests
Tests to check how well your brain and nervous system are working (your neurological status and mental ability)
The trial team will also ask you to fill out 2 questionnaires asking about your general health and any symptoms you have.
When you have surgery, you are likely to be in hospital for a few days.
When you have recovered from surgery, you go to hospital every day (apart from weekends) for up to 6 weeks to have radiotherapy. The treatment takes a few minutes each time. During this time, you also take temozolomide tablets every day (including weekends).
Taking part in this trial means you have 6 extra hospital visits in the first year and 2 each year after that. You will also have some extra MRI scans. The trial team will give you more information about when you will need to go to hospital and what will happen at each visit.
Side effects
You may find the 5-ALA drink tastes sour and you will have medication to try to stop you feeling sick. If you are sick after drinking the solution, you must let your doctor know as your surgery will have to be delayed.
You must avoid strong light, including sunlight for at least 24 hours after having 5-ALA. Your bed in hospital will be away from the window.
The possible side effects of 5-ALA include
Skin reactions (for example a rash that looks like sunburn)
A drop in your blood pressure
The possible side effects of Gliadel wafers include
Swelling of the brain
Wound infection and problems with wound healing
Headaches due to increased pressure inside your skull
Your surgeon will tell you much more about what to expect during and after surgery to remove your brain tumour.
The side effects of brain radiotherapy include
The side effects of temozolomide include
A drop in blood cells causing an increased risk of infection, bleeding problems, tiredness and breathlessness
Loss of appetite
How to join a clinical trial
Please note: In order to join a trial you will need to discuss it with your doctor, unless otherwise specified.
Please note - unless we state otherwise in the summary, you need to talk to your doctor about joining a trial.
Supported by
Cancer Research UK
Experimental Cancer Medicine Centre (ECMC)
NIHR Clinical Research Network: Cancer
The Brain Tumour Charity
University College London (UCL)
Other information
This is Cancer Research UK trial number CRUK/10/009.
CRUK internal database number:
Please note - unless we state otherwise in the summary, you need to talk to your doctor about joining a trial.
Rhys was only four years old when he was diagnosed with a brain tumour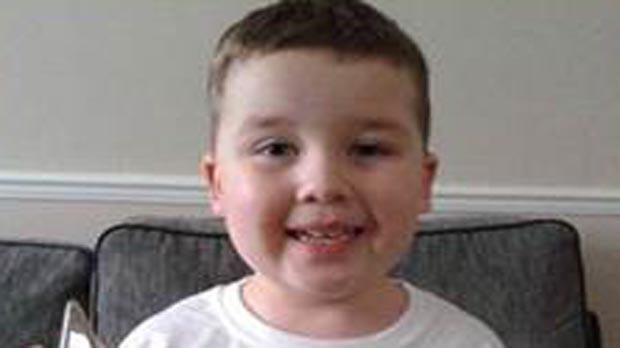 "He went through six operations and was placed on a clinical trial so he could try new treatments."