A trial looking at afatinib for non small cell lung cancer (ABLE)
Please note - this trial is no longer recruiting patients. We hope to add results when they are available.
Cancer type:
Non small cell lung cancer
This trial is looking at a drug called afatinib before surgery for people with early stage non small cell lung cancer.
More about this trial
If it's diagnosed early enough, doctors may treat non small cell lung cancer (NSCLC) with surgery. You may also have chemotherapy after your surgery. But there is a risk that your cancer could come back and researchers are looking for new treatments to try to stop this happening.
In this trial, they are looking at a drug called afatinib. It is a type of biological therapy that works by targeting a protein called epidermal growth factor receptor (EGFR).
The researchers want to see if having afatinib before surgery can help people with NSCLC.
The aims of the trial are to find out
How your cancer cells change through treatment with afatinib
If afatinib can shrink your tumour  before surgery
If the researchers can pick out particular genes and proteins linked to whether afatinib works well or not
More about the side effects
Who can enter
You may be able to join this trial if all of the following apply
You have non small cell cancer (NSCLC) that is stage 1 or stage 2 and can be completely removed with surgery
Your cancer can be seen on a scan and measures at least 8mm across
You can swallow tablets
You are well enough to carry out all your normal activities, apart from heavy physical work (performance status of 0 or 1)
You have satisfactory blood test results
You are at least 18 years old
You are willing to use reliable contraception during treatment and for up to 1 month afterwards if there is any chance that you or your partner could become pregnant
You cannot join this trial if any of these apply
Your cancer sample (biopsy) shows that you have small cell lung cancer cells as well as non small cell lung cancer cells
You  have a type of tumour called a pulmonary carcinoid tumour or a large cell carcinoma (your doctor can tell you more about this)
Your scan shows that there is cancer in the lymph nodes in the centre of your chest on the same side as the affected lung, or there is cancer in the lymph nodes just under where your windpipe branches off to each lung
You have had chemotherapy or radiotherapy for your NSCLC in the past
You have had a type of biological therapy that specifically target cells with EGF receptors in the past
You are taking medication such as clarithromycin or ciclosporin (your doctors can tell you more about this)
You have had any other cancer apart from non melanoma skin cancer
You have a lung condition called interstitial lung disease
You have had problems with your digestive system in the last 6 months that may interfere with how you absorb the trial drug
You have a serious heart problem
You have high blood pressure that can't be controlled with medication
You are pregnant or breast feeding
You are hepatitis B,  hepatitis C or HIV positive
You have diabetes that can't be controlled with medication
You use drugs or alcohol in a way that is cause for concern
You are known to be allergic to afatinib or anything it contains
You have a serious eye infection that you have had a for a long time and is not getting better with treatment
You are having any other treatment as part of a clinical trial
You have a blockage in the large vein that brings blood back to your heart (the superior vena cava)
You have any other medical condition or mental health problem that the trial team think would affect you taking part in this trial
Trial design
This is a phase 2 trial. The researchers need 60 people to join the trial. Everybody taking part will have afatinib for a few weeks before having surgery.
Afatinib is a tablet that you take once a day on an empty stomach. It is important to take it at least 1 hour before eating or at least 3 hours afterwards. You must not eat grapefruit or drink grapefruit juice as it may affect the way your body absorbs the drug.
You take afatininb until the day of your surgery for lung cancer. You have afatinib for about a month in total.
The researchers will ask to take a sample of your cancer (a biopsy

) before you start treatment. If you have already had a sample taken, the researchers can use the stored sample for their tests. They will compare this sample with a sample that is removed when you have your lung cancer surgery. This is to see if afatininb has helped to treat your lung cancer.
Hospital visits
You see the trial team and have some tests before you start treatment. The tests include
A physical examination
Heart trace (ECG )
Chest X-ray
Blood tests
Urine test
CT scan and a PET-CT scan
You have a CT scan on the day you start taking afatinib (or a few days before). And then you have a PET-CT scan 2 weeks after that.
The trial team will see you a month after your surgery for a check up and a blood test. They will continue to check how you are when you have your routine appointments with your lung cancer doctor.
Side effects
The most common side effects of afatininb are
We have more information about the side effects of afatinib.
How to join a clinical trial
Please note: In order to join a trial you will need to discuss it with your doctor, unless otherwise specified.
Please note - unless we state otherwise in the summary, you need to talk to your doctor about joining a trial.
Supported by
Boehringer Ingelheim
Experimental Cancer Medicine Centre (ECMC)
NIHR Clinical Research Network: Cancer
University of Leeds
CRUK internal database number:
Please note - unless we state otherwise in the summary, you need to talk to your doctor about joining a trial.
Charlie took part in a trial to try new treatments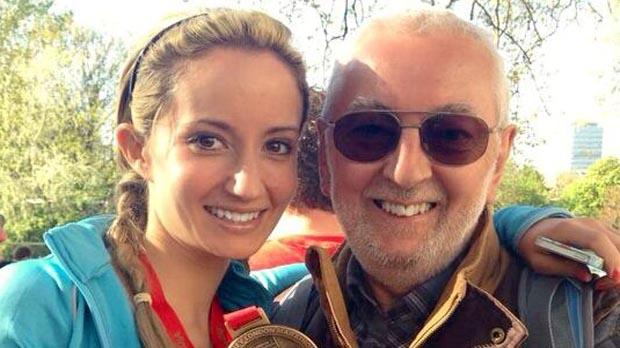 "I think it's really important that people keep signing up to these type of trials to push research forward."