A trial of CXD101 for advanced cancer
Please note - this trial is no longer recruiting patients. We hope to add results when they are available.
This trial is looking at a new drug called CXD101 to treat cancers that have spread (advanced cancers) and haven't responded as hoped to previous treatment. This study is for people who have advanced cancer

and there is no standard treatment

available to them.
More about this trial
CXD101 is a drug that blocks substances (enzymes

) in the body called histone deacetylases (pronounced dee-as-et-isle-azes). Cells need these to grow and divide. Blocking them may stop cancer growing. Drugs that block these enzymes are called histone deacetylase inhibitors or HDAC inhibitors.
We know from laboratory studies

 that CXD101 may be able to stop cancer cells growing. This trial will be the first time CXD101 has been given to people.
The main aims of this trial are to
Find out the highest safe dose of CXD101
See if it can help people with advanced cancer
Who can enter
You may be able to join this trial if
You have cancer that has spread and there is no standard treatment available to you
Your cancer can be measured on a scan
You are well enough to carry out all your normal activities, apart from heavy physical work (performance status of 0 or 1)
You have satisfactory blood test results
You are willing to use reliable contraception during treatment and for 4 months afterwards if there is any chance you or your partner could become pregnant
You are at least 18 years old
You cannot join this trial if any of these apply
Your cancer has spread to your brain unless it hasn't got worse for 2 months or more
You are currently taking any anti cancer medication apart from drugs called bisphosphonates for bone damage, or a stable dose of steroids
You have had radiotherapy in the last month apart from radiotherapy for symptom control (palliative radiotherapy). If you had radiotherapy to a small area, such as a small cancer in your bone, it must be at least 2 weeks ago
You have had hormone therapy or immunotherapy  in the last month
You have had an experimental drug as part of another clinical trial in the last month
You still have side effects from previous anti cancer treatment unless they are mild
You have had major surgery in the last month
You have HIV, hepatitis B or hepatitis C
You have an infection that needs to be treated
You have a problem with your digestive system that means you are not able to swallow tablets or capsules
You have had a drug that acts in the same way as CXD101 (the trial team can advise about this)
You have certain heart problems (the trial team can advise about this)
You are pregnant or breastfeeding
Trial design
This is a phase 1 trial . Everyone taking part will have CXD101. The first few people will have a low dose of CXD101. If they don't have any serious side effects, the next few people will have a higher dose. And so on, until they find the best dose to give. This is called a dose escalation study.
While taking CXD101 you will continue to have the same dose you started on.
When the team find the highest dose of CXD101, they will ask about another 20 people to join the trial. This will bring the total number of people they expect to join to between 25 and 40.
If you have a solid tumour

, the researcher will take a small piece of your cancer tissue (biopsy

) to check for a substance called HR23B. You must agree to this before you can join this part of the trial.
CXD101 is a capsule that you take twice a day for 5 days. This is then repeated every 3 weeks. You cannot eat for at least 2 hours before taking the capsules and you must wait at least 1 hour afterwards before eating. Your doctor will tell how many capsules to take and when to take them.
You can continue treatment with CXD101 as long as it is helping you and the side effects aren't too bad.
If you agree to take part in this trial, the researchers will ask for a sample of your cancer that was removed when you had surgery or a previous biopsy

.
They may ask for another sample of your cancer tissue during the trial. If you don't want to give this sample, you don't have to. You can still take part in the study.
They will also ask for some extra blood samples to find out what happens to CXD101 in the body.
Hospital visits
You see the doctor to have some tests before taking part in this trial. These tests include
A physical examination
Blood tests
Heart trace (ECG )
Urine test
Eye tests
Bone marrow test (for people with lymphoma or myeloma )
During treatment you see the doctor to have the same tests
3 times in the 1st week
1 to 2 visits per week for the next 5 weeks
Then 2 visits every 3 weeks
Every 6 weeks you have a CT scan or MRI scan.
After you finish treatment, your doctor will tell how often they want to see you.
Side effects
This is the first time CXD101 has been tested in people so there may be side effects we don't know about yet. The side effects may include
Indigestion
Loss of appetite and changes to your sense of taste
A drop in blood cells causing an increased risk of infection, bruising and bleeding
An allergic reaction
Problems with your eyesight
Your doctor will talk to you about all the possible side effects before you agree to take part in the trial.
How to join a clinical trial
Please note: In order to join a trial you will need to discuss it with your doctor, unless otherwise specified.
Please note - unless we state otherwise in the summary, you need to talk to your doctor about joining a trial.
Supported by
Celleron Therapeutics Ltd
Experimental Cancer Medicine Centre (ECMC)
Oxford University Hospitals NHS Trust
CRUK internal database number:
Please note - unless we state otherwise in the summary, you need to talk to your doctor about joining a trial.
Around 1 in 5 people take part in clinical trials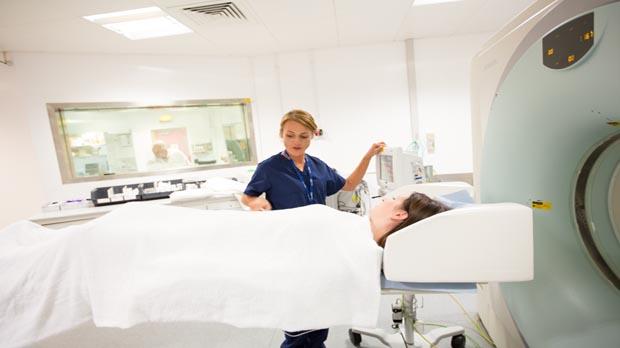 Around 1 in 5 people diagnosed with cancer in the UK take part in a clinical trial.