A trial comparing surgery with ablation treatment for people with bowel cancer spread to the liver (LAVA)
Coronavirus (COVID-19)
We know that this is an especially worrying time for people with cancer and their family and friends. We have separate information about coronavirus and cancer. Please read that information alongside this page. We will update that information as guidance changes.
Please note - this trial is no longer recruiting patients. We hope to add results when they are available.
Cancer type:
Bowel (colorectal) cancer
This trial is for people with secondary cancer in the liver that can be removed with surgery or a treatment using heat to kill the cancer cells. 
The heat treatment is called thermal ablation and includes radiofrequency ablation (RFA)

 or microwave ablation

 treatment.
More about this trial
Sometimes cells can break away from where the cancer first started and spread to other parts of the body, such as the liver. This is called metastatic or secondary liver cancer. 
One of the usual treatments is to remove these areas with an operation (liver resection surgery). This is standard treatment for advanced bowel cancer if you are under 70 years old and fit enough for an operation. 
But removing liver tumours is major surgery. And doctors aren't sure of the best treatment for people where having surgery could be risky. For example in:
older people
people with other medical conditions such as heart or lung problems
people who have large areas of cancer in the liver
Researchers think treatment to kill cancer cells with heat might help. This is called thermal ablation. It is already used to treat advanced bowel cancer in the liver. 
Some research studies show that it works as well as surgery. But others show a risk the cancer might come back afterwards. In this trial, doctors want to find out for sure which treatment works best for the above groups of people. 
The trial will begin with a pilot study in the first year. This helps the trial team to check the design before continuing as a larger trial. 
The main aims of the trial are to:
find out how willing people are to take part
find out if thermal ablation or surgery works best
learn more about side effects and how they affect quality of life
find out more about cost
Who can enter
The following bullet points list the entry conditions for this trial. Talk to your doctor or the trial team if you are unsure about any of these. They will be able to advise you. 
You might be able to join this trial if all of the following apply. You
Have had an operation to remove the cancer in the bowel or surgery is planned and it is possible to completely remove the cancer
Have bowel cancer that has spread to liver and the doctors think it is possible to completely remove these areas with surgery or successfully treat them with ablative treatment
Are suitable to have surgery or ablative treatment
Are at least 18 years old 
As well as the above at least one of the following must also apply. Surgery is considered too risky for you because:
Of your age, for example you are older than 75
You have or have had other health problems such as:
 

a heart attack in the past
severe breathing problems such as chronic obstructive pulmonary disease or chronic airway disease
blocked arteries
a stroke
a blood clot in the lungs
 

There is a chance treatment might not work or you have large areas of cancer in your liver
You cannot join this trial if any of these apply. You
Have areas of cancer spread outside the liver that can't be treated
Have already had surgery or ablative treatment for cancer spread to the liver
Are going to have surgery to remove the cancer from where it first started (the primary cancer) at the same time as having the areas of cancer spread removed
Have had any other cancer apart from basal cell cancer
Are pregnant or breastfeeding
Trial design
This trial is based in the UK and the Netherlands. The researchers need 330 people to take part.
It is a randomised trial. You are put into 1 of 2 groups. Neither you nor your doctor will be able to decide which group you are in. You have 1 of the following:
surgery
thermal ablative treatment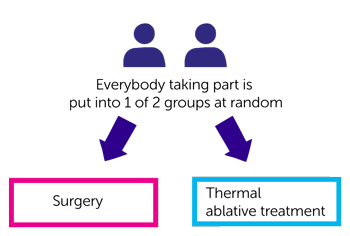 Thermal ablative treatment
You have treatment at the hospital. Before the treatment starts, you have a general anaesthetic. After the anaesthetic, you have a CT scan or an ultrasound scan. Your surgeon or radiologist use the scan to guide a needle through your skin into the tumour. The needle heats up and kills the cancer cells.
The doctor can vary the heat depending on the size of your cancer. The time this takes varies. It takes between 1 to 3 hours to complete. You usually stay in hospital overnight. But it's sometimes possible to have your treatment as an outpatient and go home the same day. 
In this trial, you have radiofrequency ablation (RFA)

 or microwave ablation

 treatment. They are both types of thermal ablative treatment. The type you have depends on the radiologist treating you. The trial team can tell you more about how often you have treatment as this depends on the extent of cancer spread in the liver. 
Surgery
Surgery usually takes 3 to 6 hours depending on where in the liver the cancer is and how big the cancer is. After surgery you stay in hospital for around 7 to 10 days until you are well enough to go home. 
Some people might need 2 liver operations to completely remove the cancer. Your surgeon can tell you more if this applies. 
Quality of life
The study team will ask you to fill out a questionnaire before you start treatment and at set times during treatment. The questionnaire asks about side effects and how you've been feeling. This is called a quality of life study.
Hospital visits
You see a doctor and have some tests before you can take part. These include:
You see the doctors for a check up to see how you are getting on at:
3 months
6 months
1 year
18 months
2 years
You might have a CT or MRI scan at each of these visits.
Side effects
The possible side effects of thermal ablation include:
damage to the bile ducts
bleeding
blood clots
infection in the liver (an abscess)
other infections
a collapsed lung
The possible side effects of liver surgery include:
leakage of bile
bleeding
infections
a collapsed lung 
Your doctor will talk to you about the possible side effects before you agree to take part in this trial.
We have more information on radiofrequency treatment.
How to join a clinical trial
Please note: In order to join a trial you will need to discuss it with your doctor, unless otherwise specified.
Please note - unless we state otherwise in the summary, you need to talk to your doctor about joining a trial.
Supported by
National Institute for Health Research (NIHR)
University College London (UCL)
University of Leeds
Questions about cancer? Contact our information nurses
CRUK internal database number:
Please note - unless we state otherwise in the summary, you need to talk to your doctor about joining a trial.
Around 1 in 5 people take part in clinical trials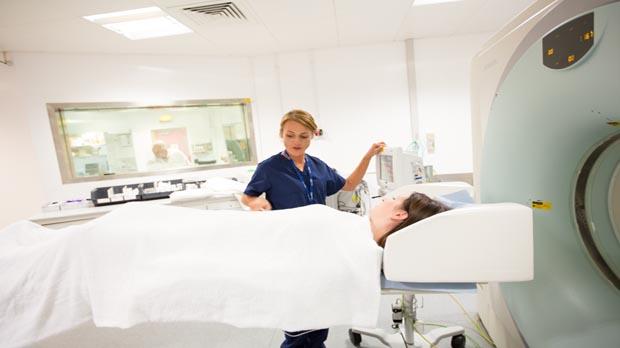 Around 1 in 5 people diagnosed with cancer in the UK take part in a clinical trial.