A trial looking at AUY922 for stomach cancer that has spread
Please note - this trial is no longer recruiting patients. We hope to add results when they are available.
This trial is looking at a drug called AUY922 for stomach cancer that has spread to other parts of the body (advanced stomach cancer).
Doctors often treat advanced stomach cancer with chemotherapy. But the cancer can come back again after treatment. If this happens, you may have more chemotherapy, but researchers are looking for new treatments to help people in this situation. In this trial, they are looking at a new drug called AUY922.
We know from laboratory research that AUY922 can block the activity of an enzyme

called ATPase. ATPase is involved when cells divide. Blocking it may stop cancer cells growing.
In this trial, researchers will compare AUY922 with the chemotherapy drugs docetaxel and irinotecan. The aims of the trial are to
See if AUY922 helps people with advanced stomach cancer more than one of the chemotherapy drugs
Find out more about AUY922 and what happens to it in the body
Learn more about the side effects
Who can enter
You can enter this trial if you
Have the most common type of stomach cancer called adenocarcinoma, or adenocarcinoma that started at the point where your food pipe (oesophagus) joins your stomach (gastro oesophageal junction)
Have cancer that has got worse after having 1 type of chemotherapy for advanced cancer – you may have also had chemotherapy after surgery to remove your cancer (adjuvant therapy ) as long as it was at least 6 months before the cancer came back following this treatment
Have satisfactory blood test results
Are well enough to carry out all your normal activities, apart from heavy physical work (performance status of 0 or 1)
Are willing to use reliable contraception during the trial and for 4 weeks afterwards if there is any chance you or your partner could become pregnant
Are at least 18 years old
You cannot enter this trial if you
Have cancer that has spread to your brain and is growing or causing symptoms that need treatment
Have another cancer that needs treating
Have had chemotherapy in the last 4 weeks (in the last 6 weeks if you had mitomycin or one of a group of drugs called nitrosoureas )
Have had major surgery in the last 2 weeks, or earlier if you have not fully recovered yet
Have had treatment with a monoclonal antibody in the last 4 weeks
Have had radiotherapy in the last 4 weeks, or in the last 2 weeks if it was radiotherapy for symptoms (palliative radiotherapy)
Have had an experimental drug or any other anti cancer treatment that reaches the whole body (systemic treatment ) and there is a chance that any of the drug could still be in your body
Have already had a drug that blocks proteins called HSP90 or HDAC (you can check this with your doctor)
Are taking drugs to thin the blood such as warfarin (unless it is a low dose you take because you have a central line)
Are known to be sensitive to taxanes or similar drugs
Are taking other drugs that may affect an enzyme called CYP3A4 (you can check this with your doctor)
Have diarrhoea unless it is very mild
Have a build up of fluid in the abdomen (ascites)
Have liver or kidney disease
Have a heart problem that is a cause for concern, or any other medical condition that the trial doctors think could affect you taking part in this trial
Are known to be HIV positive
Are pregnant or breastfeeding
Trial design
This is a phase 2 trial. It will recruit about 120 people in different countries around the world. It is a randomised trial. The people taking part are put into treatment groups by a computer. Neither you nor your doctor will be able to decide which group you are in.
People in group 1 have AUY922 through a drip into a vein every week
People in group 2 have docetaxel or irinotecan through a drip into a vein every 3 weeks
If you are in group 2, the chemotherapy drug you have depends on whether you have already had docetaxel or a similar drug called paclitaxel. If you have, you will have irinotecan in this trial.
Each 3 week period is called a cycle of treatment. As long as you don't have bad side effects, you can carry on having treatment for as long as it helps you.
The researchers will get a sample of tissue removed when your cancer was diagnosed. If a sample of tissue is not available, they will ask you to have another biopsy

before you start the trial treatment. They will use these tissue samples, along with blood samples to look for biomarkers. Biomarkers are substances in the body that doctors can measure to see how a disease is developing or how a treatment is working.
If you are in the group having AUY922, the trial team will take a number of blood samples to look at what happens to the drug in the body. This is called pharmacokinetics

.
The researchers will also ask permission to take one extra blood sample. They will use this to learn more about how genes

affect the way people respond to a drug. This is called pharmacogenetics. If you don't want to give a blood sample for this part of the research, you don't have to. You can still take part in the main trial.
Hospital visits
You will see the doctors and have some tests before you start treatment. The tests include
Physical examination
Eye test
Blood and urine tests
Chest X-ray
Heart trace (ECG )
Heart ultrasound (echocardiogram ) or MUGA scan
Throughout the treatment, you go to hospital at least once a week, but there will be extra hospital visits in the first 3 cycles of treatment. During these visits, you have a number of blood tests and ECGs. People in the group having AUY922 will have more ECGs.
Everybody taking part has a CT or MRI scan every 6 weeks and a PET scan in the second and third cycles of treatment.
If you have cancer that has spread to your liver, the researchers may ask you to have some special scans called 'dynamic contrast enhanced' MRI (DCE-MRI) scans. You have 2 of these scans before starting treatment and then 1 during the first cycle of treatment and 1 during the third cycle.
When you finish treatment, you will see the trial team within a week and have more tests and scans. You see them again after 4 weeks. A member of the trial team will then contact you by phone every 3 months to see how you are. They will do this until 2 years after the last person joined the trial.
If you stop the trial treatment for any reason other than your cancer getting worse, the trial team will ask you to carry on having CT or MRI scans every 3 months until your cancer does get worse.
Side effects
As AUY922 is a new drug, there may be side effects we don't know about yet. Known side effects include
There is more information about possible side effects of docetaxel and irinotecan on CancerHelp UK.
How to join a clinical trial
Please note: In order to join a trial you will need to discuss it with your doctor, unless otherwise specified.
Please note - unless we state otherwise in the summary, you need to talk to your doctor about joining a trial.
Supported by
Experimental Cancer Medicine Centre (ECMC)
NIHR Clinical Research Network: Cancer
Novartis
CRUK internal database number:
Please note - unless we state otherwise in the summary, you need to talk to your doctor about joining a trial.
Cara took part in a clinical trial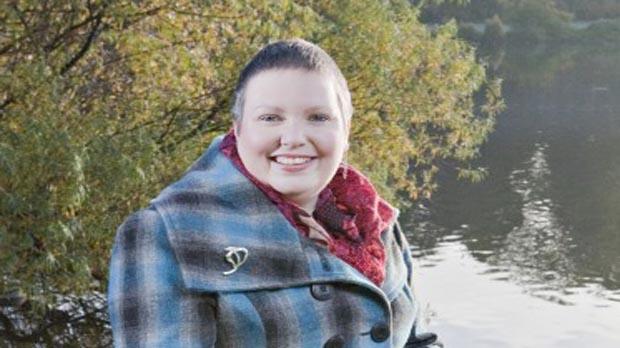 "I am glad that taking part in a trial might help others on their own cancer journey."