A study looking at using vinegar to find changes in cells of people with Barrett's oesophagus (The ABBA study)
Please note - this trial is no longer recruiting patients. We hope to add results when they are available.
This study is looking at using dilute vinegar (acetic acid) during routine endoscopies to check for changes in cells that line the food pipe (oesophagus). It is for people with Barrett's oesophagus. This condition increases the risk of developing oesophageal cancer. So, people with it have regular endoscopies to check for areas that might turn into cancer.
More about this trial
An endoscopy is a test to look inside your body. A doctor or specialist nurse (endoscopist) uses a long flexible tube with a tiny camera and light on the end to look inside your oesophagus. They check the oesophagus for growths or abnormal looking areas. Your doctor may call this a gastroscopy. It is a type of endoscopy, which looks at the oesophagus and stomach. 
They can also take samples (a biopsy

) of any abnormal looking tissues and send them to the laboratory to be examined under a microscope. But abnormal areas can be very small and some can be missed. 
Endoscopists use acetic acid dye spray during endoscopy in people who have already had abnormal areas in their oesophagus. It temporarily turns normal areas of Barrett's oesophagus white, while areas that could be abnormal stay pink. The spray shows doctors where they need to give treatment. 
In this study, doctors want to see if it would be helpful to use the spray as part of routine endoscopies. The spray should show the abnormal areas. The endoscopist can look at the areas carefully and do a biopsy if they think it is necessary. The doctors hope this means that people will have fewer biopsies and that they can find any abnormal areas at an earlier stage.
Who can enter
The following bullet points list the entry conditions for this study. Talk to your doctor or the study team if you are unsure about any of these. They will be able to advise you. 
You may be able to join this study if all of the following apply.
You have Barrett's oesophagus

You are having a routine endoscopy (gastroscopy) every 2 years 

You have at least a 2 cm area of Barrett's oesophagus

You are aged 18 or older
You cannot join this study if any of these apply. You
Have less than a 2 cm area of Barrett's oesophagus

Have oesophagitis (inflammation of the lining of the oesophagus) that is causing you problems

Have or have had abnormal cell changes in your oesophagus (oesophageal dysplasia)

Have or have had oesophageal cancer

Have had treatment through an endoscope (endoscopic therapy)

Are allergic to acetic acid
Trial design
This is a feasibility study. The doctors need about 200 people to take part.  The results of this study may lead to a larger trial.
Everybody taking part in this study will have 2 endoscopies (gastroscopies) 4 to 8 weeks apart. Usually you would have one.
In this study, you have one of the gastroscopies as the usual procedure. For the other one the endoscopist sprays the acetic acid onto your oesophagus. They only take tissue samples (biopsies) if they find an abnormal area. The endoscopist sends these to the laboratory for the pathologist

to examine.
After you have had both gastroscopies the study team might ask you to complete a questionnaire. They will telephone you about a month later at a time that suits you. They will ask questions about how you found the procedures and your thoughts about using acetic acid rather than having lots of biopsies.
Hospital visits
You need to go to the hospital for both gastroscopies. You should not need to stay in overnight.
Side effects
The risks of having a gastroscopy can include
bloating and some discomfort

a sore throat for about 24 hours after the test

some bleeding
You won't get the results of any biopsies until you have had both gastroscopies so there may be a short delay if you need any treatment for cell changes. But if any biopsy shows cancer cells you will be immediately referred for treatment and no longer be part of this study. 
We have information about having an endoscopy (gastroscopy).
How to join a clinical trial
Please note: In order to join a trial you will need to discuss it with your doctor, unless otherwise specified.
Please note - unless we state otherwise in the summary, you need to talk to your doctor about joining a trial.
Chief Investigator
Professor Pradeep Bhandari
Supported by
NIHR Central Commissioning Facility
NIHR Clinical Research Network: Cancer
Portsmouth Hospital NHS Trust
CRUK internal database number:
Please note - unless we state otherwise in the summary, you need to talk to your doctor about joining a trial.
Around 1 in 5 people take part in clinical trials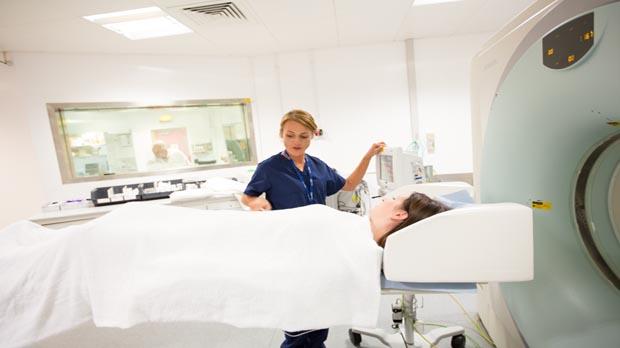 Around 1 in 5 people diagnosed with cancer in the UK take part in a clinical trial.