A study to find better ways of predicting survival in advanced cancer (PiPS)
This study gathered information from people with advanced cancer

, to see if this could help doctors better estimate the likely outlook (prognosis) for their patients. This trial was supported by Cancer Research UK.
Sometimes people with advanced cancer ask their doctor how long they have to live. Some patients and their loved ones would like to have a more accurate idea of what to expect. They could then make plans for the future. It may also help patients and their doctors to make decisions about their future care and the best place for them to be looked after. But doctors and nurses find it very difficult to estimate how well each person will do.
Earlier studies had identified factors that may help doctors to estimate how long people have to live. These included things such as blood test results and different symptoms of advanced cancer. But these factors had not always been found to be completely accurate.
The aim of this study was to develop a new scoring system called a prognostic index which may help doctors better predict the outlook for people with cancer.
Summary of results
The researchers found that the scoring system was at least as good as a specialist's opinion at predicting how long someone with advanced cancer was likely to live. The prognostic index was more accurate than a specialist when blood test results were also taken into account.
The study recruited 1,018 people who had advanced cancer and were no longer having treatment aimed at curing their cancer. Some of the people taking part were in hospital, some were in a hospice and some were being cared for at home.
A member of the research team completed a checklist for each person to record whether or not they had symptoms including pain, breathlessness, loss of appetite, dry mouth, difficulty swallowing and tiredness. They also recorded the person's general level of fitness and what they were able to do (their performance status).
The research team noted each person's medical history, details of their cancer and any treatment they'd had. They measured peoples' height and weight and noted whether the person had lost weight over the last month. They also looked for signs of swelling due to a build up of fluid in parts of the body (oedema or ascites

). Some of the people taking part also had a blood test.
These assessments (apart from the blood test) were repeated about a week later.
The researchers used all this information to work out whether the person was likely to live for less than 2 weeks, up to about 2 months, or more than 2 months. They also asked the specialist caring for the patient to estimate how well they thought their patient was likely to do.
The results showed that in this study, the prognostic index could predict at least as well as a specialist's estimate whether someone was going to live for days, weeks or months. The researchers found that including the results of a blood test made the scoring system more accurate than a specialist's estimate.
But the researchers point out that we need further studies before this system could be recommended for routine use.
We have based this summary on information from the team who ran the trial. The information they sent us has been reviewed by independent specialists (peer reviewed

) and published in a medical journal. The figures we quote above were provided by the trial team. We have not analysed the data ourselves.
How to join a clinical trial
Please note: In order to join a trial you will need to discuss it with your doctor, unless otherwise specified.
Please note - unless we state otherwise in the summary, you need to talk to your doctor about joining a trial.
Supported by
Cancer Research UK
National Institute for Health Research Cancer Research Network (NCRN)
Other information
This is Cancer Research UK trial number CRUK/06/042.
CRUK internal database number:
Please note - unless we state otherwise in the summary, you need to talk to your doctor about joining a trial.
Around 1 in 5 people take part in clinical trials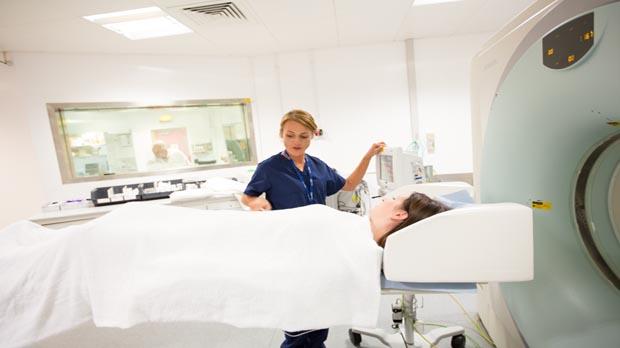 Around 1 in 5 people diagnosed with cancer in the UK take part in a clinical trial.