A study to see if bortezomib and an epilepsy drug could be a treatment for melanoma or bowel cancer
Coronavirus (COVID-19)
We know that this is an especially worrying time for people with cancer and their family and friends. We have separate information about coronavirus and cancer. Please read that information alongside this page. We will update that information as guidance changes.
Cancer type:
Bowel (colorectal) cancer
This study was to find out how small doses of bortezomib (Velcade) and the epilepsy drug sodium valproate worked in people with melanoma or bowel cancer.
Bortezomib is a type of biological therapy called a proteasome inhibitor. It causes a build up of unwanted proteins in cells, which makes cancer cells die.
Researchers knew that an epilepsy drug called sodium valproate blocks enzymes

called histone deacetylases. Cancer cells need these enzymes to grow and divide. So blocking them may help to stop cancer growing.
Early research into using drugs such as sodium valproate to treat cancer had shown promising results. Research had also suggested that this type of drug worked well alongside bortezomib.
This study was looking at small doses of sodium valproate with bortezomib to see how this combination of drugs worked in people with bowel cancer or melanoma.
Summary of results
This study was closed early as the researchers weren't able to recruit enough people. But they were able to show that a substance called HR23B was increased in the cancer after people took sodium valproate.
HR23B is what researchers call a biomarker

. It is something they can measure in the body to help them tell how a treatment is working.
HR23B is a biomarker that shows a response to drugs that block proteins in the cancer called histone deacetylases (they are HDAC inhibitors). Sodium valproate is an HDAC inhibitor. Knowing that this marker increased after people took sodium valproate may be useful for future research.
How to join a clinical trial
Please note: In order to join a trial you will need to discuss it with your doctor, unless otherwise specified.
Please note - unless we state otherwise in the summary, you need to talk to your doctor about joining a trial.
Supported by
Experimental Cancer Medicine Centre (ECMC)
Oxford Cancer Research Centre
Oxford Radcliffe Hospitals NHS Trust
Questions about cancer? Contact our information nurses
CRUK internal database number:
Please note - unless we state otherwise in the summary, you need to talk to your doctor about joining a trial.
Around 1 in 5 people take part in clinical trials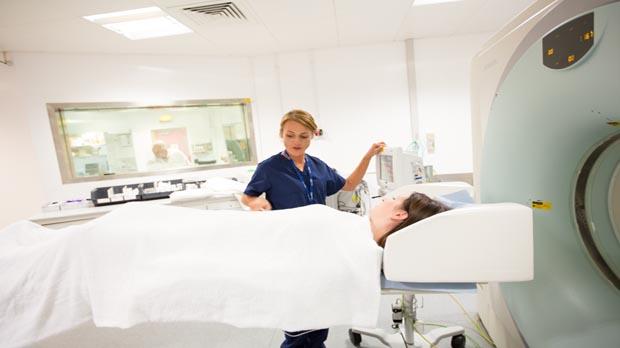 Around 1 in 5 people diagnosed with cancer in the UK take part in a clinical trial.