A study of the surgical safety of having radiotherapy before breast cancer surgery (PRADA)
Please note - this trial is no longer recruiting patients. We hope to add results when they are available.
This study is for women who have had chemotherapy and then need removal of the whole breast (mastectomy) and want breast reconstruction at the same time.
The new breast shape is made using tummy skin and fat. This is called a DIEP flap reconstruction
More about this trial
Breast cancer treatment often includes a combination of surgery, chemotherapy, radiotherapy, hormone therapy

such as tamoxifen and targeted drugs such as Herceptin

.
You usually have radiotherapy after surgery. This works well but sometimes having radiotherapy after surgery can cause some problems. For example:
damage to the 'new' breast tissue which can affect the breast shape and appearance in the longer term
delays in radiotherapy if it takes longer to recover from surgery – this might mean radiotherapy doesn't work as well
We know from research that changing the order of some treatments, such as chemotherapy and Herceptin is safe and works well. But researchers have very little information on giving radiotherapy before breast cancer surgery.
In this study, researchers want to find out if radiotherapy before a mastectomy and reconstruction causes any extra problems with wound healing. The researchers will also be assessing the appearance of the new breast
The main aim of this study is to find out more about radiotherapy before surgery.
Who can enter
The following bullet points list the entry conditions for this study. Talk to your doctor or the study team if you are unsure about any of these. They will be able to advise you.
Who can take part
You may be able to join this study if all the following apply.
You:
are a woman with breast cancer
have had chemotherapy
are due to have an operation to remove the breast (a mastectomy)
are suitable to have a new breast shape made from tissue from your tummy (abdomen) - a DIEP flap reconstruction
are going to have radiotherapy
are at least 18 years old
Who can't take part
You cannot join this study if any of these apply:
you have severe side effects from chemotherapy
the doctors (multi disciplinary team ) who make decisions about your treatment can't say for sure if you are suitable to have radiotherapy
Trial design
The researchers hope 30 women will take part in this study. This study is now closed to recruitment as they have found enough women to join.
The study is for women who are having chemotherapy, surgery and radiotherapy as part of their standard treatment. A member of the study team will ask women to join the study shortly before they finish chemotherapy.
If you agree to take part, you'll have radiotherapy before surgery rather than afterwards.
So you have treatment in the following order:
chemotherapy
radiotherapy
surgery
You start radiotherapy 3 to 4 weeks after you finish chemotherapy. Before radiotherapy, you have  radiotherapy planning. This this takes about 1 hour
You have radiotherapy every weekday, Monday to Friday, for 3 to 4 weeks (15-20 visits in total).
You have surgery within 6 weeks of completing radiotherapy but usually between 2 to 4 weeks after radiotherapy. Your doctor can tell you more about this and how long you stay in hospital afterwards.  
Samples for research
The researchers may ask to take tissue samples (biopsies)

 of your cancer at the beginning and during treatment. They will also ask to take extra blood samples. These samples will help them find out more about how radiotherapy affects breast tissue and the surrounding tissues.
Finding substances called biomarkers

 can help researchers to predict how well radiotherapy will work. This might help them to adapt and tailor radiotherapy to individuals in the future.
The researchers will ask you if they can:
look at tissue samples from when you were first diagnosed and any left over from surgery
collect 1 new tissue and blood sample on the 1st or 2nd day of radiotherapy and on the last day
They will also ask you to have an MRI scan:
when you go for radiotherapy planning
before surgery
They might ask to use any left over samples for future research. You don't have to give these samples if you don't have want to. You can still take part in the study and it won't affect your care in anyway.
Quality of life
The study team will ask you to fill out a questionnaire before you start treatment and at set times during treatment. The questionnaire will ask about side effects and how you've been feeling. This is called a quality of life study

.
Hospital visits
The study team will try to co-ordinate your study appointments with your routine ones. But there may be a few extra visits or you might have to spend a little longer at the hospital.
Follow up
After surgery, you see the study team for a check up at:
2 weeks
4 weeks
8 weeks
12 weeks
At 3 months and 12 months after surgery:
you complete a quality of life questionnaire
the surgeon will take photographs of your breast
the surgeon will assess the new breast tissue
Side effects
Your surgeon will talk to you about the side effect of surgery. This might include an increased risk of:
infection
bleeding
wound healing problems on the breast and abdomen
The possible side effects of radiotherapy before surgery include:
tiredness (fatigue)
reddening or darkening of your skin
breast changes
loss of hair in the armpit
problems moving your arm or shoulder
We have more information about:
How to join a clinical trial
Please note: In order to join a trial you will need to discuss it with your doctor, unless otherwise specified.
Please note - unless we state otherwise in the summary, you need to talk to your doctor about joining a trial.
Supported by
The Royal Marsden NHS Foundation Trust
CRUK internal database number:
Please note - unless we state otherwise in the summary, you need to talk to your doctor about joining a trial.
Caroline took part in a clinical trial for breast cancer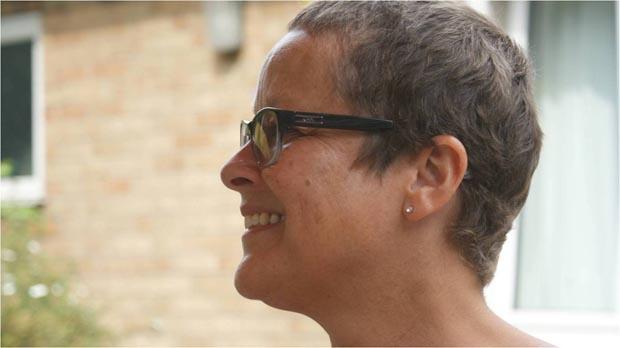 "I had treatment last year and I want to give something back."