A study of pembrolizumab for cancer of the foodpipe (oesophagus) that has spread (KEYNOTE 180)
Please note - this trial is no longer recruiting patients. We hope to add results when they are available.
This study is looking at pembrolizumab for cancer of the foodpipe or cancer where the foodpipe meets the stomach (gastro oesophageal junction). It is for people who have already had 2 treatments since the cancer spread.
More about this trial
Chemotherapy is the usual treatment for oesophageal cancer or gastro oesophageal junction cancer that has spread to another part of the body (advanced cancer). But if this stops working, it can be more difficult to treat. So doctors are looking for ways to improve treatment.
Pembrolizumab is a type of biological therapy

. It helps the immune system

 to recognise and attack cancer cells. It is already used to treat some other types of cancer such as advanced melanoma. 
In this study, the researchers want to find out if pembrolizumab can help people with advanced oesophageal cancer or oesophageal junction cancer that has spread to another part of the body.
Who can enter
The following bullet points list the entry conditions for this study. Talk to your doctor or the study team if you are unsure about any of these. They will be able to advise you. 
You may be able to join this study if all of the following apply. 
You have a type of cancer called adenocarcinoma or squamous cell carcinoma of the stomach or adenocarcinoma of the place where the stomach and foodpipe join (the gastro oesophageal junction)
Your cancer has spread to another part of the body
For people with gastro oesophageal cancer whose cancer is HER2 positive , your cancer got worse while having a drug called trastuzumab.
You have had 2 treatments that reach the whole body (systemic treatment) and your cancer has continued to get worse
Your cancer can be measured on a scan
You are willing to have a sample (biopsy ) of your cancer taken for testing. If it isn't possible to take a biopsy, the study team might be able to use a sample taken previously.
You have satisfactory blood test results
You are well enough to carry out all your normal activities, apart from heavy physical work (performance status of 0 or 1) 
You are willing to use reliable contraception during treatment and for up to 4 months afterwards if there is any chance that you or your partner could become pregnant
You are at least 18 years old
You cannot join this study if any of these apply. You
Have cancer spread to your brain that is causing symptoms
Have inflammation of the covering of the brain (carcinomatous meningitis) caused by your cancer
Have had a monoclonal antibody, chemotherapy, biological therapy or radiotherapy in the 2 weeks before starting study treatment
Have had previous treatment with any anti-PD1, anti-PDL1, anti-PD2 drugs such as nivolumab or any similar drugs 
Have had treatment with an experimental drug in the last 4 weeks`
Have an active autoimmune disease and have had drugs that suppress your immune system in the last 2 years
Have a lung condition called pneumonitis and you need steroids or  you have interstitial lung disease
Have problems with your immune system or have taken drugs that suppress your immune system in the last 7 days
Have had any other cancer in the last 5 years apart from carcinoma in situ of the cervix, non melanoma skin cancer or very early breast cancer that was successfully treated
Have not recovered from any major surgery
Have side effects for any previous cancer treatment apart from hair loss and mild numbness and tingling in your fingers and toes (peripheral neuropathy)
Have had a live vaccine in the last 30 days
Are known to have HIV 
Have an active hepatitis B or hepatitis C infection
Have an infection that needs treatment
Have any other serious medical condition or mental health problem that the study team think could affect you taking part
Are pregnant or breastfeeding
Trial design
This is a phase 2 international study. Researchers need 100 people to take part including up to 10 from the UK.
Everyone has pembrolizumab. You have it through a drip into a vein once every 3 weeks. Each 3 week period is called a cycle of treatment. 
You have it for up to 2 years as long as it is helping you and the side effects aren't too bad.
After having pembrolizumab for 2 years, if your cancer then starts to get worse you might be able to have it again. Your doctor can tell you more if this applies
Samples for research
Before starting treatment, the research team will ask you to have a biopsy of your cancer. They will also ask for a sample of your cancer that was removed when you had surgery or a biopsy and for 2 extra blood samples.
The samples are to look for substances called biomarkers

that can help the doctors see how a treatment is working.
They will ask if any samples left over can be used for research purposes. You don't need to agree to this, if you don't want to. You can still take part in the study.
Hospital visits
You'll see the doctors and have some tests before you start treatment. The tests include
You go to hospital to have your treatment. You probably won't need to stay overnight. 
You see the study doctors every 3 weeks for blood tests and a check up. You have a CT or MRI scan every 9 weeks.
Follow up appointments
Once you have finished treatment, you see the study team every 9 weeks for a check up. You also have a CT or MRI scan.
If your cancer gets worse your doctor will talk to you about other treatment options. A member of the study team will phone you at home every 9 weeks to see how you are getting on.
Side effects
The most common side effects of pembrolizumab are
itchy skin, skin rash or loss of skin colour
tiredness and lacking energy (fatigue)
shortness of breath
cough
joint or back pain
high temperature (fever)
swelling in your legs and feet
weakness
low levels of salt in your blood
pain in your tummy (stomach)
diarrhoea or constipation
a drop in red blood cells (anaemia)
We have more information about pembrolizumab.
How to join a clinical trial
Please note: In order to join a trial you will need to discuss it with your doctor, unless otherwise specified.
Please note - unless we state otherwise in the summary, you need to talk to your doctor about joining a trial.
Chief Investigator
Professor Daniel Hochhauser
CRUK internal database number:
Please note - unless we state otherwise in the summary, you need to talk to your doctor about joining a trial.
Around 1 in 5 people take part in clinical trials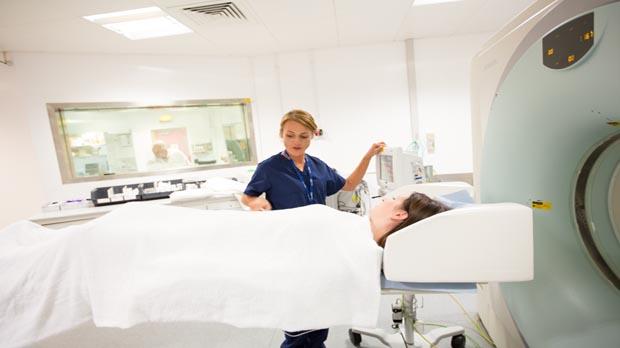 Around 1 in 5 people diagnosed with cancer in the UK take part in a clinical trial.