A study of navitoclax and ruxolitinib for myelofibrosis
Please note - this trial is no longer recruiting patients. We hope to add results when they are available.
This study is looking at navitoclax on its own or together with ruxolitinib for people who have myelofibrosis. 
Myelofibrosis is a rare blood disorder. It causes scarring of the bone marrow so it can't make blood cells properly.
Myelofibrosis can develop without having had any other medical condition. This is called primary myelofibrosis. It can also develop in people who have previous blood and bone marrow conditions such as polycythaemia vera or thrombocythaemia. This is called secondary myelofibrosis. This study is for people with either primary or secondary myelofibrosis.
More about this trial
There are a number of different treatments for myelofibrosis. These might include targeted drugs such as ruxolitinib, low dose chemotherapy or supportive care.
You usually have ruxolitinib to improve symptoms of myelofibrosis such as an enlarged spleen

. But it doesn't always work or it stops working. So, researchers are looking at having it alongside another drug called navitoclax. They want to see if this can improve response to treatment.
Navitoclax blocks the functions of a protein found in myelofibrosis cells. This causes these abnormal cells to die.
There is some early research suggesting that combining navitoclax with ruxolitinib might help people with myelofibrosis. It might help people who have had ruxolitinib but it hasn't worked. This is the first study in people with myelofibrosis who will take both drugs together.
The aims of this study are to:
see how safe treatment is
see if adding navitoclax to ruxolitinib improves treatment effect
learn more about the side effects and quality of life
Who can enter
The following bullet points list the entry conditions for this study. Talk to your doctor or the study team if you are unsure about any of these. They will be able to advise you.
Who can take part
You may be able to join this study if all of the following apply. You:
have primary or secondary myelofibrosis
have had at least 12 weeks of ruxolitinib at a dose of 10mg or more. Or you have had a similar type of drug (called a JAK2 inhibitor)  at a dose of 10mg or more. You might be suitable to join if you haven't had these treatments but have had others. The trial doctor checks the treatment you have had to see if you are suitable to take part.    
have intermediate 2 or high risk myelofibrosis  - your doctor will check this based on factors such as blood tests, your age and any symptoms you have
have an enlarged spleen that your doctor can feel when they examine you
have satisfactory blood test results
aren't suitable for a stem cell transplant  or you don't want to have one
are well enough to be up and about for at least half the day (performance status 0,1 or 2)
are willing to use reliable contraception for 30 days after the last dose of navitoclax if there is any chance you or your partner could become pregnant
are at least 18 years old 
Who can't take part
You cannot join this study if any of these apply.
Myelofibrosis or cancer related
You:
have had radiotherapy to your spleen in the last 6 months
have had surgery to remove your spleen
have myelofibrosis that is changing to acute leukaemia
have taken targeted drugs such as navitoclax or venetoclax previously
have had any other cancer in the last 2 years apart from carcinoma insitu of the cervix, early prostate or non melanoma skin cancer  that was successfully treated 
are taking part in another research trial
Medical conditions
You:
are taking blood thinners such warfarin or similar drugs that change how your blood clots, apart from low dose aspirin and low molecular weight heparin
have HIV
have an active hepatitis B or hepatitis C infection that needs treatment
have any other serious infection that needs treatment
take medication that affects body substances called CYP enzymes and you had this within 14 days of starting study treatment
have any other serious medical condition or mental health problem that the study doctor think could affect you taking part
Other
You:
have had grapefruit, Seville oranges or star fruit within 3 days of starting study treatment
are pregnant or breastfeeding
Trial design
This is a phase 2 study. The study team hope about 164 people will take part in the study including 23 from the UK.
There are 3 different active groups (cohorts) currently active in this trial. Two groups have ruxolitinib and navitoclax. And one group has navitoclax on its own.
The study team can tell you more about which treatment you'll have when you join the trial. 
Ruxolitinib is a tablet. You take it twice a day, every day.
Navitoclax is a tablet. You take it once a day, every day. You start on a dose that is selected by your study doctors. Your doctor might reduce or adjust the dose, if necessary. This is based on your blood counts or any side effects you may have.  
You have treatment for as long as it is working and the side effects aren't too bad.
Samples for research
The researchers will ask to take samples of your bone marrow

when you have a bone marrow test. They will also ask to take extra blood tests as part of this study. The researchers plan to:
find out what happens to navitoclax in the body (pharmacokinetics )
look for biomarkers to find out who benefits most from treatment
find out more about myelofibrosis
They will also ask you to take part in a pharmacogenetics

 research project. You don't have to take part in this if you don't want to. You can still take part in the study.
Quality of life
The study team will ask you to fill out questionnaires before you start treatment and at a few other set times during treatment. The questionnaire will ask about side effects and how you've been feeling. This is called a quality of life

 study.
Hospital visits
You'll see a doctor and have some tests before you start treatment. The tests include:
blood tests
heart trace (ECG )
You go to hospital:
once a week in the first month
every 2 weeks for the next 2 weeks
once a month for the next 3 months
every 3 months after that
At each visit, you see the doctor for a check and blood tests. You have a bone marrow test and MRI every 3 months for up to 2 years 
You stop treatment if your myelofibrosis gets worse. You see the study doctor a month later for a check up. Your doctor will discuss other treatment options with you.
You see the study doctor every 3 months for a check up and an MRI scan if you stopped treatment but your myelofibrosis hasn't got worse. You continue with these visits until your myelofibrosis gets worse or you start another treatment.
The study team follow you up for 5 years. They might see you at a routine hospital appointment, phone you, or check your medical notes to see how you are getting on.
Side effects
Having navitoclax and ruxolitinib is a new treatment. So, there might be some side effects we don't know about yet. The study team will monitor you during the time you have treatment and you'll have a number to call if you are worried about anything.
The most common side effects of navitoclax are:
The following side effects may happen with ruxolitinib and are very common (may affect more than 10 in 100 people). They include:
a drop in blood cells causing an increased risk of infection, bleeding problems, tiredness and breathlessness
bruising
dizziness
headache
feeling tired (fatigue)
itching
difficulty breathing or pain when breathing
urinary tract infections
weight gain
high cholesterol
high levels of liver enzymes in the blood
high levels of a certain type of fat called triglycerides in the blood
high blood pressure 
constipation 
fever 
frequently passing gas 
Both navitoclax and ruxolitinib can lower the number of platelets

 in your blood. You should notify your doctor if you have any bleeding or bruising. You have regular blood tests so the doctor can check your platelets. 
We have more information about ruxolitinib.
How to join a clinical trial
Please note: In order to join a trial you will need to discuss it with your doctor, unless otherwise specified.
Please note - unless we state otherwise in the summary, you need to talk to your doctor about joining a trial.
Chief Investigator
Professor Claire Harrison
If you have questions about the trial please contact our cancer information nurses
Freephone 0808 800 4040
CRUK internal database number:
Please note - unless we state otherwise in the summary, you need to talk to your doctor about joining a trial.
Cara took part in a clinical trial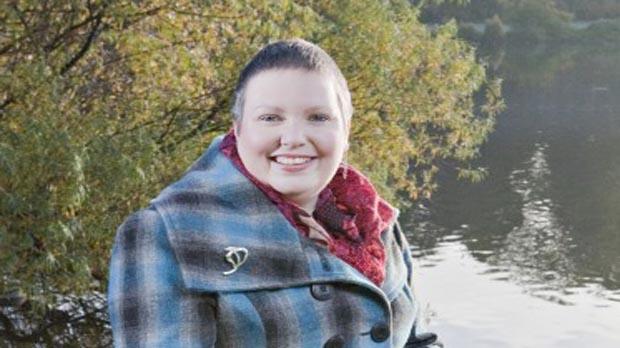 "I am glad that taking part in a trial might help others on their own cancer journey."