A study of ibrutinib for oesophageal cancer or stomach cancer (iMYC)
Please note - this trial is no longer recruiting patients. We hope to add results when they are available.
This study is looking at ibrutinib for people whose cancer cells have certain gene changes. 
It is a study for people with:
and the cancer has spread into nearby tissues or to another part of the body.
More about this trial
HER2 and c-MYC are genes

 in the body. Some stomach and oesophageal cancers have too many copies of either HER2, c-MYC, or both genes. Having too many copies can make the cancer cells divide and grow in an uncontrolled way. Too many copies of the HER2 gene is also called HER2

positive cancer.
Ibrutinib is a type of targeted cancer drug called a cancer growth blocker. It stops signals that cancer cells use to divide and grow. It is already used to treat some blood cancers. 
Laboratory studies show that ibrutinib may work for stomach and oesophageal cancers that have too many copies of either the HER2 or c-MYC genes, or both. Researchers don't know for sure so they want to find out more. 
The aims of the study are to find out:
how well ibrutinib works
how safe it is
more about the side effects
Who can enter
The following bullet points list the entry conditions for this study. Talk to your doctor or the study team if you are unsure about any of these. They will be able to advise you. 
Who can take part
You may be able to join this study if you have one of the following cancers:
cancer of the food pipe (oesophageal cancer)
cancer where the food pipe meets the stomach (gastro oesophageal junction cancer)
stomach cancer
And:
you have a type of cancer called squamous cell cancer or adenocarcinoma
the cancer has spread into nearby tissues (locally advanced) or has spread to another part of the body (metastatic) and cannot be removed with surgery
your cancer cells have too many copies of HER2, c-MYC or both 
your cancer got worse after at least 1 course of chemotherapy for advanced cancer. For HER2 positive cancer you may have had treatment such as trastuzumab alongside chemotherapy.
you have at least one area of cancer that can be measured on a scan
there is a sample of tissue available for the study team to do some tests on or you are willing for the doctors to take a new sample
you are well enough to be up and about for at least half the day (performance status 0,1 or 2)
you have satisfactory blood test results
you are willing to use reliable contraception during the study and for 3 months afterwards if there is any chance that you or your partner could become pregnant
you are at least 18 years old
Who can't take part
You cannot join this study if any of these apply. 
Cancer related
You: 
have cancer spread to the brain that is causing symptoms
have had any other treatment such as chemotherapy, immunotherapy, or an experimental drug in the 4 weeks before joining the study
have had a bleed from the tumour in your stomach or oesophagus 
Other medical conditions
You:
have had a stroke or bleed into the brain within 6 months of joining the study
have problems with your heart, such as a heart attack in the last 6 months, an abnormal rhythm of your heart, congestive heart failure or any other significant heart problem 
have had major surgery in the 4 weeks before joining the study
have severe liver damage (Child-Pugh Class C)
take warfarin medication to thin your blood
you have an active infection that needs antibiotic treatment with a drip
have an active hepatitis B or hepatitis C infection
have HIV
have any other serious medical condition or mental health problem that the study team think could affect you taking part
Other 
You: 
are allergic to the drugs, or their ingredients, used in this study
take St. John's Wort
take medication that blocks an enzyme called CYP3A4 
have had a live vaccine  in the 4 weeks before joining the study
are pregnant or breastfeeding
Trial design
This phase 2 study is taking place at the Royal Marsden Hospital in London and Sutton. The researchers need 17 people to take part.
The researchers will test a tissue sample (biopsy

) and a blood sample for the HER2 and c-MYC genes. They will test samples taken when you were first diagnosed and had surgery or a biopsy. If no suitable sample is available they may give you the option to undergo a further biopsy to provide a new sample for testing. 
If your stomach or oesophageal cancer cells make too many copies HER2 or c-MYC, you might be suitable to take part in the study. If not, your doctor will discuss other treatment options with you.
Everyone enrolled onto the study has ibrutinib. It is a medication you take by mouth. You take 4 capsules once a day, everyday.
You have treatment for as long as it is working and the side effects are manageable. 
Tissues samples (biopsies)
The study team will also ask to take 3 extra tissue samples. But you don't have to agree to this if you don't want to. You can still take part in the study.
They will ask if any samples left over can be used for research purposes. 
Blood samples 
The doctors will also ask for some extra blood samples. Where possible you have these at the same time as your routine blood tests.
They plan to use the samples to look at:
what happens to ibrutinib in the body (pharmacokinetics)
biomarkers  to help work out why treatment might work for some people and not others 
genes
Quality of life
The study team will ask you to fill out a questionnaire before you start treatment and at set times during treatment. The questionnaire will ask about side effects and how you've been feeling. This is called a quality of life study.

Hospital visits
You'll see a doctor and have some tests before you start treatment. The tests include:
You take ibrutinib at home. In the first month of treatment you go to the hospital once a week. Then you go once a month. You shouldn't need to stay overnight. 
The study team give you a fresh supply of tablets each month. 
You have a CT scan every 8 weeks.
You have a PET scan at:
When you stop treatment, you see the study team a month later for a check up and some blood tests. 
Side effects
The most common side effects of ibrutinib are:
muscle and joint pain
tiredness (fatigue)
bruising 
skin rash or infections
small red or purple spots on the skin caused by bleeding under the skin 
cough 
sores in the mouth
sinus infection
a drop in blood cells causing an increased risk of infection, bleeding problems, tiredness and breathlessness
high temperatures (fever)
dizziness
swelling of the hands or feet
colds
urine infections
shortness of breath
pneumonia
headache
muscle spasms
loss of appetite
high blood pressure
nose bleeds
How to join a clinical trial
Please note: In order to join a trial you will need to discuss it with your doctor, unless otherwise specified.
Please note - unless we state otherwise in the summary, you need to talk to your doctor about joining a trial.
Supported by
The Royal Marsden NHS Foundation Trust
Janssen Pharmaceuticals
CRUK internal database number:
Please note - unless we state otherwise in the summary, you need to talk to your doctor about joining a trial.
Charlie took part in a trial to try new treatments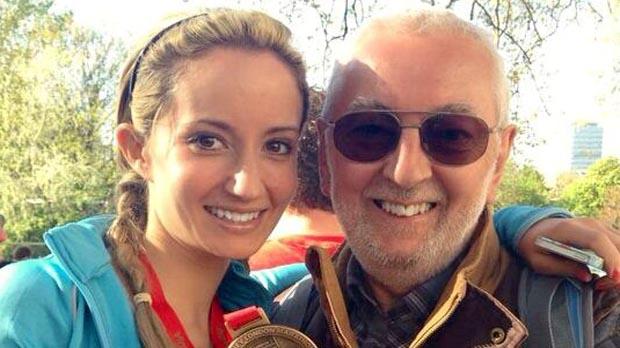 "I think it's really important that people keep signing up to these type of trials to push research forward."