A study of a new type of MRI scan for people having radiotherapy for throat cancer (BIOPIC)
Please note - this trial is no longer recruiting patients. We hope to add results when they are available.
This study wants to find out if a new type of MRI scan can tell how well radiotherapy is working. It is for people with cancer in the part of the throat just behind the mouth (oropharynx).
Everyone taking part is going to have radiotherapy at the Churchill hospital in Oxford.
More about this trial
Radiotherapy is a treatment for oropharyngeal cancer. You can have it on its own, or in combination with chemotherapy. This is called chemoradiotherapy.                      
But radiotherapy and chemotherapy doesn't always work and some cancers come back after treatment.
In this study, doctors are looking at a new type of MRI scan which looks at the level of oxygen inside the cancer cells. They think it might help to tell how well treatment is working.
Doctors know that cancers with low levels of oxygen are harder to treat with radiotherapy and chemotherapy. They hope to be able to give more treatment to the areas of low oxygen in the future. This might stop the cancer from coming back.
The main aim of this trial is to see if the new MRI scan can tell how well radiotherapy and chemotherapy is working.
Who can enter
The following bullet points list the entry conditions for this study. Talk to your doctor or the study team if you are unsure about any of these. They will be able to advise you.
Who can take part
You may be able to join this study if all of the following apply:
you have squamous cell carcinoma (SCC) of the oropharynx  
your cancer has tested positive to the human papilloma virus (HPV)  
you are going to have radiotherapy alone or chemoradiotherapy to try to cure your cancer
your cancer measures at least 2cm, but is smaller than 4cm (T2)
your kidneys are working well
you are at least 18 years old
Who can't take part
You cannot join this study if any of these apply. You:
have type 1 diabetes , or type 2 diabetes  that isn't controlled
need oxygen therapy 
have lung problems such as chronic obstructive pulmonary disease (COPD)
have low levels of oxygen in your blood
are not able to have oxygen therapy, or a mix of oxygen and carbon dioxide (carbogen) for any reason
are not able to have an MRI scan for any reason, for example you have metal implants such as a pacemaker, surgical clips, implants or you have a fear of being in closed spaces (claustrophobia)
have any other condition that the study team thinks could affect you taking part
are pregnant or breastfeeding
Trial design
Researchers need about 20 people going to the Churchill hospital in Oxford to take part.
You have 3 MRI scans. This is similar to a normal MRI scan, but you wear an oxygen mask during the scan.
Each MRI scan takes about an hour. You have the scan:
before the start of radiotherapy (baseline)
during the 2nd week of radiotherapy
10 weeks (2 and a half months) after the end of radiotherapy
Doctors may also ask you to have an extra MRI scan before the start of radiotherapy (baseline). They need 5 people to agree to have 2 baseline MRI scans. You don't have to agree to this if you don't want to. You can still take part in this study. 
Taking part in this study does not affect the radiotherapy or chemotherapy treatment you have. This is the same as if you were not in this study. Your doctor will explain your treatment and what to expect. 
Blood tests
You have some extra blood tests as part of this study. You have them on the same day you have the scans.
Doctors want to look at your blood sugar levels.
Tumour sample
You have samples of tissue (biopsy

) taken before your treatment. This is part of your normal care. You may also have surgery before radiotherapy.
The study team would like to use some of the samples of tissue already taken (archival tumour sample). They might keep the samples and use them in future research studies.   
Hospital visits
You go to Churchill hospital to have the scans. You have the scans when you are at the hospital having tests and treatments that are part of your normal care if possible.
Side effects
MRI scans are very safe and the study team doesn't think you will have any side effects. 
During the scan, you have a mask and breathe oxygen and a mixture of oxygen and carbon dioxide (carbogen). Oxygen and carbogen are safe to breathe. But you may feel breathless when breathing the carbogen. This goes away very quickly.
You have an injection of glucose and contrast medium (dye)

 during each scan. The glucose injection can irritate your vein. And the dye injection has a small risk of an allergic reaction.
We have more information about MRI scans.
How to join a clinical trial
Please note: In order to join a trial you will need to discuss it with your doctor, unless otherwise specified.
Please note - unless we state otherwise in the summary, you need to talk to your doctor about joining a trial.
Supported by
University of Oxford
Oxfordshire Health Services Research Committee (OHSRC)
Oxford Cancer Imaging Centre
CRUK internal database number:
Please note - unless we state otherwise in the summary, you need to talk to your doctor about joining a trial.
Around 1 in 5 people take part in clinical trials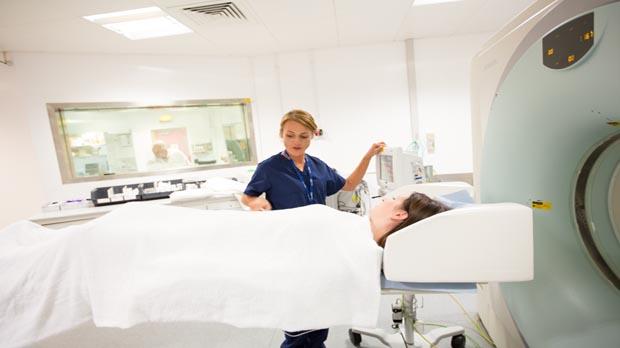 Around 1 in 5 people diagnosed with cancer in the UK take part in a clinical trial.