A study looking at ways of helping doctors work out how long someone with cancer is likely to live (IPAC)
Please note - this trial is no longer recruiting patients. We hope to add results when they are available.
This study is looking at blood tests, physical activity and quality of life

to see how they link together and help doctors work out how long someone with advanced cancer

is likely to live (their prognosis).
Doctors try to give people who want to know their prognosis as accurate an idea as possible, but sometimes it is not easy for them to know. Having an accurate prognosis can help the patient, family and care team to plan for the future, and help to maintain quality of life.  
To work out prognosis for people with advanced cancer, doctors can look at levels of white blood cells and certain proteins and enzymes

in the blood. These change as a person's cancer gets more and more advanced. Physical examination also gives doctors important information, or 'clinical markers'.
Researchers believe that the combination of certain clinical and blood markers can help predict how long someone with cancer is likely to live. In this study they want to know how blood markers and clinical markers link together. They will talk to people with advanced cancer about their symptoms and test their physical ability. They will also take some blood to look for markers they know about, and for future research into new markers.
They want to try to identify what helps to predict how long someone is likely to live. They hope that in future, this information will help to improve how well people with cancer are looked after. You will not have any direct benefit from taking part in this study. But the results of the study will be used to help people with cancer in the future.
Who can enter
If you are suitable to join this study a member of the study team will ask if you would like to take part. People taking part will
Have advanced cancer or be having cancer treatment to control symptoms rather than cure their cancer
Be able to complete the study questionnaires and give a sample of blood
Be at least 18 years old
You cannot enter this study if you
Trial design
This study will recruit 500 people. Everyone taking part will have an interview, during which you fill out a set of questionnaires. These ask you about any symptoms and how you've been feeling. It is called a quality of life study.
If you feel able to, you will have a couple of brief walking tests. These involve
Timing how long it takes you to stand up from a chair, walk 3 metres and sit down again
Measuring how far you can walk in 2 minutes
The study team will collect information about your cancer and any other health problems from your medical records. You may have a physical examination if they cannot get all of this information from your medical notes. The team will also contact your GP in the following months to find out how you are getting on.
You give a blood sample so that the team can look for features in the blood (biomarkers) that they may be able to link with the information they collect about your cancer and general health.
The team believe that new blood markers will be discovered in future to help doctors improve their understanding of the course of cancer, and how best to look after people. They will ask if you would be willing to give another blood sample that they can store to study at a later date. You do not have to give this extra sample if you don't want to. You can still take part in the rest of the study.
The team will treat all this information anonymously, so no one will be able to link it to you.
Hospital visits
You will meet with the study team at the hospital or hospice, when you are already there for something else.
Side effects
You may have a small bruise where you gave your blood sample.
How to join a clinical trial
Please note: In order to join a trial you will need to discuss it with your doctor, unless otherwise specified.
Please note - unless we state otherwise in the summary, you need to talk to your doctor about joining a trial.
Supported by
Medical Research Scotland
NHS Lothian
NIHR Clinical Research Network: Cancer
University of Edinburgh
CRUK internal database number:
Please note - unless we state otherwise in the summary, you need to talk to your doctor about joining a trial.
Cara took part in a clinical trial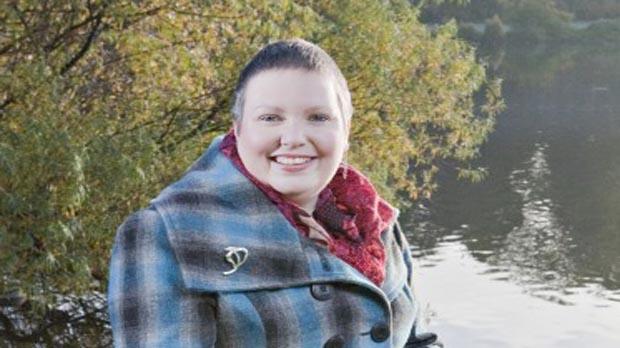 "I am glad that taking part in a trial might help others on their own cancer journey."