A study looking at a type of MRI scan for cervical cancer
Please note - this trial is no longer recruiting patients. We hope to add results when they are available.
This study is looking at a type of magnetic resonance imaging (MRI) scan called diffusion weighted MRI for cervical cancer. The study is for women with cervical cancer that is still in the neck of the womb (early cervical cancer).
Doctors use MRI scans to find out features about a cancer that can help them predict the outcome (your prognosis

). The researchers want to develop a way of predicting outcome using the diffusion weighted MRI scan.
The aim of this study is to find out if the diffusion weighted MRI can show whether cervical cancer is likely to have a good or a bad outcome.
Who can enter
You can join this study if are going to the Royal Marsden Hospital. You must have cervical cancer that is early stage (stage 1) and having surgery with the aim of curing it.
You cannot join this study if are not able to have an MRI scan. This may be because you have certain types of metal surgical clips or plates in your body or a pacemaker, for example. Or because you can't stand small spaces (you are claustrophobic).
Trial design
The researchers need 300 women to join the study.
Everyone will have an MRI scan before surgery.
The research team will place a small probe in your vagina, close to the cervix. They will then do the MRI scan. The scan takes 30 to 40 minutes.
Before the MRI scan you have an injection of a drug called buscopan. This will help give a clearer picture of your cervix.
Hospital visits
You have one extra visit to the hospital, to have the MRI scan.
Side effects
An MRI scan is a safe test and the researchers don't think there will be any side effects from the small probe placed in your vagina.
You may have a dry mouth and blurred vision for about 30 minutes after having the buscopan.
How to join a clinical trial
Please note: In order to join a trial you will need to discuss it with your doctor, unless otherwise specified.
Please note - unless we state otherwise in the summary, you need to talk to your doctor about joining a trial.
Chief Investigator
Professor Nandita DeSouza
Supported by
Cancer Research UK Imaging Centre
Institute of Cancer Research (ICR)
NIHR Clinical Research Network: Cancer
National Institute for Health Research Clinical Research Facility in Imaging
The Royal Marsden NHS Foundation Trust
CRUK internal database number:
Please note - unless we state otherwise in the summary, you need to talk to your doctor about joining a trial.
Around 1 in 5 people take part in clinical trials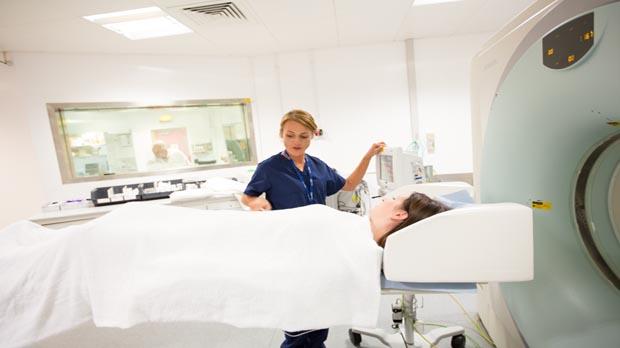 Around 1 in 5 people diagnosed with cancer in the UK take part in a clinical trial.