A study looking at the experiences of people with T cell lymphoma of the skin
This study looked at how people with T cell lymphoma of the skin (CTCL) were cared for. CTCL is a rare type of non Hodgkin lymphoma.
More about this trial
People with T cell lymphoma of the skin (CTCL) can have treatment for many years. 
Researchers wanted to find how their experience of treatment and care changed over the years. They also wanted to find out about the experiences of those who cared for people with CTCL.
The aims of this study were to find out about:
the care and support needs of people with CTCL 
the needs of their carers
Summary of results
The study team found that T cell lymphoma of the skin (CTCL) has a big impact on the lives of those diagnosed with it and their family. 
Researchers interviewed people diagnosed with CTCL and their families. 
People diagnosed with CTCL
19 people with CTCL were interviewed. 
They were asked questions about their lymphoma and how it had affected their life. 
People were asked:
how long ago you were diagnosed
if there was any delay in making your diagnosis
how many times you have been in hospital 
how you describe the disease to others if they ask
how it has affected you physically and emotionally
Getting diagnosed
The time it took from having symptoms to being diagnosed ranged from 4 months to 47 years. For the majority of people it took between 3 and 7 years. 
Everyone said they were misdiagnosed before a correct diagnosis of CTCL was made. A correct diagnosis was welcomed as this meant they knew what the disease was. And they could have the proper treatment. 
But there was anxiety about the diagnosis - 'the word cancer, it's a scary word'.
They understood that CTCL is a rare cancer and difficult to diagnose. 5 people thought an earlier diagnosis might have reduced how far it had spread.
Impact on daily life
Signs and symptoms of CTCL included: 
itching
hair loss
significant and embarrassing problems such as very dry skin, flaking skin, areas of skin that were infected and oozing
problems with feeling very hot or cold
problems sleeping due to feeling hot and itching
16 people said the itching made them go to the doctor. And 13 people said it was a severe symptom. 
People said they adjusted to these symptoms by changing the type of clothes and shoes they wore. 
Sore skin, muscles and joints meant that people stopped doing sports and hobbies or limited what they could do. One person said they stopped driving because their skin was too painful. 
Travel insurance was difficult to arrange and it was very expensive. 
3 people said they had to reduce their work hours. 5 people said they had to retire as their lymphoma got worse. 
Side effects of treatment included tiredness and sore muscles and joints. 
Uncertainty about the treatment and its side effects made it difficult to plan for the future. 
The symptoms of lymphoma and the side effects of treatment affected how people felt and thought about themselves. This was most obvious in the way they saw themselves physically (their body image). 
Symptoms and side effects that caused most embarrassment were:
hair loss
signs of lymphoma on their face or hands
red, scaling skin that flaked
Some relationships were strengthened by the diagnosis. For others it had a negative effect. This was often because of the anxiety the partner felt about the situation. 
Strategies for coping were developed. The emotional and practical support from families and friends was an important part of this.
A common coping strategy for men was to get on with their everyday lives and to maintain, where possible, activities they enjoyed before their diagnosis. 
Another strategy was to learn about CTCL and to be actively involved with their care. This included monitoring their skin, recording any changes and giving this information to their doctor or nurse. 
Carers of people with CTCL
14 carers were interviewed:
11 spouses
2 daughters
1 friend
They were asked about how the diagnosis had affected their life and their relationship with the person with lymphoma. Questions included:
if they were aware of any physical problems caused by the lymphoma
if there were any problems with treatment or the side effects of treatment
how it had affected them physically and emotionally
From the answers the study team found 3 main themes:
demands of CTCL 
family capabilities
adjusting and adapting 
Demands of CTCL
The demands of the lymphoma included the constant need to be aware and watchful for symptoms. Severe symptoms caused self-consciousness and affected physical intimacy such as cuddling, sharing a bed and sex. 
The financial demands included travel expenses for treatment, patients giving up work and carers reducing work. These demands were described as 'huge'. Some families struggled. 
Family capabilities
Carers filled many roles supporting the patient physically and emotionally. 
This took a lot of their time. These demands were a challenge and an opportunity. Several carers overcame fears to take on new skills. Caregiving also had benefits such as strengthening the bond within the family. 
Each caregiver and members of the families had different ways of coping. 
Some wanted to know a lot about the disease and others didn't. Humour, religious beliefs and doing independent activities were all ways carers reported they coped.
Adapting and adjusting
Changes in attitudes to a diagnosis of CTCL and what it means to the patient and their family were important to how they adjusted to the diagnosis. Successful adaption and adjustment strengthened the caregiver's confidence in caring for someone with CTCL and life in general. 
Overall conclusions
The team concluded that a diagnosis of CTCL had a significant impact on patients and their caregivers. Physical burdens in particular skin problems and itching had a significant impact. Psychological and social problems also presented a burden.
A diagnosis of CTCL and the burdens associated with it means that family relationships and needs have to change and adapt. 
Easily accessible healthcare services including care of the family, providing support and tailored information should be developed and tested for people with CTCL and their families. 
We have based this summary on information from the research team. The information they sent us has been reviewed by independent specialists (peer reviewed

) and published in a medical journal. The figures we quote above were provided by the trial team who did the research. We have not analysed the data ourselves.
How to join a clinical trial
Please note: In order to join a trial you will need to discuss it with your doctor, unless otherwise specified.
Please note - unless we state otherwise in the summary, you need to talk to your doctor about joining a trial.
Supported by
Dimbleby Cancer Care
NIHR Clinical Research Network: Cancer
Guy's and St. Thomas' NHS Foundation Trust
Kings College London
Cicely Saunders International
CRUK internal database number:
Please note - unless we state otherwise in the summary, you need to talk to your doctor about joining a trial.
Cara took part in a clinical trial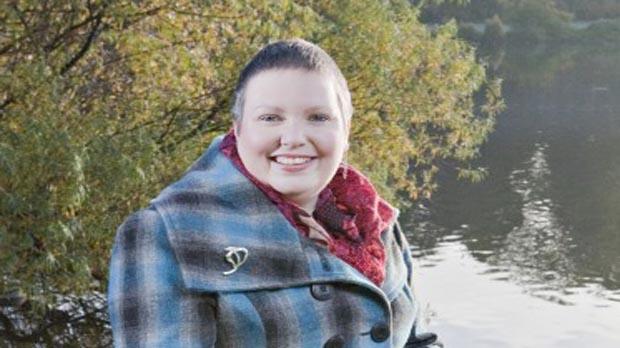 "I am glad that taking part in a trial might help others on their own cancer journey."