A study looking for a new way to work out oxygen levels in throat cancer (BoHEMIaN study)
Please note - this trial is no longer recruiting patients. We hope to add results when they are available.
More about this trial
Doctors usually treat head and neck cancer that has spread to lymph nodes

 in the neck with a combination of chemotherapy and radiotherapy (chemoradiation

). But although cancers often respond well to this, sadly some do not, and can continue to grow or come back again quickly. Doctors call these aggressive cancers. Researchers want to find ways to identify early on those who have more aggressive, harder to treat cancers so they can choose their treatment with this in mind, and in future, design new treatments.
We know that cancers with low levels of oxygen are harder to treat with radiotherapy. But doctors cannot tell in advance who will have cancer with low levels of oxygen. There is a scan that shows oxygen levels in a cancer, called a copper ATSM PET-CT scan. But this is time consuming, expensive and not available in many hospitals. So researchers in this study are looking at whether they can identify genes that predict low levels of oxygen in cancer cells. They could then perhaps develop a simpler test.
They will carry out a copper ATSM PET-CT scan and take blood samples from people with cancer of the oropharynx. And, study stored cancer samples from those taking part. They will look for any relationship between the samples and scan results, to see if any features (biomarkers) in the samples can be used to predict how the cancer will behave.
You will not have any direct benefit from taking part in this study, and it is unlikely to change your treatment plan in any way. But the results of the study will be used to help people with head and neck cancer in the future.
Who can enter
You may be able to enter this study if
You have a type of cancer of the oropharynx called a squamous cell carcinoma
Your cancer is stage 3 or 4
You are due to have a combination of chemotherapy and radiotherapy (chemoradiation) aimed at curing your cancer
You have satisfactory blood test results
You are well enough to be up and about for at least half the day (performance status 0, 1 or 2)
You have given permission for your original cancer tissue sample (biopsy) to be stored in the Head and Neck Tissue and data bank at Guy's and St Thomas' NHS Foundation Trust
You are at least 18 years old
You cannot enter this study if you
Have an illness or condition that may mean you could not have the radiotracer injection, or may make you unwell if you took part - you can ask your doctor about this
Have had any other cancer apart from basal cell skin cancer
Open your bowels or pass urine before you can reach the toilet
Are pregnant or breastfeeding
Trial design
This study will recruit 40 people. Everyone taking part will have a PET-CT scan with an injection of copper ATSM tracer, about a week before they start radiotherapy.
When you come for the scan the team will put a small plastic tube called a cannula into a vein in your arm or hand, and take a sample of blood. You have the radioactive tracer as an injection into the vein. Then you rest for 45 to 60 minutes, to let the tracer reach your head and neck. You then have the scan, which takes about 15 minutes.
The team will also study the biopsy sample stored at the hospital, to look at in more detail and compare what they find with the results of this scan.
Hospital visits
You will make one extra hospital visit for your study scan.
Side effects
You will be exposed to a small amount of radioactivity from the study scan. Some radioactivity will stay in your body for the first 24 hours after the scan. You should try to avoid any direct physical contact such as hugging, cuddling and sitting right next to others for the rest of the day after your tracer injection. If your partner is pregnant, you should sleep in a separate bed for that night.
How to join a clinical trial
Please note: In order to join a trial you will need to discuss it with your doctor, unless otherwise specified.
Please note - unless we state otherwise in the summary, you need to talk to your doctor about joining a trial.
Chief Investigator
Dr Teresa Guerrero Urbano
Supported by
Comprehensive Cancer Imaging Centre - KCL
Guy's and St Thomas' NHS Foundation Trust
Kings College Hospital NHS Foundation Trust
Kings Health Partners
NIHR Clinical Research Network: Cancer
The Rosetrees Trust
CRUK internal database number:
Please note - unless we state otherwise in the summary, you need to talk to your doctor about joining a trial.
Around 1 in 5 people take part in clinical trials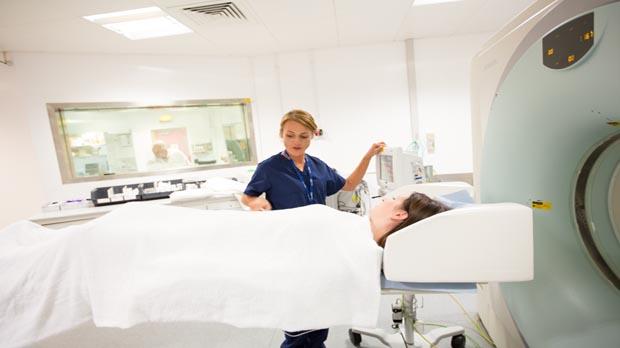 Around 1 in 5 people diagnosed with cancer in the UK take part in a clinical trial.